---
Saudis Launch Major Gulf Naval Drills To Protect Oil Facilities Against Terror Attacks
Over the last month there's been multiple drone and missile attacks on Saudi soil coming out of Yemen, the most recent of which targeted Aramco oil facilities. Just days ago on Friday the Saudi energy ministry confirmed a direct hit by bomb-laden small drones on an Aramco site in the capital of Riyadh, which started a fire that came under control by emergency responders. The next day there was another attack that was thwarted. 
Saudi authorities subsequently pointed the finger at the Shia Houthis, which the Saudi-UAE-US coalition has been warring against since the rebel movement swept Sanaa in 2014-2015, as well as Iran for supplying the group. 
Now the Saudi military is taking additional steps to protect its oil installations, which supply much of the world's oil, particularly with its "Confrontation 4" joint exercises which are geared specifically toward raising "readiness" to thwart future "terrorist attacks" on Saud energy and resource infrastructure. This comes as fears grow that a major Iran-sponsored attack on Saudi oil processing sites could cause the price of crude to skyrocket.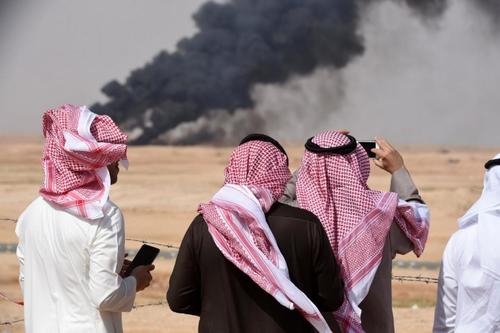 Gulf news analysis site Arab News reports the following based on state sources:
The "Confrontation 4" maneuvers include units from the Eastern Fleet, the Ministry of Interior represented by the Eastern Province Border Guards, the Presidency of State Security, and the Ministry of Energy represented by Saudi Aramco and Aramco Gulf Operations Company.
The drills are being conducted along the Arabian Gulf coast in order to raise "readiness and preparedness of all participating units to confront terrorist operations against oil installations," the ministry statement added.
Further as reported in Bloomberg the objectives aim to "achieve security of vital installations and oil fields, secure freedom of navigation in regional and economic waters in the Gulf."
Royal Saudi Naval Forces begin joint exercises in the Eastern Fleet and with their Sudanese counterparts in the Western Fleet #RSNF @modgovksa https://t.co/i2YvaoMauE

— Arab News (@arabnews) March 21, 2021
The Friday attacks on the Riyadh Aramco facility saw the Saudis ultimately blame Iran for targeting "the security and stability of the world's energy supplies" - based on the missile and drone debris allegedly being "Iranian-manufactured or Iranian-supplied," according to the assessment of minister of state for foreign affairs Adel Al-Jubeir earlier.