---
Beijing Raises Emergency Alert Level As Lockdown Expands, Residential Compounds Sealed Off: Live Updates
Summary:
Beijing expands 'partial lockdown' to all residential compounds
China reports latest COVID numbers; 44 in total, 31 in Beijing
Brazil reports another record jump in new cases as total tops 900k
California reports another DoD decline in new cases
Texas cases jumped ~3% day over day
France reports another drop in new cases, deaths
House Panel launches probe into nursing homes over covid-19 deaths
NY sees hospitalizations hit lowest level since march
Texas hospitalizations climb 8.3%
Fla reports another jump in COVID-19 cases as total tops 80k
Beijing closes all schools, raises emergency response level to 'II'
China tightens restrictions as another 40 cases confirmed
Chinese markets remove all imported salmon
Chinese customs officials now testing all imported meat and fish for COVID
Number of US states with rising COVID cases declines to 22 from 23
Global case total breaks above 8 million
Study finds only 50% of US care homes have been inspected for COVID-19 protocols
Deaths nearing 450k
UK study finds cheap preexisting steroid drug is COVID-19 'miracle cure'
Popular IMHE COVID-19 projections show 200k+ deaths likely by October
* * *
Update (2045ET): Now that Chinese officials are apparently released COVID updates twice a day, China's NHC announced that Beijing had reported 31 new domestic cases, while a total of 44 new cases were found throughout China, as the pace of the outbreak appeared to quicken.
Though the number of cases is still relatively insignificant (fewer than 200 new cases have been recorded since Friday), officials declared that the situation in the capital is "extremely severe" and have reimposed restrictions, cancelled sporting events and school, and revived at least some lockdown measures throughout the city of more than 20 million - not just the southwestern neighborhood where the outbreak supposedly originated.
According to a statement published on a CCP government website, the Municipal Standing Committee of Beijing, the most powerful local entity, determined that new measures must be taken now that the new outbreak has spread throughout Beijing and on to other parts of China. The minutes of the meeting describe the "warlike" response effort that Beijing is rolling out to deal with this "very grim" situation.
Officials reported that 31 new cases were uncovered in Beijing alone over the last 24 hours, all of them local. Across all of China, 44 cases - including the 31 in Beijing - were reported, with 11 of them identified as "imported" (presumably tied to these infectious imported salmon we keep hearing about). In addition to Beijing, officials are scrambling to contain an outbreak in Guangzhou, a southern port city not far from Hong Kong. The daily total is higher than yesterday's, prompting one city official to declare that the situation in China is "extremely severe".
Several English-language newswires also seemingly caught up with Chinese-language reports from earlier in the day reporting that Beijing's emergency response level had been raised to 2. The 'partial lockdowns' that officials had initially imposed on the area surrounding the market in Fengtai that has been identified as the epicenter of the outbreak has been expanded to all of Beijing, meaning that many residential compounds - at least those deemed to be in "high risk" areas - are now closed off to guests.
Temperature checks and registration are required for entering residential compounds and those in areas with medium- and high-risk areas are barred from accepting visitors, according to a city government briefing Wednesday night
* * *
Update (1745ET): As the total number of confirmed cases in the country approaches the 1 million mark - though experts suspect the true number is already much, much higher - Brazil has set another daily record, reporting just under 35k cases. As President Jair Bolsonaro embarks on an anti-corruption crusade after months of practically ignoring the virus, Brazil has become the second largest outbreak in the world, and the only country that has come even close to the US in terms of confirmed cases and deaths.
Here's more from Bloomberg:
Brazil's response to the pandemic has been plagued by political infighting and a lack of national coordination that resulted in varying and often conflicting measures from state to state and even city to city. Quarantines and lockdowns implemented by local governments have been repeatedly criticized by President Jair Bolsonaro, who argues that the recession ahead will cause more harm than the virus to a population that often can't afford not to go to work.

Meanwhile, the economic toll of the pandemic continues to show in data. Retail sales fell the most ever in April, illustrating the devastation the outbreak is inflicting on consumption, which has historically been a key driver of Brazil's economic growth. The dive follows record plunges from industrial production to formal job creation. Put together, the central bank is seen cutting its interest rate to an all-time low at Wednesday's policy meeting.

Brazil reported a record number of daily cases from coronavirus as the pandemic continues to rage across Latin America's largest nation.

The country, which trails only the U.S. in cases and deaths, reported 34,918 new cases, bringing the number of infections to 923,189. The data compiled by Brazilian states also showed 1,282 new fatalities, pushing the total toll to 45,241.

The pandemic shows no signs of wavering as cases that were concentrated in capitals and the Southeast have spread inland and to poorer regions of the country of 210 million people. At the same time, several states and cities have started to lift quarantine orders in the past few weeks, sparking concern about a new wave of infections. Estimates from PUC University in Rio de Janeiro show cases will likely surpass 1.3 million by late June, with more than 60,000 deaths.
The chart below illustrates how Brazil's outbreak has continued to spiral out of control, while the situation in the US has plateaued.
At this rate, Brazil will become the second country to get to 1 million cases by the end of the week, at the very latest.
* * *
Update (1430ET): Newswires have published a correction on the Texas numbers released a few minutes ago. Turns out, cases climbed 2.9% over the past 24 hours, not the 4% jump reported earlier.
CORRECT: TEXAS VIRUS CASES JUMP 2.9%, EXCEEDING 2.4% 7-DAY AVG
Stocks ticked higher on the news.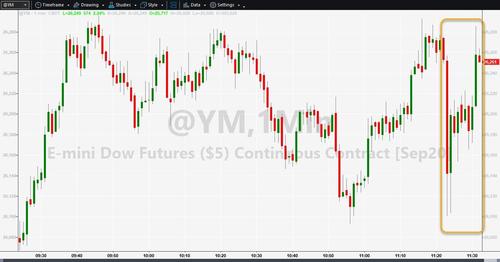 * * *
Update (1420ET): Once again, California's daily figures offered traders some respite from a steady drumbeat of negative COVID-19 headlines from the US and China, as state public health officials said that the number of newly confirmed cases declined again over the past day.
CALIFORNIA VIRUS CASES RISE 1.4%, LESS THAN 7-DAY AVG 2.1%
Yesterday, Gov Newsom claimed the state would stay the course with its phased reopenings as the positive testing rate had dropped below 5% and hospitalizations had stabilized.
On the other side of the coin, Texas said cases confirmed increased by 4% over the last 24 hours, compared with a 7-day average of 2.2%, though the headline didn't have quite the same impact on risk sentiment as we've seen in recent sessions, aside from a few negative ticks.
TEXAS VIRUS CASES JUMP 4%, EXCEEDING 2.2% SEVEN-DAY AVERAGE
Still, Texas Gov Greg Abbott has pushed ahead with reopening, even as certain hot spots have considered the possibility of reviving a 'stay at home' order.
* * *
Update (1400ET): Earlier, we shared a Politico report showing that less than half of US long-term care facilities have been inspected for whether they're prepared to handle an outbreak of COVID-19, in accordance with the law.
Now, a panel led by House Democrats is launching an investigation.
HOUSE PANEL TO INVESTIGATE NURSING HOMES OVER COVID-19 DEATHS
However, we don't expect them to hold any political figures - particularly governors of major northeastern states - accountable for early policy 'errors'.
* * *
Update (1320ET): The market has mostly shaken off a spate of negative COVID-19 headlines from morning trade as New York and Italy continued to report strong numbers.
The most interesting piece of information shared by Cuomo was the results of the latest statewide surveillance testing, which found that approxmately 13% of New Yorkers would test positive for the antibodies.
New York State surveyed 12,000 people over 6 weeks to test for COVID-19 antibodies.

Weighted results show that 13.4% of the state was positive for the antibody.

21.6% of NYC residents were positive for the antibody. pic.twitter.com/doW0SLqbWp

— Andrew Cuomo (@NYGovCuomo) June 16, 2020
Hospitalizations and new cases continued to decline, with hospitalizations hitting their lowest levels since March, while testing told "a good story."
Total COVID hospitalizations fell to 1,538 yesterday — the lowest since March 20.

The 3-day rolling average in daily COVID fatalities is at 24, a new record low.

— Andrew Cuomo (@NYGovCuomo) June 16, 2020
The testing numbers tell a good story. The next steps are up to us New York. pic.twitter.com/Ma9LD5XOv5

— Andrew Cuomo (@NYGovCuomo) June 16, 2020
Watch de Blasio's latest briefing here below:
Giving my daily press briefing now. Watch Live: https://t.co/EmEq1NK4vO

— Andrew Cuomo (@NYGovCuomo) June 16, 2020
Notably, Cuomo also said Tuesday that playgrounds in NYC will remain closed into July, when social-distancing restrictions should ease as the city enters 'Phase 2'.
Italy carried out nearly 50k tests over the last day, reporting just 210 new cases and only 34 deaths, per the Italian press.
* * *
Update (1100ET): Losses have accelerated in US stocks following more drip-drip headlines out of Beijing, along with the latest figures on Texas COVID-19-linked hospitalizations, while the dollar strengthens as virus anxieties hammer futures even lower.
TEXAS VIRUS HOSPITALIZATIONS RISE 8.3%, MOST IN ALMOST 2 WEEKS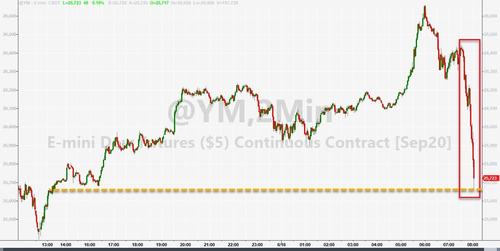 The CCP's commitment to transparency in sharing these 'warnings' about the Beijing outbreak seems almost overdone, as these non stop drip-drip headlines hammer US stocks. It's almost as if they're saying these things solely to hammer the US market (what's the point of announcing these measures when it's the middle of the night in China?).
As one market analyst noted, the news out of the US and Beijing has stoked fears of a second wave, briefly sending the S&P 500 to its LoD before stocks started to inch back higher.
* * *
Update (1035ET): The market just took a hit thanks to a double-whammy of COVID-19-related headlines. In one, Beijing officials reportedly raised the alert level in the capital city after reporting more than 100 new cases, many of them in parts of Beijing, over the past few days, triggering an overwhelming government response to crush the new outbreak, which officials have blamed on imported seafood.
Schools across Beijing were also ordered to close as online classes resumed for all grades.
Meanwhile, as a former data scientist fired by Florida's Department of Health after refusing to doctor the state's COVID-19 data ramps up her own alternative site providing the 'real' data, White House officials and Gov DeSantis have continued to insist that the rebound in new cases is due to an increase in testing, not the state's reopening (despite the fact that this is obviously untrue), but the latest daily figures will make their excuses sound even less convincing.
Officials also asked the people of Beijing not to leave the city unless absolutely necessary, and added that if they must leave, they should be tested for COVID-19 first.
Florida reports 80,109 COVID-19 cases, up 3.6% from yesterday, while the state reported 2,993 deaths, an increase of 1.9% from yesterday, as total cases topped 80k.
On Tuesday, the state reported a 3.6% increase in new cases, compared with the 7-day average of 2.5% from the week prior, sending stocks spiraling lower.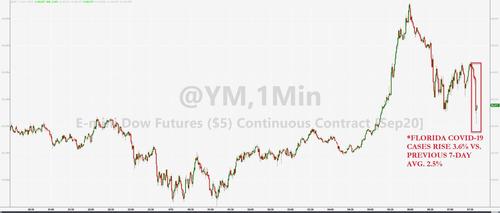 * * *
Just before 10pmET last night, public health officials in Beijing announced that 40 new cases of the novel coronavirus had been confirmed across China, with 27 of those cases in Beijing. That's roughly half of the 80+ cases reported across China over the weekend, as officials step up new measures to suppress the latest cluster, which the CCP has strived to blame on Europe.
Notably, party officials have tried to blame the latest outbreak in Beijing on imported European salmon (officials say they initially detected the virus's presence on a cutting board where imported salmon had been processed inside the Xinfadi market). As a precaution, officials closed 11 markets in the area and institute travel bans on "high risk" residents while closing residential compounds and placing tens of thousands of Beijing residents on partial lockdown as the city pushes to run more than 90k tests per day. .
More bizarrely, customs officials have started testing all meat imports (even as China continues to suffer from a shortage of pigs thanks to the 'pig ebola' that swept the country's farmers last year), while local officials have been tasked with "intensive" testing meat already on the shelf. Tests being used are the same nucleic acid tests being used on patients.
Chinese state-controlled media have raved about the sudden dangers of salmon consumption, prompting markets across the country to toss imported salmon, wasting good nutritious imported seafood for the sake of protecting the new narrative. Further imports of the stuff have been banned (at least temporarily), as BBG reports.
What's more, Shanghai will quarantine everyone arriving in the city from mid- to high-risk areas of Beijing for 2 weeks, a city official announced Tuesday. Three bus terminals that handle highway bus traffic between Beijing and Shanghai have also been temporarily shuttered.
As expected, the global outbreak reached a new milestone overnight, passing the 8 million case mark, as cases reached 8,005,294, according to Johns Hopkins University.
The worldwide death toll, meanwhile, topped 435,662.
As China and India engage in the most contentious border dispute in nearly 50 years, health officials in India reported 10,667 new infections over the past 24 hours, down from 11,502 the prior day, raising the countrywide total to 343,091, while the country's fatalities neared the 10k mark (9,900, up 380 from Monday morning). India has seen new cases skyrocket since it started easing its restrictive lockdown.
While the US and the American press have focused most of their attention on vaccine trials and remdesivir, another cheap already extant drug has reportedly been found to definitively reduce COVID-19-related mortality according to a new study from Oxford. Patients on ventilators - ie those in the worst shape - saw the biggest reduction in mortality. "It's the only drug so far shown to reduce mortality...and it reduces it significantly."
⚠️Breaking: new trial find first drug to reduce #COVID19 mortality- For patients on ventilators the anti-inflammatory dexamethasone cut death risk from 40% to 28%. For patients on O2, death risk cut from 25% to 20%. Modest, but best of all: costs <$10! 🧵 https://t.co/9mOpLMVVKI

— Eric Feigl-Ding (@DrEricDing) June 16, 2020
Per the BBC, a cheap and widely available drug called dexamethasone has been found to help seriously ill patients suffering from COVID-19. UK experts say the low-dose steroid treatment is a major breakthrough in the fight against the virus as it reduced the mortality rate of the most vulnerable patients by one-third.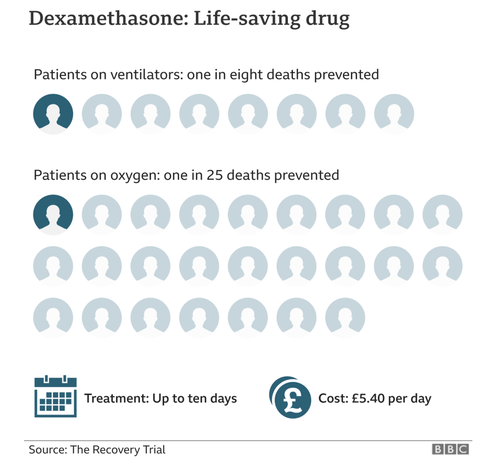 The news prompted a strong risk-on rally lifting US stock futures to session highs.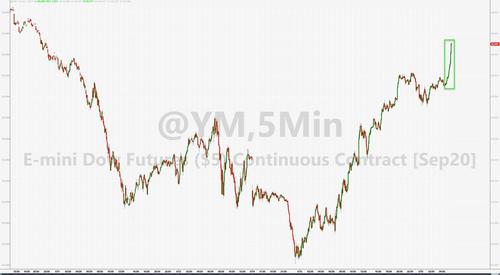 To be sure, Dr. Feigl Ding noted in a twitter thread that the results are promising, but that declaring the drug a "miracle cure" is a little premature.
2) Results from the RECOVERY trial based at Oxford. Recovery has many parts with 11,500 people total- for this dexamethasone trial - 2104 patients given dexamethasone, and 4321 got just usual care. Rate ratio for mortality was RR=0.65 (meaning -35% drop) for ventilator patients. pic.twitter.com/RXHTYMi7DB

— Eric Feigl-Ding (@DrEricDing) June 16, 2020
3) RR for mortality was 0.80 (-20% drop) among those needing oxygen. Hence drug works for both severe and moderate hospital cases, stronger for severe ventilator. But at least there is a clear mortality benefit, unlike the underpowered remdesivir trials.

— Eric Feigl-Ding (@DrEricDing) June 16, 2020
4) "Based on these results, one death would be prevented by treatment of around eight ventilated patients or around 25 patients requiring oxygen alone" pic.twitter.com/9OiJquWife

— Eric Feigl-Ding (@DrEricDing) June 16, 2020
5) And again, Dexamethasone is cheap, available from any pharmacy, and easily obtainable anywhere in the world. This is EXACTLY what we need, instead of a $1000 drug like remdesivir that is just marginally effective for shortening illness but not yet fully proven for mortality.

— Eric Feigl-Ding (@DrEricDing) June 16, 2020
7) Full press release statement. The paper still not published yet. So awaiting further details. https://t.co/ocLvcZ9t0V

— Eric Feigl-Ding (@DrEricDing) June 16, 2020
Still, the study found that the inexpensive drug significantly reduces mortality in the most seriously ill patients, while having little effect on patients who aren't all that sick.
During an interview on CNBC, Dr. Scott Gottlieb, the former FDA director, said the study was well-organized and its findings - that a low-cost steroid can significantly reduce mortality among the most seriously ill patients - represent a major breakthrough. He also offhandedly noted that the CDC had discouraged the use of steroids like Dexamethasone.
After a wave of new coronavirus cases were reported in Tokyo over the past week, Japanese officials have set out to try and determine how extensively the virus penetrated Japanese society during its original run. Antibody tests reportedly suggest that 0.1% of Tokyo residents have been infected with the virus.
South Korea reported 34 new cases Tuesday, down from 37 a day ago, raising its total infections to 12,155, with 278 deaths.
New Zealand reports two new cases, both related to recent travel from the UK after PM Jacinda Ardern declared the country "coronavirus free" last week, though she warned that new infections could arise due to international travel and commerce.
Moving on to the US, Politico reports that 1000s of nursing homes across the country have not been inspected to see whether staff are following proper procedures to prevent a deadly viral outbreak, after deaths in long-term care facilities accounted for a quarter of all COVID-19 deaths. Despite this, only a little more than half of the nation's nursing homes had received inspections, according to data released earlier this month.
As scrutiny of Florida's testing data intensifies, Texas public health officials reported a pullback in newly confirmed cases on Monday, with new cases rising 1.4% vs. Prev. 7-day average of 2.3%.
A few days ago, the Institute for Health Metrics and Evaluation at the University of Washington raised its projections for COVID-19 deaths to 170k+ by the end of the summer. Now, it's raising that forecast slightly to account for the surge in new cases in states like Florida and Texas. The new national forecast calls for 200k+ cases (201,129) by October, while death toll figures for Florida are expected to climb 186% to 18,675 from 6,559.

Though the number of new coronavirus deaths across the US has been trending downward, new cases have started to trend higher again as the new hotspots compensate for the drop in infections across the NYC greater metro area. Notably, the NYT removed California from its list of states where new cases are rising, as state officials saw the critical new cases number decline over the course of the past week.

Source: NYT
Beijing will hold another press briefing at 8pm local time (8amET) as it returns to the 2-briefings-a-day schedule to which it adhered during the heyday of the outbreak in Wuhan, though it's unclear how much of the briefing will focus on the virus given the renewed tensions with India.
Beijing has another press briefing scheduled at 8 p.m. local time on the COVID-19 outbreak. Unclear what will be disclosed - the city has been holding 2 briefings per day since the cluster emerged.

— Vincent Lee (@Rover829) June 16, 2020