---
Second Major Railway Grinds To Halt In South Africa
The precise question one needs to ask is: What the hell is continuing to unfold in South Africa? An economic crisis is worsening, and extended rolling blackouts have been the norm over the last several months, but in the last week, multiple major railways have ground to a halt due to rampant theft of power cables. 
Bloomberg said a 535-mile rail line used to haul iron ore and manganese from Kumba Iron Ore Ltd.'s giant Sishen mine in the Northern Cape province to west coast ports was paralyzed on Tuesday after criminal organized gangs stole power cables used to power electric locomotives.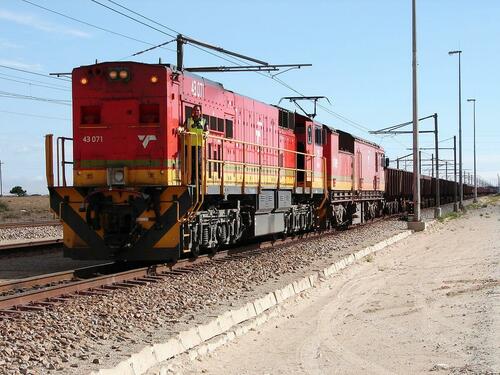 Transnet SOC Ltd., the state-owned entity that operates the line, wrote in a statement:
"Security teams were immediately activated and are working with law enforcement agencies, stakeholders and customers to curb this security threat.

"Our employees will be working around the clock to get services back to normal and get customers' cargo moving as soon as possible."
The 535-mile rail line is the second to be vandalized by theft within a week. This time last week, a 428-mile rail line from the Port of Durban to Gauteng province had capacity significantly reduced due to "theft, vandalism, and rail damage" by gangs.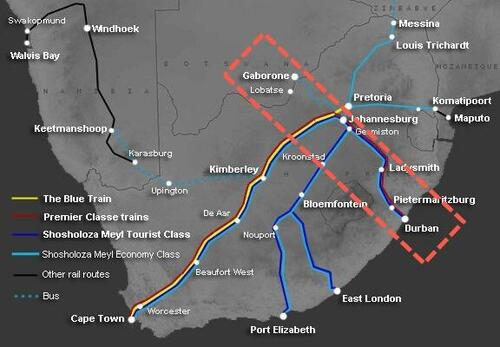 Meanwhile, this morning, South Africa's rand hit a new record low against the dollar due to rising diplomatic tensions and worsening economic risks. 
The rand touched 19.9204 per dollar, just shy of the 20 handle.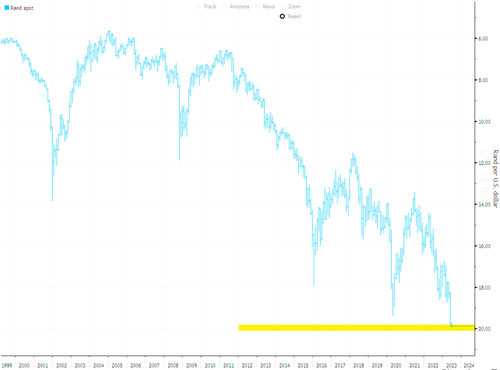 Bloomberg noted:
The latest setback for investors is the government's plan to provide diplomatic immunity to attendees of BRICS meetings as it prepares to host Russian President Vladimir Putin at an August summit. That's added to power cuts that are hurting the economy, concerns over China's growth, and renewed gains in the US dollar.
And it's been about a week since the African National Congress, a social-democratic political party in the country, warned that the country could become a "failed state."
Loading...