---
Wisconsin Supreme Court Strikes Down 'Stay At Home' Order; Maryland To Lift Lockdown Friday: Live Updates
Summary:
Wisconsin Supreme Court strikes down Stay at Home order
Maryland lifts 'stay at home' order
Illinois reports record jump in deaths
WHO's Ryan says virus risks becoming 'endemic'
Spain says 5% of population infected by the virus
NJ gov says state will partially reopen Monday
Washington DC reopening pushed to June 8
NY reports jump in new cases for first time in 5 days
NY deaths decrease slightly day-over-day
US set to extend travel restrictions on Canada & Mexico borders
UK releases latest figures
Mexico plans to reopen Monday
Spain won't reopen borders to most foreigners until at least July
VW 'pauses' manufacturing of VW Golf, SUVs
China imposes 'partial lockdown' on northeastern border city
SK's 'Itaewon' cluster climbs to 120
Germany, Austria agree to reopen mutual border
Global cases: 4.22 million
Global deaths: 291,519
Poland reports record jump in new cases
Russia sees numbers start to slow after shocking record run of confirmations
*          *           *
Update (2100ET): Before we call it a night, we've seen a couple of important developments Wednesday evening in the US.
In Wisconsin, the state Supreme Court ruled that Gov. Tony Evers stay at home order was unconstitutional. The court ruled it "unconstitutional" and "unenforceable" in what CNN described as a "high-profile win for the state's Republican-led legislature". Republican lawmakers filed the court challenge, and have spearheaded an effort to reopen the state more quickly. In a 4-3 decision, the court ruled that Evers and high-level bureaucrats had overstepped their authority.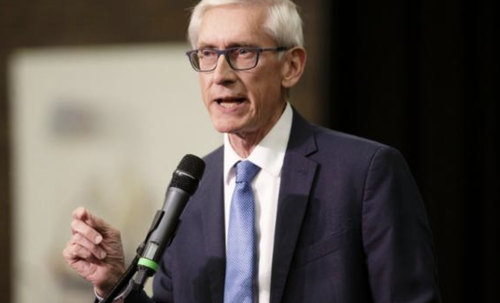 Tony Evers
The justices wrote in their decision that the state agency that issued the order "cannot confer on itself the power to dictate the lives of law-abiding individuals as comprehensively as the order does without reaching beyond the executive branch's authority." Evers ordered Department of Health Services Secretary-designee Andrea Palm - who was personally targeted by the lawsuit, along with other senior state officials - to issue the order.
Evers hasn't released a statement, but at the time the suit was filed, he tweeted that  "Republicans are exploiting a global pandemic to further their attempts to undermine the will of the people. But what's at stake goes far beyond political power - lives are on the line."
On Wednesday evening in Maryland, Gov. Larry Hogan announced plans to lift the state's "stay at home" order and replace it with a "safer at home" order.
The order will be lifted and replaced at 5pmET on Friday, Hogan said, citing a slight decline in hospitalizations state-wide over 2 weeks as justification for the decision under the federal guidelines.
The "Safer at Home" advisory, which will not be enforced by the rule of law, allows manufacturing, retail, haircuts and worship services to resume with limitations. Though the fight against the virus is "far from over," Hogan said the state "can now at least begin to slowly recover," he said during Wednesday's press briefing.
*          *           *
Update (1700ET): A day after news out of LA County about an extension of its reopening timeline sent stocks sliding into the close, the LA Times reports that LA County has issued a new "Stay at Home" order with no end date.
However, Los Angeles County businesses on Wednesday continued to reopen as officials eased restrictions by allowing thousands of retail shops and manufacturing companies to reopen with certain limitations. The extension of the order really means that the timeline for a return to "normal" - the long-term end date for when consumption and productivity at certain businesses can rebound closer to full capactiy - could potentially be expanded for months.
Though, if NJ Gov Murphy's big U-turn from earlier today is any indication, LA County might be offering some caveats and clarifications offering a more expeditious timeline for reopening.
*          *           *
Update (1530ET): As data showing state pension funds booked their worst quarter of losses ever during Q1, Illinois Gov. JB Pritzker, the latest in a line of billionaire governors who have tried - and failed - to rectify the state's myriad financial problems, announced that the state saw a record number of deaths yesterday, according to data released Wednesday afternoon by state public health officials.
ILLINOIS SEES 192 MORE VIRUS DEATHS, LARGEST 1-DAY INCREASE
Watch the rest of his briefing below:
5/13: COVID-19 Daily Briefing https://t.co/IUvW3fHVFZ

— Governor JB Pritzker (@GovPritzker) May 13, 2020
*          *           *
Update (1430ET): During Wednesday's press briefing, the WHO's Dr. Mike Ryan warned that the coronavirus might become "endemic", bouncing around the population like HIV or a supercharged version of the common cold until a vaccine can be mass produced. He added a warning against all predictions about how long the virus will keep circulating.
Dr. Ryan also urged the world to undertake a massive effort to eradicate it, to which we say...dude, really?
"It is important to put this on the table: this virus may become just another endemic virus in our communities, and this virus may never go away," WHO emergencies expert Mike Ryan told an online briefing.

"I think it is important we are realistic and I don't think anyone can predict when this disease will disappear," he added. "I think there are no promises in this and there are no dates. This disease may settle into a long problem, or it may not be."

[...]

WHO Director General Tedros Adhanom Ghebreyesus added: "The trajectory is in our hands, and it's everybody's business, and we should all contribute to stop this pandemic."

Ryan said "very significant control" of the virus was required in order to lower the assessment of risk, which he said remained high at the "national, regional and global levels".
There are currently more than 100 vaccines in development, including projects like Moderna's that seem to have found favor at the FDA.
Dr. Ryan's comment - which isn't exactly a new theory - is really only notable because it follows Dr. Fauci's warning before the Senate that a premature reopening risks igniting a second-wave of the virus.
In other news, South Korea just confirmed 26 new cases of coronavirus, 4 of which were imported, on Wednesday, with 18 of them purportedly linked to the nightclub cluster.
Seoul has ordered more than 2,000 clubs and bars to close again after the cluster of roughly 140 cases was discovered.
In Japan, Shinzo Abe said the country is making great progress as the number of new infections as plunged in recent days. The PM signaled that he could lift the country's state of emergency order within a week.
*          *           *
Update (1340ET): As more states and countries conduct random testing using the notoriously unreliable antibody tests that are flooding the market, the Spanish government has just announced the results of its first test, which found that 11% of the Madrid residents tested came back positive for virus antibodies.
Testing positive for the antibodies means you were likely infected by the virus (unless it's a false positive, which are rarer unfortunately than false negatives), or were infected, but didn't show any symptoms of COVID-19 (the disease caused by the novel coronavirus).
INITIAL DATA FROM SPAIN'S NATIONAL CORONAVIRUS ANTIBODY STUDY SHOWS ABOUT 5% OF POPULATION HAVE BEEN EXPOSED TO VIRUS, WITH MADRID AT 11%, SORIA AT 14%
We were surprised: Considering initial rounds of antibody surveillance in NYC found that more than 1/5th of residents have been infected.
*          *           *
Update (1310ET): Less than a day after he whined during his daily press briefing about having the worst mortality rate from the virus in the country (he doesn't), NJ Gov Phil Murphy has on Wednesday seemingly taken a major u-turn, moving ahead with a plan to partially reopen the state on Monday after pledging to wait for more testing.
Specifically, the state will allow construction workers and more 'non-essential' retail workers to report to work, with shoppers able to shop via 'curbside' pickup. We'll let the governor tell you more himself:
Holding a COVID-19 briefing. WATCH: https://t.co/JoDcRJysDp

— Governor Phil Murphy (@GovMurphy) May 13, 2020
Today, I will sign an Executive Order, effective 6:00 AM Monday, May 18, 2020:
☑️Allow the restart of non-essential construction
☑️Allow non-essential retail stores to reopen for curbside pickup only
☑️Permit drive-through and drive-in events under social distancing guidelines pic.twitter.com/M6IWXpnLl4

— Governor Phil Murphy (@GovMurphy) May 13, 2020
Data shows that we are ready to begin to restart our economy. From the peak:
📉New hospitalizations down 2/3
📉Total hospitalizations down nearly 1/2
📉Patients in ICU are down
📉Patients on ventilators down
📉Positive cases down nearly 70%
📉Deaths have decreased more than 1/3 pic.twitter.com/CAl0kK31DC

— Governor Phil Murphy (@GovMurphy) May 13, 2020
LOOK: Let's not forget where we were only six weeks ago, when we first shared our worst-case projections. We were preparing for upward of 36,000 hospitalizations, 9,000 New Jerseyans in the ICUs and 7,500 on ventilators. Because of your hard work, reality never came close. pic.twitter.com/ZX4Sb8rq1j

— Governor Phil Murphy (@GovMurphy) May 13, 2020
DATA DETERMINES DATES. The data we are seeing gives us confidence that we can begin the restart of our economy – to get people back to work, and set the stage for the steps to come. pic.twitter.com/8VfkF2P4LF

— Governor Phil Murphy (@GovMurphy) May 13, 2020
Yesterday, Murphy laid out a plan to use state money to significantly boost its testing and tracing capacity as he faces mounting pressure from the state's business community to start the reopening process sooner rather than waiting out of what critics said was a misguided sense of caution. The state has already hired nearly 1k contact tracers.
Murphy also reported a slowing in deaths in long-term care homes, as well as a slowdown in deaths and hospitalizations overall.
Sadly, today we report another 197 deaths from COVID-19 complications. Our statewide total now stands at 9,702.

Together, we mourn each of these losses, members of our New Jersey family, and our hearts are with their friends and loved ones. pic.twitter.com/v9AVb1xbsw

— Governor Phil Murphy (@GovMurphy) May 13, 2020
Meanwhile, Washington DC is extending its lockdown until June 8 as Mayor Muriel Bowser insists that more testing is needed before the city can reopen. With markets deep in the red thanks to reopening anxieties stoked by a couple of "big rich guys", will NJ's reopening push have the opposite effect of Tuesday afternoon's report about LA County's reopening plans?
Additionally, NJ has reported nearly 2 dozen cases of the mysterious respiratory syndrome seen in patients in NYC and UK. Fortunately, none of the children have died, though only 4 have tested positive for COVID-19.
FOUR OF YOUNG KAWASAKI DISEASE PATIENTS HAVE COVID-19
N.J. CONFIRMS 18 CHILDREN WITH INFLAMMATORY DISEASE
DISEASE IN N.Y. CHILDREN NOW TAKING HOLD IN NEW JERSEY
*          *           *
Update (1300ET): The rest of NY's daily data have been released, and they offered evidence that the number of new cases accelerated for the first time in 5 days, after deaths moved marginally lower.
NEW YORK ADDS 2,176 VIRUS CASES, UP AFTER FIVE DAY DECLINE
NEW YORK GOVERNOR CUOMO SAYS 14 OTHER U.S. STATES ARE NOW INVESTIGATING CASES OF RARE INFLAMMATORY SYNDROME IMPACTING CHILDREN LINKED TO COVID-19
CUOMO: NOT READY TO SAY WHAT SCHOOLS SHOULD BE DOING IN SEPTEMBER
*          *           *
Update (1145ET): France is one of the slower-moving western European states when it comes to reopening. But in a sign of just how desperate Europeans are for outdoor exercise, the AFP shares a video of the streets of Paris flowing with bikers, skateboarders and others on the third day of gradually lifting the lockdown.
VIDEO: 🇫🇷 Parisians on the Place de la République appeared to be taking back their city on the third day of lockdown easing Wednesday, with walkers, cyclists and skateboarders returning a sense of normality to the iconic square pic.twitter.com/sJEWLDiJVW

— AFP news agency (@AFP) May 13, 2020
Back in the US, while California's AG drones on CNBC, NY has reported its latest daily figures, slowing an ever-so-slight pullback in new deaths. Gov. Cuomo is also delivering his daily briefing. Watch below:
Holding a briefing with updates on #Coronavirus. Watch Live: https://t.co/3IYFzMUBds

— Andrew Cuomo (@NYGovCuomo) May 13, 2020
And as a reminder: With the Dems now pushing another relief bill - this one with a price tag of $3 trillion - here's how the US's stimulus spending - mostly comprising spending authorized in the $2.2 trillion CARES Act - stacks up to Japan, and others.
Coronavirus stimulus package:

🇯🇵JPN: 21.1% of GDP
🇺🇸USA: 13.0%
🇩🇪GER: 10.7%
🇮🇳IND: 10%
🇫🇷FRA: 9.3%
🇨🇦CAN: 8.4%
🇳🇿NZL: 8.0%
🇧🇷BRA: 8.0%
🇪🇸ESP: 7.3%
🇮🇱ISR: 6.1%
🇮🇹ITA: 5.7%
🇮🇩IDN: 5.3%
🇬🇧GBR: 5.0%
🇨🇳CHN: 3.8%
🇷🇺RUS: 2.8%
🇵🇰PAK: 2.6%
🇰🇷KOR: 2.2%

(CESI)

— Norbert Elekes (@NorbertElekes) May 13, 2020
*          *           *
Update (1050ET): The White House is reportedly weighing an extension of the travel restrictions involving the US's borders with Mexico and Canada. While Canada seems to have its outbreak mostly under control, Mexican President AMLO has allowed the virus to spread with only light restrictions on the population which are on track to be lifted Monday.
*          *           *
Update (0855ET): As Fed Chairman Jerome Powell speaks, the UK Department of Health and Social Care just released the latest daily figures. They brought total cases to 229,705 (+1.43% on yesterday) and deaths to 33,186 (+1.51%).
As of 9am 13 May, there have been 2,094,209 tests, with 87,063 tests on 12 May.

1,522,258 people have been tested of which 229,705 tested positive.

As of 5pm on 12 May, of those tested positive for coronavirus, across all settings, 33,186 have sadly died. pic.twitter.com/at0NCqAILf

— Department of Health and Social Care (@DHSCgovuk) May 13, 2020
The data include deaths in hospitals, care homes and at home. The true number of deaths may be significantly different.
In Mexico, left-wing anti-establishment candidate AMLO announced Tuesday that he would reopen Mexico's economy on May 18 - ie Monday. The decision comes as more evidence mounts suggesting that Mexico is deliberately undercounting the number of coronavirus-linked deaths and infections.
It will be a real-time experiment in just how effective lockdowns are at preventing virus-related deaths long term.
Here's more on Mexico's plans to reopen its auto, construction and mining sectors, with plans for 'non-essential' retail stores to reopen in greater numbers coming down the pike, via BBG:
Mexico's auto, construction and mining sectors have been cleared to restart operations beginning Monday, a decision that comes just a day after the government reported record deaths from the coronavirus.

In a Wednesday news conference, Economy Minister Graciela Marquez laid out plans to reopen the Mexican economy in stages, starting with areas of the country where cases of virus have not been reported.

President Andres Manuel Lopez Obrador is faced with a tough choice as Latin America's second-biggest economy tips into a recession that's likely to be far deeper than the devastating Tequila Crisis of the mid 1990s. While a reopening may alleviate some of the strain on the economy, the decision also runs the real risk of fanning the pandemic, leading to an even greater economic disruption, some economists say.

"The contraction would be more contained" if this reopening is successful, said Marco Oviedo, chief Latin America economist for Barclays Plc. "The problem is the data. It seems to be inconclusive on the situation."
Meanwhile, as we hinted at earlier, various governments' plans regarding when they will reopen internal borders inside the Schengen area is becoming the most important issue in Europe on Wednesday. Spanish authorities are reportedly planning to keep borders closed for most foreigners until July, according to Reuters.
*          *           *
Update (0745ET): After reopening the largest auto factory in the world, Volkswagen is reportedly 'pausing' production of the Volkswagen Golf (a compact model more popular in Europe), as well as its SUVs, due to 'poor sales'.
What, exactly, was the point of reopening factories and potentially exposing workers to SARS-CoV-2, just to shut down operations again? Also, given that VW is the world's largest carmaker, this is just the latest headline to undermine the "V-shaped" thesis/"fantasy".
*          *           *
As we reported last night, news that LA County suspects its reopening will take up to 3 months - a month longer than previously expected - sent markets lower into the close. That news, combined with Dr. Fauci's warning about states rushing to reopen, cemented the impression that the reopening of the American economy would probably be much more fraught with delays. And for a brief moment, it seemed like fun-durr-mentals almost mattered again...
Anyway, European markets wobbled Wednesday following reports that the latest cluster of cases in Seoul had climbed to 119, the latest increase of dozens of cases as contact-tracers scramble to test as many people as possible. More than 14k people have been tested so far. To be sure, investigators have made some discoveries that undermined the theory that all of these cases are connected to one "super-spreader". Rather, it's believed that most of these cases were likely individuals who were asymptomatically infected elsewhere. The cases have been linked to multiple cases.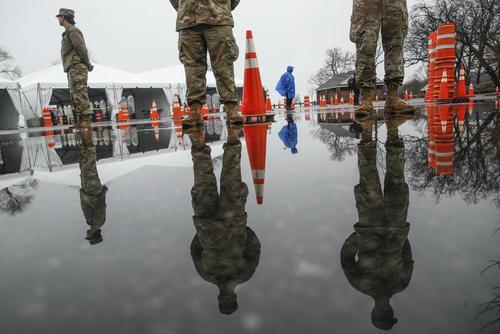 While South Korea remains on high alert, the situation in northeastern China grew even more dire. As we have reported this week, local party officials in Jilin City had reimposed restrictions after an outbreak. Now, they're taking things a step further and ordering a 'partial lockdown' of the village. Residents will only be allowed to leave after they've completed a period of 'self-isolation' and tested negative for the virus. Residential compounds have been closed to visitors, and public transit has been halted.
It's just the latest sign that both China and South Korea might be seeing the first stirrings of the 'second wave' that Dr. Fauci and other scientists have warned about.
After rocketing into the No. 2 spot directly behind the US, Russia's rate of new coronavirus cases eased on Wednesday, even if only slightly, as the country recorded an 11th consecutive day with more than 10,000 fresh infections. Russia recorded 10,028 new cases on Wednesday, according to official government data, the smallest rise in almost a fortnight. Its total number of cases is now at 242,271, with 2,212 deaths.
As of Wednesday morning, the virus had infected more than 4.2 million people globally and killed 291,519, according to JHU's tally.
According to data released around the world on Tuesday, the number of new infections confirmed jumped day-over-day on Monday (though Mondays often see the largest daily tallies of the week since they directly follow the weekend).
The German government says it has extended controls on its borders with France, Switzerland and Austria until June 15, according to interior minister Horst Seehofer. Germany plans to open its border with Luxembourg on Saturday, and hopes to reopen its border with Denmark.
Austria said Wednesday it would fully reopen its border with Germany by mid-June and plans to open travel to most of its neighboring countries in the coming weeks, beginning on Friday, as it continues with its reopening push.
Elsewhere in Central Europe, Poland reported its highest daily coronavirus infection count on Wednesday (with the data representing the totals from Tuesday), with 595 people testing positive for the virus amid an accelerating outbreak in the southern region of Silesia.
Just days after Colombia's Avianca, Latin America's second-largest airline, filed for bankruptcy protection, Dubai's Emirates has announced plans to reopen scheduled flights to nine destinations from May 21, the latest sign of "green shoots" in the air travel industry, even though traffic remains more than 90% below average.
As Democrats in Congress push a $3 trillion coronavirus relief bill targeted at states and American households, Reuters reports that one progressive lawmaker and Democratic Socialist icon is taking the cause of coronavirus relief a step further, and pushing for the IMF and World Bank to forgive the debts of the poorest countries. Both NGOs have already waived the next six months' worth of payments for 25 of the world's poorest countries.
Over 300 lawmakers from around the world on Wednesday urged the International Monetary Fund and World Bank to cancel the debt of the poorest countries in response to the coronavirus pandemic, and to boost funding to avert a global economic meltdown.

The initiative, led by former U.S. presidential candidate Senator Bernie Sanders and Representative Ilham Omar, a Democrat from Minnesota, comes amid growing concern that developing countries and emerging economies will be devastated by the pandemic.
We can already hear the Sanders-nistas cooing about how their brave hero, having been robbed of the nomination he so rightfully deserved, continues to fight not only for the 'real Americans' of the working class - i.e. the struggling Brooklyn-based 'freelance writers' who account for much of Sanders' most vocal supporters - but for the besotted masses of the 'developing world' (a racist term, no doubt).