---
40 More Coronavirus Cases Confirmed Aboard "Costa Atlantica": Live Updates
Summary:
Russia reports thousands of new cases
Turkey becomes first country in Asia to cross 100k cases in "official" count
Indonesia reports dozens of new deaths
UK sees deaths slow for 2nd day
Merkel warns "we're still at the beginning" of the outbreak
German leader told fellow EU leaders that fiscal package must be "huge"
Cuomo says 14% of random sample of NYers tested positive for COVID-19 antibodies; 21.2% in NYC
NY deaths continue to slow
Oklahoma becomes latest state to start reopening Friday
Trump says he "strongly disagrees" with Georgia's plan to reopen
40 more crew members test positive aboard "Costa Atlantica" 
Trump says 40% of counties have seen a decline in coronavirus cases
China pledges $30 million to WHO
California reports 115 deaths
Pompeo demands China permanently close all wet markets
NJ on cusp of reporting 100k cases as state unveils new saliva test
France's stretch of slowing case growth hits 1 week mark
Turkey cases top 100k
Lagarde says relief fund needed fast
Cuomo says McConnell's remark about allowing states to file for bankruptcy was "dumb"
Vietnam, Greece announce plans to start reopening
Data shows nearly 90% of patients placed on ventilator never recover
Some Wuhan doctors see virus reemerge in patients 70 days after negative test
Malaysia extends lockdown for 3rd time
*       *       *
Update (2130ET): Last night, we reported that a new cluster of coronavirus cases has been discovered aboard an Italian cruise ship, the Costa Atlantica, currently docked in Nagasaki - where it has been sitting idle since January.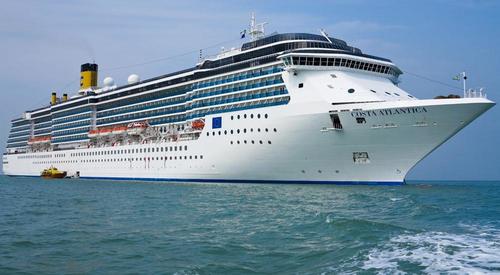 Apparently, more than 600 members of the ship's crew were living onboard (somehow, despite the obvious infection risk, they were not moved to less cramped quarters).
Now, Japanese broadcaster NHK reports that 40 more crew members have tested positive, bringing the total onboard to 90.
And just like that, Japan has another floating nightmare on its hands.
*       *       *
Update (1800ET): Kicking off tonight's coronavirus press conference, President Trump told the accumulated press that 40% of counties in the US have seen a decline in new cases since the lockdown began. We don't have the resources to "fact-check" this claim (we're not the Washington Post), but it certainly sounds plausible.
*       *       *
Update (1600ET): As the market closes, Reuters has released its latest update on US coronavirus stats.
Reuters counted roughly 30,000 new cases reported for Wednesday (remember, the numbers are reported with a 24 hour lag), the biggest daily increase in five, though the numbers were pretty much in line of the average of 30k cases a day reported for all of April. So far this month, the US has been reporting roughly 2k deaths per day.
However, since the overall numbers have remained flat, today's 30k increase was actually the slowest rate of growth this month, with the overall number of cases rising by 2.5% on the day.
*       *       *
Update (1545ET): Oklahoma governor says salons and barbershops can reopen statewide for 'appointments only' on this Friday, while restaurants, gyms and theaters will be allowed to reopen on May 1.
As of Thursday, the Oklahoma State Department of Health had reported 3,017 confirmed positive coronavirus cases, along with 179 people who have died. Nine more deaths were reported Thursday, with six having occurred in the past 24 hours, and the others having died between April 18-April 21.
Meanwhile, Illinois Gov JB Pritzker said his state has flattened the curve enough for some small businesses to reopen on a limited basis, and for hospitals and surgical centers to begin non-life-threatening surgeries.
Because we are bending the curve, surgi-centers & hospitals can begin non-life-threatening surgeries.

Retail stores can offer pick-up and delivery.

Some of our state parks can reopen for hiking, fishing & boating with no more than two people.

All these changes begin on May 1.

— Governor JB Pritzker (@GovPritzker) April 23, 2020
*       *       *
Update (1535ET): California recorded 115 deaths from COVID-19 over the past 24 hours, making Wednesday the deadliest day so far for America's most populous state. Meanwhile, the number of occupied hospitalizations declined, (down 4.4%) and ICU numbers fell 1.2%.
*       *       *
Update (1430ET): New Jersey Gov. Phil Murphy said Thursday that New Jersey is on the cusp of reporting its 100,000th confirmed case of the virus, as the state ramps up testing. On Thursday, the total number of COVID-19 cases in New Jersey jumped to 99,989, with more than 4,000 new cases confirmed over the last 24 hours.
"Of the nearly 100,000 total cases we've reported since our first positive case on March 4th, roughly 46,000 of these individuals have now exited the two-week incubation window," Murphy said during his briefing.
At least 5,368 people have died from coronavirus-related complications with 307 more deaths reported over the past 24 hours.
Preexisting conditions like cardiovascular disease and diabetes have been extremely prevalent among those who have succumbed to the virus in the state, with as many as 60% exhibiting cardiovascular disease.
Despite the increase in deaths and cases, Murphy said that the spread has slowed. He also said that the state is going to start using new saliva tests developed by Rutgers University. That saliva-based test is going to be used starting next week at five testing centers.
"This is a total of more than 5,500 tests – more than 1,200 residents, and in excess of 4,300 staff," Murphy said. "We are working to expand testing to other state workers and the individuals we serve," he said. The Rutgers' saliva test in 100% accurate compared to a traditional swab test in the nose, Rutgers Biomedical and Health Sciences Chancellor Dr. Brian Strom said.
Murphy believes that the state needs enough testing to start randomly testing - like New York has - before it moves ahead with reopening.
*       *       *
Update (1410ET): In the latest good news out of Europe, France's coronavirus epidemic has continued to slow with the national lockdown in its sixth week. On Thursday, France reported another 311 deaths in hospitals and another 205 in nursing homes and other long-term care facilities, bringing the country's death toll to 21,856, of which 13,547 were in hospitals and 8,309 in care homes. Earlier, Finance Minister Bruno Le Maire said the government is shooting to reopen most small businesses on May 11.
Public-health officials also reported a drop in occupied hospital beds and ICU beds.
In Italy, Italian health officials confirmed another 2,646 new cases of the virus and another 464 new deaths, bringing the countrywide total to 189,973 cases and 25,549 deaths. PM Giuseppe Conte told reporters that EU leaders have made "great progress" that was "almost unthinkable a few weeks ago." So far, it seems like the EU countries have agreed to establish a recovery fund, but how to finance the fund, and whether support should be doled out in the form of loans, or grants, are sources of contention between the northern and southern blocs. New cases and total hospitalizations continued to decline, though the single-day death toll ticked slightly higher.
Iran also reported 1,030 new cases of coronavirus and 90 new deaths, with a total of 87,026 cases and 5,481 deaths.
*       *       *
Update (1316ET): Today's EU meeting to work out a bloc-wide rescue package ended with no agreement, as was widely expected. And as the euro comes under pressure, anonymously-sourced reports claimed that the four wealthy northern states (led by Germany) are insisting on tying the recovery aid to the next EU long-term budget. Meanwhile, the badly hit already indebted nations like Italy are demanding that the bloc agree to issue "coronabonds" to finance what will in all likelihood become a huge recovery effort.
In other news, the number of confirmed coronavirus cases in Turkey surpassed 100,000 on Thursday, with the death toll topping 2,491. A week ago, Turkey surpassed Iran to become the country with the worst outbreak in the Middle East, but it's not the only country suffering: Saudi Arabia, the UAE, Oman and Qatar are all seeing cases and deaths climb at disturbingly high rates despite precautionary measures and travel restrictions imposed across the region.
Interestingly enough, Turkey is actually the first country in Asia to cross the 100k-case threshold (since China's "official" count topped out around 80k). Of course, it's widely believed that the number of cases in China was many times more. Turkey is also only the 7th country in the world to cross the threshold.
*       *       *
Update (1155ET): Offering his rundown of the latest stats, Cuomo said that deaths have come down (the state reported 438 on Thursday vs 474 yesterday), though not by as much as state officials would like. Cuomo also noted that the number of people 'walking in the door' at NY State hospitals with COVID-19 has remained "about even" at roughly 1,300 per day.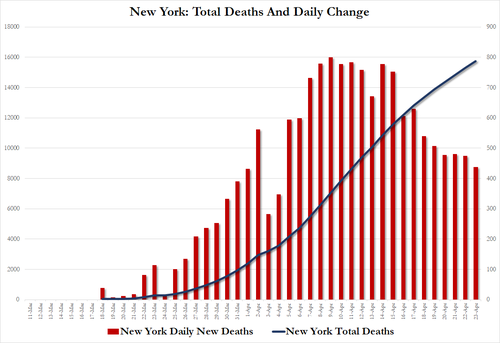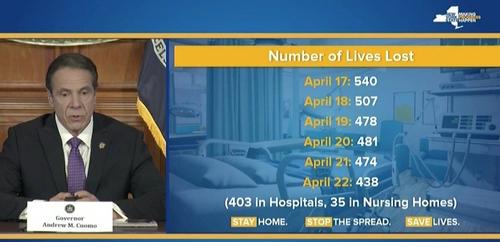 But by far the most interesting piece of information shared by Cuomo on Thursday was the outcome of a random surveillance test - the first of what's expected to be many rounds of random testing that the state will be conducting to help aid the response. Cuomo said that out of 3,000 people tested for COVID-19 antibodies, roughly 14% tested positive.
Even more alarming, that rate rose to 21.2% positive rate in NY. If that rate is confirmed via further testing, it would suggest that roughly 2 million NYC residents have been exposed to the virus.
"It changes the theories of what the death rate is," Cuomo explained. "It's preliminary data"…but there are likely more unconfirmed "at home deaths" from the virus, he sad.
Of course, if these data are borne out by more studies, it would dramatically lower the virus's mortality rate.
During Mayor de Blasio's press briefing earlier on Thursday, Health Commissioner Oxiris Barbot said that she would not be surprised if "close to a million New Yorkers" had been exposed to COVID-19. And as the city's economy slides into a recessionary slump, De Blasio also offered a stark statistic: he expects that an additional one million residents could become food insecure under the pandemic, putting the total number of food insecure New Yorkers at around two million.
Moving on, the governor also responded to a comment by Majority Leader Mitch McConnell, reportedly made during an appearance on a conservative talk show, that he would be in favor of some US states using "the bankruptcy route" to shed the onerous debt obligations they're accruing during the outbreak.
"You will see a collapse of this national economy" if major states declare bankruptcy, predicts @NYGovCuomo.

— Steve Herman (@W7VOA) April 23, 2020
Of course, the minute a US state files for bankruptcy, we suspect the market selloff will be even more swift than the unprecedented plunges seen just last month.
If there's even anything left of the American economy at that point.
In other news, as the US pulls its funding from the WHO, China is stepping up with a $30 million donation, virtually guaranteeing that Beijing's influence over the NGO - which is essentially an independent organization despite technically being an arm of the UN - will only continue to grow. Foreign Ministry spokesperson Geng Shuang praised the organization during a briefing, saying the WHO played "an important role" in assisting countries during the pandemic response.
Meanwhile, Secretary of State Mike Pompeo warned that the US "may never" restore funding to the WHO, unless major reforms are implemented. "We reformed this back in 2007, so this isn't the first time we've had to deal with the shortcomings of this organization that sits inside the United Nations. We need a fix. We need a structural fix with the WHO," Pompeo said. Trump suspended US funding for the organization, accusing it of supporting China's "disinformation," Reuters reports.
*       *       *
Update (1140ET): Andrew Cuomo said 438 New Yorkers died from COVID-19 yesterday, bringing the state's death toll to 15,740. Cuomo is delivering his daily briefing. Hospitalizations across the state fell by more than 500 on April 22 to a total of roughly 15.
Watch the briefing below:
Holding a briefing with updates on #Coronavirus. Watch Live: https://t.co/vWhF4W6edg

— Andrew Cuomo (@NYGovCuomo) April 23, 2020
*       *       *
Update (1050ET): A recent Reuters report quoted doctors in Wuhan who say they've found some patients who tested negative for the virus who later tested positive, suggesting that either they were somehow reinfected (studies have shown that some recovered patients have low or no levels of antibodies needed for immunity) or that the virus simply reemerged on its own.
Uuughhh.😫 Doctors in epicenter Wuhan find patients who tested negative for #coronavirus later test positive, some up to 70 days later. Many have done so over 50-60 days. (Unclear is they are infectious but positive cases in #China get quarantined.) https://t.co/mlEtuen8lz

— Eunice Yoon (@onlyyoontv) April 23, 2020
Its just the latest example of patients claiming they've suffered a relapse in symptoms, or have seen them persist for 2 months or longer.
The unusual nature of the virus, and the vastly different behavior documented in different patients, is something that has puzzled scientists, as some wonder whether the virus might linger in patients, then occasionally reemerge, like herpes or HIV.
Months ago, we reported that scientists had discovered some unusual "HIV-like" mutations that purportedly would allow the virus to more easily attach to certain receptors, allowing for easier human-to-human infection.
Of course, if the virus does behave this way, this would definitely lessen the impact of a lockdown over time, though at least lockdowns would give hospitals more time to prepare for the inevitable onslaught of infected patients.
In other news, Malaysia has extended its national lockdown for a third time: "While the figures show a positive trend, the steps we take must continue to a point where we believe the Covid-19 outbreak can be fully contained," said Muhyiddin Yassin, Malaysia's prime minister. The lockdown, which was supposed to end next week, will be extended to May 12.    
*      *       *
Update (1010ET): Members of the EU are holding a virtual summit on Thursday to hammer out a rescue package to alleviate the immense financial pressure facing several of its largest member states - including Italy, Spain and France - who were particularly hard-hit by the coronavirus outbreak.
However, hope for the issue to be resolved today is gradually sinking as both sides dig in their heels.
Italian PM Giuseppe Conte has threatened to veto any conclusions reached by his colleagues that doesn't fit with the "coronabonds" plan that Rome believes is 100% essential to stave off a devastating economic collapse. Conte also demanded that the costs borne by Italy and Spain be borne in part by their neighbors, since Brussels initially advised against lockdowns and border closures, hampering the continent's response to the virus.
Curiously, as the summit begins, Chancellor Angela Merkel had some interesting words for her colleagues. Merkel's Germany has opposed the 'coronabonds' plan in favor of routing money through one of Europe's many existing mechanisms for pumping 'liquidity' into failing states.
Earlier in the day, Merkel made headlines during a speech where she chastised Germans for pushing to reopen the German economy too quickly by warning that we're "still at the beginning" of the crisis.
"Nobody likes to hear this but it is the truth. We are not living through the final phase of this crisis, we are still at its beginning. We will still have to live with this virus for a long time."
Despite Merkel's words of caution, Germany has continued to move ahead with its plan to gradually reopen the country, making Merkel, in at least one sense, the anti-Trump: Trump pushes to reopen more quickly while officially advocating a gradual reopening, while Merkel is doing the opposite.
"Nobody likes to hear it, but it is the truth. We will have to live with the virus for a long time."

German Chancellor Angela Merkel urges caution during the coronavirus crisis - saying some regions of Germany were moving too quickly in relaxing restrictions. pic.twitter.com/zkE8X20lc2

— Channel 4 News (@Channel4News) April 23, 2020
Now, Merkel is advising her colleagues that the response to the crisis must be "huge enough" to save Europe, as the leaders of both France and Italy have warned that failure to meet member states' needs during this critical crisis could result in the end of the 'European project'.
🇩🇪 🇪🇺 *MERKEL SAID TO TELL #EU LEADERS VIRUS RESPONSE MUST BE HUGE - BBG

— Christophe Barraud🛢 (@C_Barraud) April 23, 2020
Maybe she was talking about Germany's fiscal response?
In other European news, the UK reported its latest numbers, showing a modest slowdown in deaths for a second day.
REPORTS 616 NEW CORONAVIRUS DEATHS, TOTAL RISES TO 18,738
U.K. DAILY CORONAVIRUS DEATHS DECREASE FOR SECOND DAY
Meanwhile, Christine Lagarde kept up her pressure for governments to do more, saying a "strong and flexible" recovery fund is needed, and fast.
*      *      *
Just 48 hours before Georgia was set to become the first state in the country to start reopening its economy, President Trump revealed in what sounded like an offhanded answer to a reporter's question that he "strongly disagrees" with Gov Kemp's decision because it didn't follow the federal guidelines.
Trump's u-turn outraged some supporters who believe the lockdown "cure" is worse than the viral "disease", just in time for the latest reminder of how many jobs have been destroyed by the pandemic so far. Before blaming them as "covidiots", it's worth remembering that many red states haven't been hit nearly as badly as most other states. Even the outbreak at the Smithfield Food's processing plant in South Dakota - an incident that the MSM labeled "the biggest outbreak in the country" and cited as evidence of GOP Gov. Kirsti Noem's "anti-science" agenda - has already subsided, and the rate of new cases has slowed, and the state has only recorded 9 deaths.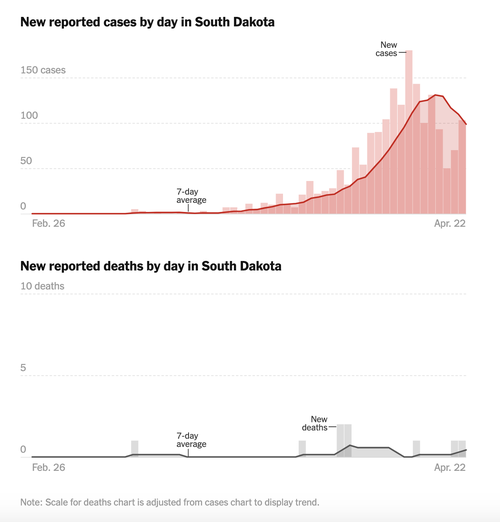 Millions of people around the world are beginning to question the wisdom of strict lockdown strategies. Sweden, a country that was once routinely bashed by conservatives for refusing to close its economy and borders, has found that its approach appears to be working. As once doctor who appeared on CNBC Thursday morning pointed out, the number of deaths and cases per capita in Sweden is higher than its neighbors. But not by much. For the record, Sweden has left its schools, gyms, cafes, bars and restaurants open throughout the spread of the pandemic. Instead, the government has urged citizens to act responsibly and follow social distancing guidelines. The country has suffered fewer than 2,000 deaths, and has only confirmed 16k cases, and the strategy has proved broadly popular: Swedish Prime Minister Stefan Lofven is now one of the most popular leaders in the modern history of Sweden.
To be sure, even Lofven has admitted that Sweden made mistakes - for example, authorities should have invested more resources in protecting the elderly -  and when deaths and cases started to spike a few weeks ago, there were a few uncomfortable days when he faced a hail of doubt and criticism. But he stayed the course, and the country appears to be emerging from the pandemic relatively unscathed. In what is perhaps the country's biggest sign of renewal, Volvo, which was forced to halt production across Europe and furlough about 20,000 Swedish employees, will resume production at its Swedish plants on Monday.
Earlier this week, the mainstream press flew into a tizzy following a report that a leading American vaccine expert named Rick Bright had been ousted as director of the Biomedical Advanced Research and Development Authority, allegedly for resisting efforts to join President Trump in pushing hydroxychloroquine. A recent small-scale VA study recently found the drug to be ineffective, news that liberals have weaponized to bash the president, after dismissing virtually every other study suggesting the opposite (particularly when the drug is taken in combination with a Z-Pak).
As it turns out, Bright's claim that his ouster was an act of retaliation for not "toeing the line" turned out to be somewhat embellished.
Possible for several things to be true:

— Trump's push on malaria drugs was inappropriate

— That push alarmed health officials like Bright

— But some of those officials sent mixed messages about it

— Efforts to oust Bright predated Covid-19, as officials told me months ago

— Dan Diamond (@ddiamond) April 23, 2020
In the UK, where daily death numbers have remained stubbornly, the government's top medic said Thursday that restrictions on everyday life in Britain will likely remain in place in one form or another until the "next calendar year" due to the time needed to develop and roll out vaccines or find a cure, the country's top medic said on Wednesday.
South Korea, meanwhile, is already preparing for a second wave of the virus in the fall and winter, according Yoon Tae-ho, director general of health ministry, who announced the plans during a press briefing. Many public health experts - including FDA Director Dr. Stephen Hahn, before he "clarified" his statement the other day - have warned that the virus could come roaring back in the fall, combining with the seasonal flu to overwhelm hospitals once again.
The country also plans to secure more medical resources in the event of a bigger outbreak than what it experienced in Daegu, the city at the epicenter of the crisis. SK will continue to remain "on alert" until a vaccine is available.
Indonesia reported 357 new cases of the virus, bringing its total to 7,775. The country has reported a total of 647 deaths and 950 recovered cases, numbers that experts say are likely well short of the totals for both cases and deaths.
US Secretary of State Mike Pompeo called on China to permanently close all wet markets and other illegal markets selling wildlife for human consumption - something that China has already technically outlawed, just like they 'outlawed' the production of black-market fentanyl.
As more countries begin rolling back lockdown measures, tiny Vietnam, which has reported fewer than 300 cases of coronavirus and no deaths since the first infections were detected in January, said on Wednesday it would start lifting tough movement restrictions, according to Reuters, even as many of its neighbors remain on lockdown. Greece extended its lockdown until May 4, but said some small businesses will start reopening after that date, per the FT. A spokesman for the Greek government warned that "at each stage the impact on public health will be assessed. We're going to take it week by week," he added. A detailed timetable for re-starting the economy will be announced next week."
More countries appear to be reopening as millions confront the undeniable reality that, when faced with the choice of sacrificing their livelihoods or risking infection, most people would opt for the second, even as the WHO's Dr. Tedros warned during a press briefing on Wednesday that the rolling back the quarantines too soon might cause the virus to reignite.
The situation in Russia, which took early steps to keep foreigners out yet never followed up with widespread testing and surveillance, continued to worsen as the country reported 4,774 new cases of coronavirus and 42 new deaths, another record number of new cases, bringing the country's total of 62,773 cases and 555 deaths.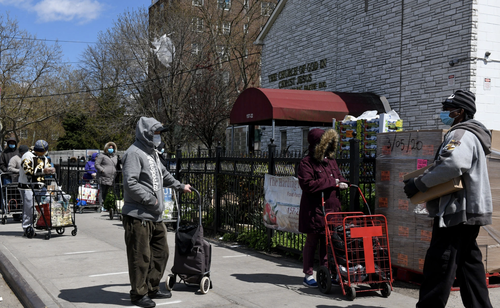 Perhaps the biggest news overnight came out of Australian, where PM Scott Morrison called on all member states of the WHO to support an "independent review" of the origins of the novel coronavirus outbreak, further jeopardizing what has been an incredibly prosperous economic relationship with China that had helped the Aussie economy achieve an unprecedented 30-year stretch of growth.
Finally, the Washington Post reports that new data from New York's largest hospital system showed that survival rates for patients placed on ventilators are even lower than previously believed. The data showed that a staggering 88% of coronavirus patients who were placed on ventilators in the state's hospitals didn't survive. Doctors, meanwhile, are also seeing more strange complications from the disease involving blood clots and the cardiovascular system. One doctor in China who barely survived his struggle with the virus experienced an extremely strange shift in skin pigmentation.
This news follows yesterday's report which found more than 10,000 nursing home residents in 35 states have succumbed to the virus, representing roughly one-fifth of all deaths in the US.
The number of confirmed deaths from the virus around the world is approaching 200k, while the number of confirmed cases has surpassed 2,645,000.