---
Shots Fired On India-China Flashpoint Border As Deescalation Talks Crumble
China and India have each accused the other of firing shots across the border along the contested Line of Actual Control (LAC) in the high altitude flashpoint region of Ladakh. 
Line of Actual Control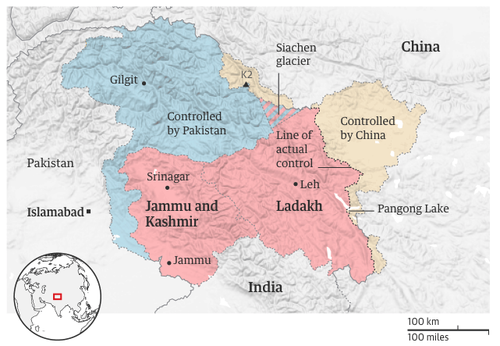 Beijing charged India with a "severe military provocation" after it claimed Indian troops breached the LAC and entered the Chinese to side. They then "opened fire to threaten the Chinese border defense patrol officers," according to the PLA charge.
An Al Jazeera correspondent in Beijing reports that "According to the Chinese side, Chinese troops approached the India side for negotiations, and then they say some Indian troops fired at the Chinese side."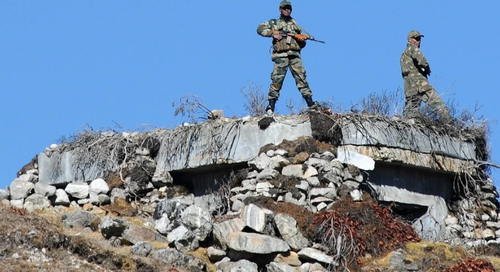 "As a result, China's military said it was forced to take countermeasures - although we don't know what those countermeasures were, or if there were any casualties," the report added.
A series of high level military to military talks have thus far prevented this type of escalation since the June 15 incident which saw the rival sides clash in hand-to-hand combat, resulting in 20 Indian troop deaths and a presumed unknown number of PLA casualties. 
But these talks appear to be unraveling, also as China's state-run English newspaper, Global Times, issues its account of what happened on Monday:
Indian troops again illegally crossed the Line of Actual Control (LAC) into the Shenpao mountain region near the south bank of Pangong Tso Lake on Monday. They then outrageously fired warning shots at Chinese border patrol troops who came to negotiate, and Chinese border patrol troops were forced to take measures to stabilize the area, a spokesperson of the Chinese People's Liberation Army (PLA) Western Theater Command said early Tuesday. 
And this was followed with a stern warning, saying, "We must warn India seriously: You have crossed the line! Your frontline troops have crossed the line! Your nationalist public opinion has crossed the line! Your policy toward China has crossed the line! You are over-confidently provoking the PLA and Chinese people - this is like doing a handstand on the edge of a cliff!"
And further, Global Times continues: 
Nationalist forces in India should think twice that if the Chinese and Indian armies change their agreement of handling friction along the border area to prioritize the use of gun, then what use of them seizing two commanding heights on the south bank of Pangong Tso Lake? Does commanding height make sense in modern military conflict? Between Indian and China, which country has more weaponry and which country has bigger military budget, can't Indians count out?
New Delhi immediately threw the accusation back, denying that its own troops carried out the aggression, instead blaming China.
"It is the PLA that has been blatantly violating agreements and carrying out aggressive maneuvers," the Indian army said Tuesday in an official statement.
"Despite the grave provocation, (our) own troops exercised great restraint and behaved in a mature and responsible manner," the army added.