---
Shots Fired In Tense Greece-Turkey Patrol Boat Ramming Incident
Turkish media is confirming a major incident between a Turkish coast guard vessel and a Greek coast guard patrol boat on Thursday, describing that the Greek patrol was harassing Turkish fishing boats before Turkish coast guard authorities intervened. But Athens has countered that it was the Turkish side harassing Greek vessels.
Both sides are saying warning shots were fired and are attributing acts of aggression to the other side: "A Greek coast guard patrol boat's crew fired warning shots early Thursday to deter a Turkish coast guard vessel that was trying to ram them in the eastern Aegean Sea, authorities in Athens said, as tensions between the two neighbors remain high," the Associated Press reports.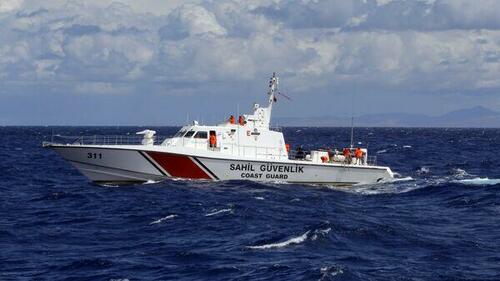 The Greek coast guard statement continued by saying "the crew fired warning shots in a secure sector and the Turkish coast guard vessel withdrew" toward the Turkey's coast line, indicating the shots were not fired directly toward the opposing vessel, but in the air.
It further said the Turkish side "carried out dangerous maneuvers with the intention of ramming" the Greek vessel. Greece is saying the encounter occurred just off the Greek islet of Farmakonissi, describing that it was 1.5 nautical miles (or 1.7 miles) inside Greece's territorial waters.
These types of ramming incidents have become more frequent over the past years, despite there being relative quiet throughout much of 2022 in comparison with past years.
However, there's been persisting threats coming out of both sides, with speculation in Greek media that Erdogan could be planning war, and to take control of Greek territorial waters especially in the Aegean. Cyprus has also condemned frequent incursions into its waters as illegal.
Both Cyprus and Greece have long condemned what they say is Turkish fishing - as well as oil and gas exploration - inside their Exclusive Economic Zones. Both countries have repeatedly complained to the EU, with France in particular having offered military assistance to better monitor air and maritime incursions by Turkey's military.
Loading...