---
China Slams Australia For "Taking Orders From The US" As Canberra Questions Coronavirus Origins: Live Updates
Summary:
Singapore extends lockdown until end of June, longest in the world
Demonstrators fill the streets of Paris
Cuomo holds Tuesday briefing in Buffalo
Yonhap denies reports that NK's KJU is dying
Schumer revives hopes for Tuesday night Senate vote on relief bill
Italy bond yields climb as PM Conte says EU rescue package proposal not enough
US cases jump 5.7% on Tuesday, biggest jump since April 10
Air Canada suspends flights to the US
AG Barr says DoJ may sue some states with strict virus limits
Congressional leaders strike deal on $320 billion bailout
Spain caves, decides to let children under 14 leave the house unaccompanied
Fla. reports 835 new cases
Georgia, Tennessee & South Carolina unveil plans to start reopening economies by Tuesday
Trump orders 60-day stop to immigration into US
China slams Aussies for "taking instructions from US" by questioning virus response
Cuomo had a good meeting with Trump, he says
Senate passes bill to top off 'PPP'
Sweden sees another jump in cases
Gottlieb says true # of US cases likely "10x higher" than official total
New York sees total new cases decline for 6th day
Gavin Newsom says "now is not the time" to reopen the country
France suspends flights outside the Schengen area
JPM has developed plan to get employees back in the office
Global cases pass 2.5 million
Ireland won't allow mass gatherings until August "at the earliest"
540 federal inmates now infected
US cases near 800k, with deaths passing 170k
*     *      *
Update (2045ET): Before we call it a night, we're going to do a quick roundup of the major virus-related headlines from the last couple of hours.
Just as many were beginning to fear a vote on the package might be pushed back until Friday or even next week, the Senate managed to pass a $484 billion bill to replenish the 'PPP' as President Trump resorts to bashing Harvard and other recipients who don't exactly 'need' the money to give it back, as it looks like criticisms that the program allotted too much money to too many applicants who didn't really need it, leaving thousands of small businesses to shut down permanently. The bill also boosts spending for hospitals and coronavirus testing. The House plans to vote on the measure Thursday, and the bill is expected to pass but...who knows what might change between now and then.
Andrew Cuomo had some comments on his Tuesday meeting with the president:
I am heading to the White House to meet with President Trump to address testing.

We need partnership between the states and the federal government.

We will work together to ensure a safer, stronger future for everyone.

— Andrew Cuomo (@NYGovCuomo) April 21, 2020
I had a productive meeting with President Trump today.

We agreed that the state will be responsible for managing the actual tests in our laboratories.

The federal government will take on the responsibility of supply chain issues that are beyond states' control.

— Andrew Cuomo (@NYGovCuomo) April 21, 2020
And in a warning that was reminiscent to the reaction to Australia's restrictions on Huawei and support for the US during the Meng Wanzhou incident, China's foreign ministry has accused the Aussies of "taking instructions from the US" by questioning the origins of the coronavirus.
SYDNEY, April 22 (Reuters) - China accused Australia of taking instructions from the United States over its criticism of Beijing's handling of the initial outbreak of the novel coronavirus, marking a further deterioration in ties between the two major trading partners.

— Vincent Lee (@Rover829) April 22, 2020
Reuters: "It is well known that recently some people in the U.S. including high-level officials have been spreading anti-China 'information virus'," a statement from the Chinese embassy in Canberra said late on Tuesday.

— Vincent Lee (@Rover829) April 22, 2020
Reuters: "These days, certain Australian politicians are keen to parrot what those Americans have asserted and simply follow them in staging political attacks on China."

— Vincent Lee (@Rover829) April 22, 2020
Australia recently joined the US in calling for a probe into the origins of the outbreak following reports that the virus may have leaked from a nearby biolab.
A second wave of the novel coronavirus will be far more dire, the CDC warned Tuesday, in response to several governors announcing plans to start reopening their economies.
And, of course, President Trump officially suspended immigration into the US for 60 days.
Finally, the US Bureau of Prisons just reported that 540 federal inmates and 323 BoP employees have tested positive as the virus continues to spread through America's federal prisons.
*     *      *
Update (1620ET): New York reported 4,178 new cases of coronavirus and 481 new deaths, bringing its statewide total to 251,690 cases and 14,828 deaths, still far and away the highest numbers in the country. It's the lowest number of new cases since March 21, and represents the latest indication that the state is indeed on the "downward slope" as Cuomo has insisted...
*     *      *
Update (1605): The number of confirmed coronavirus cases in the US climbed by 5.7% on Tuesday, the biggest jump since April 10. The US has a total of 814,587 cases as of 4pmET, according to JHU.
The big milestone today was cases broke above 800k earlier. We're coming up on the three-month anniversary of when cases broke above 8,000, shocking everybody who thought that this outbreak wouldn't even be as bad as SARs, and would fade in a few weeks without every really making an impact outside China. The US also has more than 41,000 recorded COVID 19-linked deaths now, nearly double the nearest rival (Italy), though nobody can say for sure how many thousands or millions remain uncounted around the world.
The 'just the flu' truthers laughed at the thought of it back then; but nobody's laughing now.
*     *      *
Update (1600ET): Congressional leaders have purportedly reached a deal to provide $320 billion in additional funding for US small businesses, part of a $484 billion interim stimulus package announced on Tuesday.
Meanwhile, in Spain, the government has caved to pressure and decided to roll back additional restrictions on children under 14 leaving the house unsupervised.
*     *      *
Update (1520ET): Just as the states expected to stay closed the longest are facing newfound pressure to reopen, California and New Jersey are posting record single-day increases in new cases and deaths. NJ reported a record 379 deaths over the last 24 hours, while California reported a 7% jump in cases and 5% jump in deaths, disrupting what had been an encouraging slowdown. Cali also announced that ICU cases have climbed 3.8% from Monday.
Is it just a coincidence that two blue states reported such alarming numbers hours after a Newsom interview triggered backlash by Californians pressing the governor to reopen the state more quickly?
Spanish PM Pedro Sanchez is facing criticism after announcing over the weekend that children under the age of 14 won't be allowed to leave their homes without being accompanied by an adult. Spaniards had expected children to be allowed to leave home as part of a batch of new measures allowing more businesses to reopen and lifting other restrictions, even as Spain extends its lockdown deadline into May.
Meanwhile, the Dutch government has announced plans to gradually relax the country's lockdown, beginning with the partial reopening of primary schools next month. Prime minister Mark Rutte on Tuesday said primary school children can attend school beginning May 1 and held open the possibility of secondary schools following from June 1.
The numbers of new hospitalizations of coronavirus patients needing intensive care and of COVID-19 deaths have continued to decline in France after more than a month of confinement for the population, the government said on Tuesday. Jérôme Salomon, director-general of health, released figures showing an additional 387 hospital deaths and another 144 deaths in old people's homes and other care homes over the previous 24 hours. France's total death toll rose to 20,796, of which 12,900 were recorded in hospitals and 7,896 in homes. The number of COVID-19 cases confirmed by testing in the country is 117,324. "The epidemic is massive," Salomon said, noting that 83,000 people had been hospitalized while suffering from coronavirus since the beginning of March.
*     *      *
Update (1450ET): Global Times editor Hu Xijin issued another tweet mocking President Trump's support for the 'reopen now' protesters, claiming "the president supports protesters, not scientists"..."the America is lost."
Fighting COVID-19 is bound to be a protracted battle, which will test endurance of each country. The American society is obviously impatient as anti-lockdown protests are spreading. The president supports protesters, not scientists. The America is lost.

— Hu Xijin 胡锡进 (@HuXijin_GT) April 21, 2020
Just in case Trump was wondering how his geopolitical adversaries (and probably more than a few allies) view his decision to court the protesters.
*     *      *
Update (1405ET): Sweden reports 545 new cases of the coronavirus, and 185 new deaths, for a total of 15,322 cases and 1,765 deaths, as cases continue to accelerate in the Scandinavian country which opted to skip lockdowns and never really shuttered its economy, or its borders.
And in another notable milestone for the outbreak, the number of confirmed cases in India has surpassed 20k, as the government finally takes its first tentative steps toward alleviating the lockdown.
Banxico announced a few minutes ago that it would slash its benchmark interest rate by 50 bp, sparking a slide in the Mexican peso against the dollar.
*     *      *
Update (1340ET): As Canada reels from its worst shooting in history (the death toll has been revised up to 19), the total confirmed cases climbed to 37,933, while its total deaths hit 1,753.
Meanwhile, Air Canada has cancelled all fights between Canada and the US after April 26.
Air Canada says it is suspending all Canada-US cross-border flights after April 26, until at least May 22. The airline says it had been maintaining 'limited service to 11 U.S. destinations from its three Canadian hubs, primarily to facilitate the repatriation of Canadians.' pic.twitter.com/QKV8WSzLXD

— CBC News Alerts (@CBCAlerts) April 21, 2020
Speaking of mass flight cancellations - something we'd finally thought we'd seen the end of, but... - France cancelled all flights from France to destinations outside the Schengen area.
*     *      *
Update (1210ET): The National Institutes of Health has released new treatment guidelines for doctors and other health-care providers treating patients sickened by COVID-19.
#NIH issued treatment guidelines for #COVID19. The Guidelines, developed by an expert US panel, are intended to help healthcare providers on the frontlines fighting COVID-19. Posted online, they will be updated often as new data & information emerges. https://t.co/CrLz1x2LXs pic.twitter.com/Y5ACYYsw7s

— NIH (@NIH) April 21, 2020
Political news out of Washington over the last 24 hours has mostly fixated on negotiations on another relief bill to replenish the 'PPP', aside from more evidence showing more FBI mismanagement and rule-breaking associated with the Russia probe.
On Tuesday, AG Barr said that states with "strict virus limits" might be prosecuted by the DoJ to, we assume, push them to reopen their economies more quickly.
Again, this is a move with terrible political consequences for President Trump, as it will drag more responsibility for the outcome of the outbreak - an outcome that can only be negative - to the president's door.
Italy has also seen the total number of recovered patients reach 50,000, another positive milestone.
*     *      *
Update (1200ET): With European markets closed for the day, Italy has just reported its coronavirus stats from the past 24 hours, and they started with a jump in deaths day-over-day: 534 were reported over the past day, compared with 454 reported on Monday. It also reported a notable uptick in new cases, though the single-day jump on Tuesday remained below the highs from a couple of weeks ago.
Italy's Civil Protection Service reported 2,729 new cases, compared with 2,256 new cases reported a day earlier. The countrywide total was 183,957.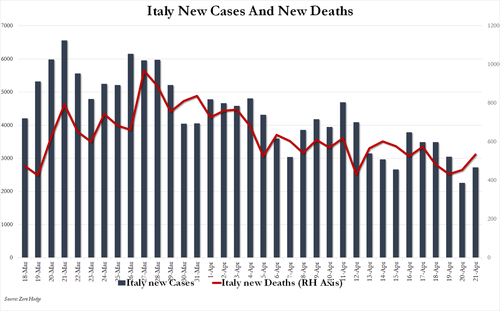 Though some blamed the weekend and a larger number of tests run on Tuesday vs Monday for the jump in new cases and deaths. Moreover, there was a silver lining: for the first time, the number of patients deemed 'recovered' over the last 24 hours nearly passed the number of new cases confirmed.
Italian bond yields shot higher on Tuesday as Prime Minister Giuseppe Conte criticized the EU's rescue package for economies that have been most badly hurt by the outbreak, like Italy's. Last week, French President Emmanuel Macron warned that the EU could break apart if not enough is done to help countries like Italy and Spain (and, presumably, France).
The parsimonious Germans might doom the whole thing by allotting plenty of their tax dollars for their own people, and none for the Italians.
These tensions are bound to come to a head on Thursday, when the EU holds a summit on Thursday to discuss the fiscal response to the virus.
Following a controversy over Wall Street's cultural resistance toward working from home where traders at JPM reportedly sickened a whole floor after refusing to stop coming  to work despite being infected with the coronavirus (which they didn't learn until later), JPM has reportedly formulated a plan to get its employees back in the office.
Finally, back in the UK, 4,301 new cases were reported as the number of tests rose, bringing the countrywide total to 129,044.
*     *      *
Update (1140ET): Florida reported that it's case total jumped 835 cases to 27,495, which leaves it in 8th place in the US. The state reopened beaches over the weekend, a decision that has aroused much outrage.
Hundreds of people are gathering in Florida's re-opened beaches, as COVID-19 cases continue to rise in the state. pic.twitter.com/EikH2DQyhY

— AJ+ (@ajplus) April 20, 2020
As the continued begging the federal government for more tests, Cuomo explained that one reason for the shortage was the lack of chemical reagents from overseas.
*      *      *
Update (1130ET): Three months ago, when we reported that the global total of confirmed coronavirus infections might number in the millions - citing projections released by credible epidemiologists who had begun publicly sharing their views - we were dismissed by some as 'alarmists'.
Now, almost three months to the day when the number of confirmed coronavirus cases (almost all in mainland China) surpassed the global total from the SARS outbreak, the total cases have surpassed 2.5 million.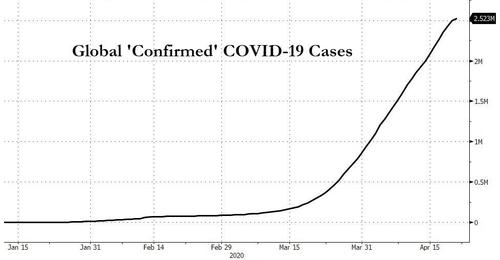 The Irish Times just reported that Ireland will ban all mass gatherings until August "at the earliest."
*     *      *
Update (1115ET): Just when Britain had hoped that the pace of COVID-19 deaths had finally started to flatten, the UK has reported a sharp jump in deaths, one of its highest single-day readings in the last 2 weeks.
The news broke a two-day streak of falling fatalities.
The Department of Health and Social Care reported 828 today, up from 449 yesterday.
As of 9am 21 April, 535,342 tests have concluded, with 18,206 tests on 20 April.

397,670 people have been tested of which 129,044 tested positive.

As of 5pm on 20 April, of those hospitalised in the UK who tested positive for coronavirus, 17,337 have sadly died. pic.twitter.com/rLnm7MWxEw

— Department of Health and Social Care (@DHSCgovuk) April 21, 2020
As of 5pm London Time on Monday, the UK's confirmed deaths stood at 17,337, the health department said. The more than 800 deaths reported Tuesday is above last week's average of 778.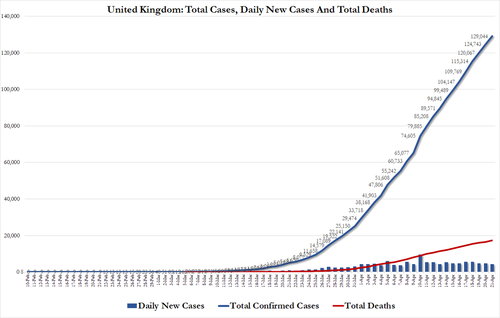 Too bad...it seems every time the UK takes one step forward, the virus seems to invade another nursing home, or some other densely populated area, producing a dramatic resurgence.
The UK and the US have seen some of the highest mortality rates in the West in recent weeks. As of 9am on Tuesday, 535,342 tests have been completed in the UK, including 18,206 on April 19. England again reported 778 of the deaths, in keeping with precedence of almost all the deaths and cases coming from England. Meanwhile, England has recorded an 82% rise in deaths compared with yesterday's figures.
Finally, as Cuomo wrapped up his press conference in Buffalo, he confirmed that the total cases in NY have risen 4,178 to 251,690. It's the 6th straight day of declining pace of new cases.
*     *      *
Update (1100ET): Gov Cuomo is holding Tuesday's briefing in Buffalo.
In Buffalo holding a briefing on #Coronavirus. Watch Live. https://t.co/pxL3diFNii

— Andrew Cuomo (@NYGovCuomo) April 21, 2020
The theme of today's press conference: "Think regionally" - Cuomo said that different regions of his enormous state are experiencing differences in the rate at which the 'curve' of new cases is flattening. This means different areas of the state will reopen at different times. "We have to think regionally...and act based on the facts on the ground," the governor tweeted.
As always, Cuomo released data on the deaths in the state over the last 24 hours at the beginning of the press conference: On Tuesday, the state reported 481 deaths, only slightly higher than the 478 virus-related deaths reported on Monday.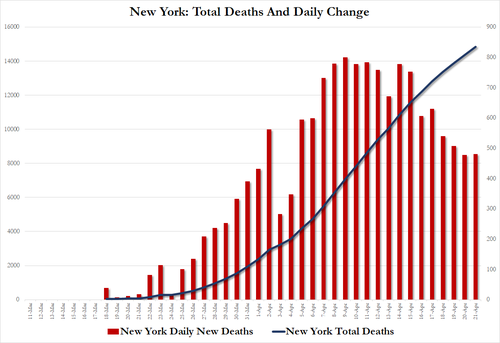 The number of patients requiring hospitalization has also stabilized, according to the charts below: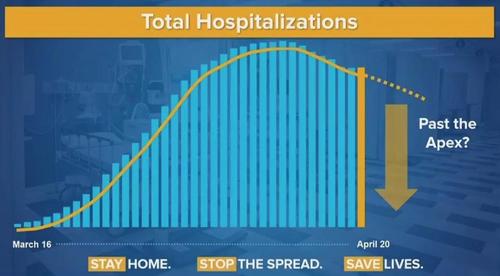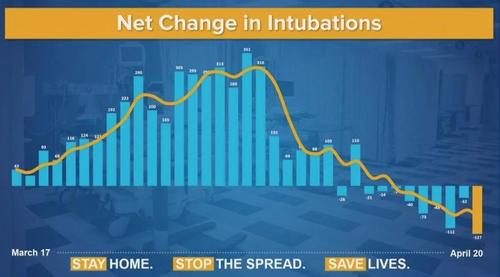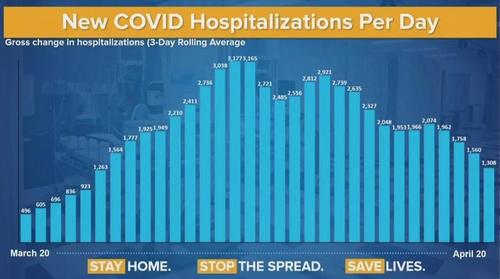 As we noted above, Cuomo is starting to plan out how to reopen his state one region at a time, while also continuing to cooperate with other northeastern states who joined his 'alliance'.
*     *      *
Update (1030ET): During an appearance on "CBS This Morning" on Tuesday, California Gov. Gavin Newsom says now is "not the time" to start pulling back on coronavirus restrictions, as his state gives millions of dollars away to undocumented aliens while insisting that its poorest residents stretch their dwindling dollars further and further.
The worst is not over for Calif. and "if we all pull back, we could see a second wave that makes this pale in comparison," Newsom said.
"ICU numbers are beginning to flatten but we're not seeing the decline that we need" to roll back restrictions, Newsom said.
Hundreds of people converged on California's state capital in Sacramento to protest the state's indefinite stay at home order, and Newsom's signaling that the order will remain into place well into May.
Asked whether students would return to school in September, whether baseball would happen in the summer and whether - crucially - we'll vote "as normal" in November, Newsom said "no" on all three.
So much needs to happen before life can return to normal, Newsom said. Schools and all businesses will need to reconfigure floor plans and the notion of people coming together in large crowds until a vaccine or "successful widely distributed...treatment" is found.
Our question: As these super-progressive governors keep talking about a "new normal" where people must maintain social distancing at all times until we get herd immunity or a vaccine. But do they realize that this simply isn't realistic? Restaurants won't be able to do business, full stop. Even if widespread WFH policies become the new normal, these drastic reconfigurations of everything from schools to businesses to entertainment to life...as we know it...sound increasingly fanciful - especially when places like Norway have had some success combatting the outbreak without mass shutdowns.
With some southern states preparing to reopen, the big shutdown theory is going to be put to the ultimate test: initially, we were told the shutdowns would only be necessary to ensure that hospitals won't be overwhelmed. Though hospitals in NYC and a few other places came close, there's no question that the rate of hospitalizations and ICU patients has been falling across the country. Even Italy is starting to relax its lockdown, and so is Spain, despite extending some of the country's notably strict restrictions until May 9.
Does Newsom really think that small businesses will simply be able to "stay closed" for 2 years, living off government handouts during the interim? We're really starting to wonder.
Watch the interview below:
*     *      *
Update (0820ET): The word out of Washington overnight was that a vote on the next relief bill likely won't happen until tomorrow. But Minority Leader Chuck Schumer said Tuesday that there's a chance that a vote in the Senate could happen tonight, as new progress has been made on negotiations for a $125 billion slug of cash that will go directly to 'unbanked' and 'mom-and-pop' stores. The Democratic leader added that "we will not be able to open up America without a national testing strategy." This, despite Dr. Fauci saying last week that universal testing is not a mandatory condition to start reopening economies.
*     *      *
Update (0730ET): Last night, just as Georgia Gov Brian Kemp was beginning his Monday press briefing, the conservative Republican made an announcement that instantly horrified the mainstream media: The state would begin loosening some lockdown restrictions on Friday, and that by Monday, businesses from gyms to beauty salons in his state would be allowed to reopen.
Hundreds of talking heads immediately pointed out that the state is hardly on track to meet the guidelines set out by the White House. But by Tuesday morning, several additional states, including Tennessee and South Carolina, had joined Georgia in planning to begin lifting restrictions before May 1.
As new hotspots continue to form across the country, including in Ohio, Michigan and other states that appear to be headed toward reopening in a few weeks, these states have made the calculation that the damage to their economies simply isn't worth the risk to life and health. Georgians will be able to dine in restaurants again by the end of the day on Monday.
Some states are flinging the doors back open. In Tennessee, Gov. Bill Lee said he had opted not to extend his "safer-at-home" order that is set to expire on April 30. According to Lee, "the vast majority of businesses in 89 counties" will be allowed to reopen on May 1. Businesses in Ohio are expected to reopen on that date as well.
Others are taking a slightly more measured approach. In South Carolina, Gov. Henry McMaster will allow some retail businesses, including department stores, that had previously been labeled "nonessential" would be allowed to reopen on Tuesday. But even after opening, they must abide by social distancing guidelines, the governor said. Residents will also be able to access the state's beaches on Tuesday.
Ohio Gov.Mike DeWine said on "Meet the Press" that he would move to "try and open this economy...[without getting] a lot of people killed," though he didn't give an exact date, it has been reported that the process will begin next month.
While the global case total hovered slightly below 2.5 million, as of 8amET, Johns Hopkins had tallied 787,960 cases of the virus in the US (while some estimates have put the true total infected at closer to 5 million). As we pointed out Sunday night, recent signs suggest that the lockdowns have worked to flatten the curve: In the US, daily new cases are down 33% from the peak 10 days ago. 6% of the US counties have reported zero new cases in the past 7 days. And 7 states have announced plans to start reopening in the next two weeks, equivalent to roughly one-fifth of GDP.
Speaking on "Squawk Box" Tuesday morning, former FDA Director Scott Gottlieb said "it might be possible" that 1 million people have been exposed to the virus in metro New York (meaning NYC alone; that's roughly 1/9 people), the latest suggestion that the US mortality rate is much lower than the official numbers reflect - one more reason for governors to move ahead with reopening.
If you're wondering what the situation is in your state, here's a roundup of what
Before we go, we just wanted to highlight this tweet from the Federalist's Sean Davis.
Democrats and media aren't demanding indefinite lockdowns for public health reasons. Democrats know the booming economy was Trump's biggest political advantage, so they made the deliberate decision to destroy tens of millions of jobs and livelihoods for their own political gain.

— Sean Davis (@seanmdav) April 21, 2020
Just some food for thought.
*     *      *
After a day of historic insanity in the American oil market, the Brent international oil benchmark is down more than 40% already Tuesday morning as investors continue to digest reports from late last night that North Korean leader Kim Jong Un might be in critical condition (a Trump Administration source said 'yes' while South Korea's Yonhap said 'no') and a Tweet from President Trump that he would be "suspending" immigration into the US due to the coronavirus. The news prompted a whipsaw in equity futures late last night.
While liberals lose their minds, it's worth remembering that immigration into the US is already effectively shut down. Refugee resettlement has been put on hold, visa offices have been shuttered, and citizenship ceremonies have been put on hold. CNN said it's unclear how this will impact green-card holders.
In light of the attack from the Invisible Enemy, as well as the need to protect the jobs of our GREAT American Citizens, I will be signing an Executive Order to temporarily suspend immigration into the United States!

— Donald J. Trump (@realDonaldTrump) April 21, 2020
Meanwhile, in the latest indication that nobody really knows what's going to happen with this outbreak, Singapore announced just minutes ago that it will extend its mandatory stay-at-home order until June, making Singapore's lockdown the longest currently on record.
Singapore's Straits Times reported that, in a televised national address, Singapore's leader PM Lee Hsien Loong said that after yet another record jump in new cases - an outbreak that has been tied to camps of migrant workers who represent a 'forgotten class' in Singapore society - his government has decided to extend the densely-populated city-state's lockdown for another month until June, making Singapore's the longest lockdown extension in the world.
In addition to extending the lockdown, Singapore is paring down the number of 'essential' businesses allowed to remain open, in effect ratcheting up the pressure on its economy.
The city-state reported another 625 new cases on Tuesday, bringing its total case number to 7,213 according to BNO News, in a country of 5.7 million.
While Lee insisted that Singapore's 'circuit breaker' - don't call it a lockdown - has been effective at suppressing the spread, Lee stressed that Singapore cannot be complacent, and that the number of "unlinked" cases has been stubbornly high, suggesting a "hidden reservoir" of cases in the community still.
Singapore was praised for its rapid and intense methods to combat the outbreak, rolled out back in February when the virus first started to spread outside Wuhan and mainland China. Among its toolkit was a protocol that required a team of investigators to trace contacts of newly positive patients within 2 hours to prevent further spread.
If you're curious about how Singapore went from poster-child of effective virus response to one of the worst-hit countries in Asia ex-China, the WSJ can explain.
The virus found a blind spot: migrant workers. Hundreds of thousands of workers from Bangladesh, India and other countries live in dormitories, often 10 to 20 people to one room. They climb into packed vans on their way to build the city's gleaming office towers and condominiums.

More than three-quarters of Singapore's 9,125 cases now come from dormitories. Prime Minister Lee Hsien Loong said in an address Tuesday that the clusters in these facilities had remained "largely contained" and not spread to the wider community. Authorities were working to detect any transmission from dormitories to populations outside them early, he said.

Mr. Lee said Singapore's lockdown - which began earlier this month and was intended to last four weeks - would be extended by four weeks beyond that, until June 1. The list of essential services allowed to remain open would be pared down, he said, to further reduce the risk of transmission among workers who keep these going.
But the big flaw was that Singapore overlooked the densely populated camps of migrant workers who typically fill the lowest level of jobs in Singaporean society. The second round of Singapore's outbreak has been largely centered around these camps, with thousands of migrant workers becoming infected.
During Lee's fourth national address to the nation since the virus emerged, the PM explained that the current measures would remain in place until May 4, at which time the city-state will start trying to slowly reopen society, using some of the same cautious criteria adopted by New Zealand and Germany.
To accomplish this, workplaces will be closed to further reduce the number of workers keeping essential services going. Some hot spots, such as popular wet markets, remain a problem, as large groups of people continue to congregate there, Lee said.
Lee noted that while there will be some "privacy concerns", ramping up contact tracing via the "TraceTogether" contact tracing app - which all residents of Singapore have been asked to download - is a critical priority for the government as it moves to stamp out the virus.
"There will be some privacy concerns, but we will have to weigh these against the benefits of being able to exit from the circuit breaker and stay open safely."
And as far as migrant workers are concerned, Lee promised that "we will take care of you like we take care of Singaporeans."
Roughly one-fifth of the world, led by India, is starting the painful process of reopening. And countries that are refusing to start lifting some restrictions are facing growing unrest, including in France, where protesters poured into the streets of Paris to protest the lockdown and alleged mistreatment of minorities under lockdown conditions.