---
Six Russian Warships Enter Black Sea Ahead Of Large War Drills
Russia's Defense Ministry has confirmed Tuesday that it has sent six warships toward the Black Sea from the Mediterranean ahead of large-scale naval drills. The military said it was pre-planned, though tensions over Ukraine are on edge, while Western media reports are noting the warship movements are a "show of strength". 
"The six ships are scheduled to pass through Turkey's straits to the Black Sea on Tuesday and Wednesday, Turkish sources said," Al Jazeera writes. "The vessels include the Korolev, the Minsk and the Kaliningrad, which are set to navigate the Bosphorus on Tuesday, while the Pyotr Morgunov, the Georgy Pobedonosets and the Olenegorsky Gornyak are expected to pass on Wednesday."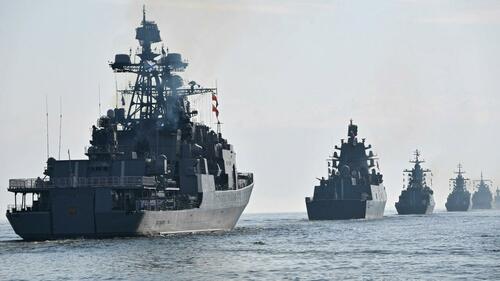 The deployment is part of huge drills across all naval fleets set for later this month that's expected to include some 140 warships and support vessels, as well as aerial assets, to take place in the Pacific and Atlantic Oceans, as well as the Black Sea, North Sea, Mediterranean and the Sea of Okhotsk.
The ships are expected to sail through Turkish-controlled straits Tuesday and Wednesday - something that NATO member Turkey could legally block if it decided Russia was preparing to attack Ukraine - which suggests that NATO is acknowledging the legitimate and pre-planned nature of the deployments.
NATO is meanwhile more carefully eyeing the upcoming active phase of the "Allied Resolve" joint Russian-Belarus major exercises, set for Thursday and to run through February 20.
The Biden administration has been pointing to a build-up of Russian military equipment - including fighter jets and S-400 missiles - inside Belarus, close to Ukraine, as part of the "threat" aimed at Kiev.
Russian warships enter Black Seapic.twitter.com/k046VSLtby

— Lucas Tomlinson (@LucasFoxNews) February 8, 2022
But Moscow is currently seeking to assure the world that its troops and equipment will return home after the drills: 
Kremlin spokesman Dmitry Peskov told reporters that Russian soldiers "will return to their permanent locations" because "we're talking about allied exercises and of course this is understood."

"No one has ever said that Russian troops will remain on the territory of Belarus, this has never been discussed," Peskov was quoted as saying by news agencies.
Reportedly Putin also sought to convey this during his Monday five-hour summit with France's Macron. Both agreed to pursue the French president's proposals for resolving the current standoff peacefully, with Putin saying application of the Minsk accords offers a way forward.