---
S.Korea Fires Shots, Scrambles Jets After North Sends Drones Near Seoul
A rare and hugely significant incident occurred Monday along the heavily fortified border which separates the Korean peninsula. South Korea's military has confirmed it fired warning shots and scrambled jets after the north sent drones that violated the south's sovereign airspace.
It marks the first such major territory-breaching incident in a half-decade, also resulting in Seoul sending surveillance aircraft across the border in response. The North Korean drones penetrated deep into the south's territory, resulting in civilian commercial flights being temporarily grounded in and around Seoul. 
"South Korea's military detected five drones from North Korea crossing the border, and one traveled as far as the northern part of the South Korean capital region, which is about an hour's drive away, South Korea's Joint Chiefs of Staff said," according to The Associated Press.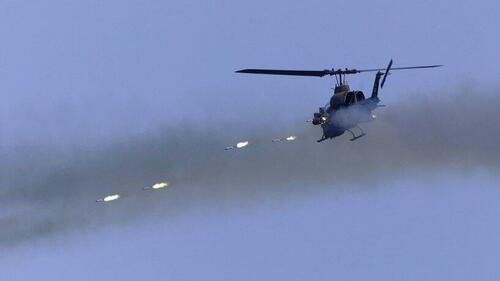 "The military responded by firing warning shots and launching fighter jets and attack helicopters to shoot down the North Korean drones," the report based on official military statements continues. "The attack helicopters fired a combined 100 rounds but it wasn't immediately known if any of the North Korean drones were shot down, according to the Defense Ministry."
Only one of the five drones was observed flying back across the border into North Korea, while the others disappeared from radar, according to the south's Joint Chiefs.
Among surveillance countermeasures authorized in response, the Joint Chiefs said that its surveillance aircraft photographed sensitive North Korean facilities from which drones usually operate.
The south's significant rapid response to the drones breaching the border resulted in a crashed manned aircraft. Seoul identified that one of its KA-1 light attack airplanes crashed while taking off, resulting in both pilots ejecting safely.
"Our military will thoroughly and resolutely respond to this kind of North Korean provocation," Maj. Gen. Lee Seung-o, spokesman for the South Korean Joint Chiefs of Staff, said at a press briefing.
Tensions along the militarized border have already been high due to Pyongyang firing off a record number of ballistic and other missiles this year, including a pair fired last week toward Japan. With now days left in 2022, analysts have tracked over 90 missiles fired this year.
#BREAKING: South Korea has scrambled fighter jets and attack helicopters and has fired warning shots after North Korean drones violated its airspace

- North Korean drone flies over capital of Seoul

- A South Korean Ka-1 fighter jet crashed while fighting a North Korean drone pic.twitter.com/mJf2n1Dn1X

— Amichai Stein (@AmichaiStein1) December 26, 2022
"North Korea has launched at least 92 ballistic and other missiles in 2022 — more than in any previous year," The New York Times has tallied in a new report. "Each was in defiance of U.N. Security Council resolutions that ban the country from testing ballistic missiles, as well as nuclear devices."
Monday's fresh incident illustrates how close the rival sides of the Korean peninsula are to firing on each other's military assets at any time. The Kim Jong-Un regime has also been expressing anger over recent US-S.Korea military drills which has featured US nuclear-capable bombers and F-22 stealth jets flying over the peninsula and regional waters.
Loading...