---
South Africa Lashes Out At US 'Megaphone Diplomacy, Bullying' After Arms For Russia Allegations
The South African government has rejected US allegations that it approved of an arms sale to Russia, with President Cyril Ramaphosa having ordered an official inquiry. The presidency's office said Friday there was "no evidence" currently of such an arms sale, also with the foreign ministry saying there was "no record of an approved arms sale by the state to Russia related to the period/incident in question."
Further, one of Ramaphosa's cabinet ministers, Khumbudzo Ntshavheni, has blasted Washington's "megaphone diplomacy" and vowed that South Africa will not be "bullied by the US".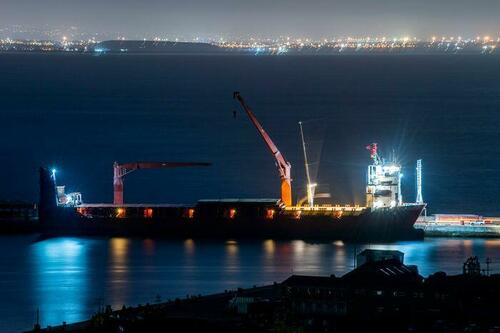 "It is the US which has sanctions against Russia... they must not drag us into their issues with Russia," Ntshavheni, told a public broadcaster. South Africa's foreign ministry on Friday summoned the US Ambassador in order to lodge complaints and demand answers.
The Kremlin for its part confirmed Friday that President Vladmir Putin had spoken to his South African counterpart by phone. The two pledged "mutually beneficial ties" after the massive Thursday allegation sent shockwaves across South Africa. 
It was only on Thursday that the US ambassador to Pretoria accused South Africa of transferring arms to Russia in a covert naval operation, which further spotlighted President Ramaphosa and his country's ties to the Kremlin and its position on the Ukraine war. Ambassador Reuben Brigety had told local media on Thursday the US believed that weapons and ammunition was loaded onto the Lady R, a sanctioned Russian vessel that docked in the Simon's Town naval dockyard near Cape Town in December.
"Among the things we noted was the docking of the cargo ship… which we are confident uploaded weapons and ammunition onto that vessel in Simon's Town as it made its way back to Russia," he said, in comments reported by South Africa's News24. "The arming of the Russians is extremely serious, and we do not consider this issue to be resolved," he added.
Meanwhile, an unexpected foreign ministry statement was issued later in the day following the US ambassador being summoned. The claim is that the US has "apologized": 
South Africa's foreign ministry said in a statement on Friday the U.S. ambassador to South Africa, Reuben Brigety, had "admitted that he crossed a line" and "apologized unreservedly" after he said a Russian ship had picked up weapons in South Africa last year, causing a diplomatic uproar. 
But so far there's been no official confirmation of this exchange from the US side. Interestingly, the whole episode may in the end push South Africa further into the Kremlin's corner, given rising public anger over what may be seen as Washington interference in South African affairs, and as part of attempts to humiliate the Ramaphosa government.
Loading...