---
LA County Will "With All Certainty" Extend 'Stay At Home Order' For 3 Months: Live Updates
Summary:
Texas AG says Dallas County can't legally require facemasks
Brazil posts record daily death toll as new evidence of early death emerges
LA County will drag out reopening for 3 months
Germany, France agree to open mutual border
NY reports surprising jump in deaths
Cali reports jump in cases, deaths
NYC says more children infected with mysterious syndrome
Italy, UK report latest numbers
IMF to cut global outlook again
Russia overtakes UK to become world's 2nd-biggest outbreak
South Korea uses surveillance tech to confirm 100 cases linked to gay bar outbreak
UK finds 4/10 COVID-19 deaths linked to care homes
Wuhan begins latest mass testing push
China Health Commission says Wuhan cluster shows "prevention and control measures cannot be relaxed"
57k students return to school in Wuhan
Moderna wins approval for expedited testing, review from FDA
Aussie Treasurer tests positive as reopening continues
Treasury releases details on $150 billion fund to reimburse states for 'rona-related expenses
*         *          *
Update (1842ET): it's been a relatively quiet post-market session after reports that LA County would drag out its reopening over the next three months monkeyhammered stocks heading into the close.
Over the last few hours, some alarming news out of Brazil added to the theme of distress in the emerging world. The country reported 881 deaths on Tuesday (with a 24 hour lag), the largest daily total - but likely just a fraction of the true figure. Brazilian officials admitted Tuesday that they have run startlingly few tests since the outbreak began. At this point, it's extremely likely that Brazil and Russia actually have the two largest outbreaks in the world.
More from Reuters:
Brazil has processed 337,595 tests for the novel coronavirus in official labs, a health ministry official said on Tuesday, up from around 181,000 tests on April 22, when the government previously reported testing numbers.

Eduardo Macario, deputy secretary for health vigilance, told reporters that an additional 95,144 tests are currently being analyzed in official labs and 50,004 are waiting to enter the labs for processing.
What's more, the BBC reports that the first recorded coronavirus-related death in Brazil likely happened almost two months earlier than previously believed according to a team of researchers at the Oswaldo Cruz Foundation, which examined cases of patients taken to hospital with respiratory problems.
The scientists say molecular tests suggest one patient who died in Rio de Janeiro between Jan. 19 & 25 likely had the virus. That's two months prior to the first known death before this, which came March 16. Brazil has now confirmed more than 170,000 cases - second only to the US in the western hempisphere.
ABC 8 reported that Texas Attorney General Ken Paxton sent a letter to Dallas County officials on Tuesday saying they can't require people to wear at masks or stay at home, a ruling that is bound to elicit a heated response from the reporters and editorial writers (and of course the activist/reporters) at the Washington Post and New York Times.
The letter says local orders cannot conflict with Gov. Greg Abbott's executive orders in response to the coronavirus pandemic.
Similar letters were sent to officials in Bexar and Travis counties.
*         *          *
Update (1520ET): Los Angeles County's stay-at-home order will likely remain in effect through July until early or even mid-August, public health director Barbara Ferrer said Tuesday.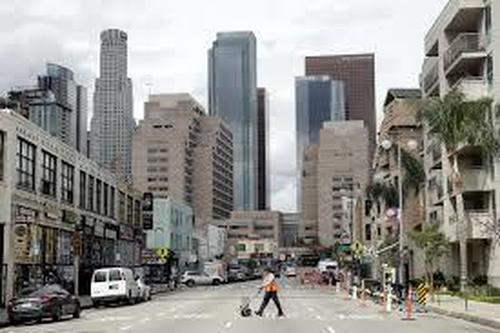 Amid a raging debate over extending the county's eviction moratorium, public health director Ferrer told the county's Board of Supervisors Tuesday that officials are eyeing "with all certainty" an extension of stay-at-home efforts for at least another three months, the Los Angeles Times reports.
Los Angeles County last week loosened some stay-at-home rules, reopening some trails and allowing some retail stores to begin curbside services with social distancing. But Ferrer warned Tuesday that further loosening of the rules will be slow.
Ferrer said that would only change if there was a "dramatic change to the virus and tools at hand."

"Our hope is that by using the data, we'd be able to slowly lift restrictions over the next three months," she said. But without widely available therapeutic testing for the coronavirus or rapid at-home tests that would allow people to test themselves daily, it seems unlikely that restrictions would be completely eased.

Ferrer's comments came shortly after Dr. Anthony Fauci, the nation's top infectious disease expert, warned Congress that states that push too quickly to ease orders could undo progress that would trigger an outbreak. Fauci said a 14-day decline in cases is the major checkpoint that states should be using as a guideline for reopening efforts.

In L.A. County, confirmed cases and deaths have continued to rise, even as other regions have seen a decline. However, on Wednesday, beaches in the county are set to reopen, just days after the county lifted restrictions on hiking trails, parks and golf courses and allowed curbside pickup at nonessential businesses.
So while they're not taking a step back, LA County has signaled it will reopen as slowly and cautiously as the mood of the public would probably allow. No doubt, millions of Angelenos just groaned at the sight of that headline.
The news certainly didn't help assuage the market's anxieties.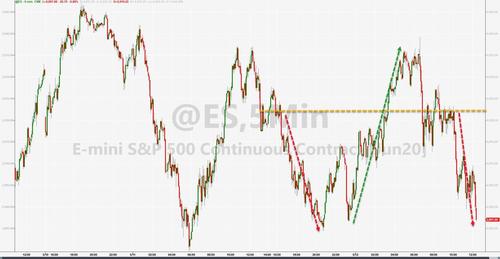 *         *          *
Update (1450ET): In a gesture of solidarity as Germany presses forward with reopening while France treads ever-so-carefully forward, the two European heavyweights agreed to open their mutual border, even as Brussels remains on track to leave the EU's external borders - blocking all who are not EU citizens living in the Schengen zone.
*         *          *
Update (1430ET): NJ has reported fewest new cases in six weeks as Gov Phil Murphy whines that his state has the worst outbreak in the country.
N.J. SEES FEWEST NEW VIRUS CASES IN MORE THAN SIX WEEKS
NEW: We've received 898 new positive #COVID19 test results, bringing our statewide total to 140,743. pic.twitter.com/DIXf4D75EN

— Governor Phil Murphy (@GovMurphy) May 12, 2020
Sadly, we've lost 198 more New Jerseyans to #COVID19.

We've now lost 9,508 blessed souls to this virus.

In their honor, we will battle this virus and win. pic.twitter.com/2yh0FLwgXT

— Governor Phil Murphy (@GovMurphy) May 12, 2020
Overall hospitalizations are on the decline.
Yesterday there were 360 new #COVID19 hospitalizations and 164 live discharges. pic.twitter.com/zUJga42Woa

— Governor Phil Murphy (@GovMurphy) May 12, 2020
Though the number of the patients in critical condition increased slightly overnight, the trend remains unequivocally lower.
LOOK:
➡️The number of patients reported in either critical or intensive care increased by 51 over Sunday to 1,306
➡️Ventilator use currently stands at 982 – an increase by 12 from Sunday pic.twitter.com/5sYb6PN9RD

— Governor Phil Murphy (@GovMurphy) May 12, 2020
Funny, we always hear Democratic governors bash Trump when they're complaining about how dire the situation has become, but we never hear them mention the president when they're celebrating major milestones while they push to delay a reopening.
Murphy has been making a big deal about being "still the most impacted state in America" and insisting that the city delay its reopening even further.
*         *         *
Update (1400ET): Here we go.
NY Cuomo as expected bashed the White House during Tuesday's press briefing, claiming that NY alone will require more than $60 billion in federal aid to help offset the immense cost of the coronavirus outbreak in what has been America's most hard-hit state.
Holding a briefing with updates on #Coronavirus. Watch Live: https://t.co/16rlfIxgZp

— Andrew Cuomo (@NYGovCuomo) May 12, 2020
The White House earlier said it would approve roughly 3x that number in funds to be divided among all 50 states as well as the US territories.
Meanwhile, NY reported a surprising jump in deaths. New York State COVID-19 deaths were +0.9% (+195) to 21,834 (Prev. +0.7% (+161) at 21,640). And while NJ Gov Phil Murphy whined about NJ having the worst outbreak in the US, the data showed deaths per million in NY=1,388. In NJ=1,052.  Average for US ex-NY+NJ? 150. 
Even still, more parts of the state met more criteria for reopening.
One step closer #Saratoga. Gov. #Cuomo Tues: The Capital Region in New York changed overnight.
The metric hit is 14-day decrease in hospitalizations o/r <15 new hospitalizations.
(The one metric that remains is 14-day decline in hospital deaths o/r < 5 deaths). pic.twitter.com/x82pA6kQRI

— Thomas Dimopoulos (@thomdimopoulos) May 12, 2020
This follows a CDC report claiming deaths in NYC alone might have been undercounted by 5k. Cuomo also said NY lawmakers would proposal a law requiring large companies receiving federal bailout money must rehire the same number of employees they had before the virus arrived.
Cuomo added that the State Health Department would prioritize testing for children with symptoms of a mysterious COVID-19 linked syndrome.
Cali saw new cases and deaths climb as well as more businesses in LA County reopen and Riverside County lifts its stay at home order.
CALIFORNIA VIRUS CASES CLIMB 2.1% TO 69,382; DEATHS RISE 2.8%
Were most of today's cases in Freemont?
*         *         *
Update (1210ET): Italy and the UK have reported their numbers for Tuesday.
Italy reported a drop in ICU patients below 1k for the entire country, while the number of new deaths cases and hospitalizations continued to decline.
Today's #Italy numbers (delayed - so here's a pic of Rome's palm trees to keep you happy): 172 deaths, lower than yesterday. Current infections fall by 1222, total cases up by 0.64% (a bit higher than y'day but 27k more tests). ICU occupancy down again, 2452 recovered. Progress. pic.twitter.com/cD1ipfJhnL

— Mark Lowen (@marklowen) May 12, 2020
TOTAL NUMBER OF CONFIRMED CASES OF CORONAVIRUS IN ITALY RISES BY 1,402 TO 221,216 - OFFICIAL
ITALY DEATH TOLL FROM CORONAVIRUS OUTBREAK RISES BY 172 (VS 179 ON MONDAY) TO 30,911 - OFFICIAL
NEW: NYC now has 52 confirmed cases of multi-system inflammatory syndrome;
*10 more children being evaluated
*25 tested positive for coronavirus
•22 positive for antibodies
* 1 child has died.

"They continue to grow, & that's why we are really concerned," Mayor de Blasio

— Watkanjijdoen (@Watkanjijdoen1) May 12, 2020
And the UK reported a still-uncomfortably-high 600+ deaths.
As of 9am 12 May, there have been 2,007,146 tests, with 85,293 tests on 11 May.

1,460,517 people have been tested of which 226,463 tested positive.

As of 5pm on 11 May, of those tested positive for coronavirus, across all settings, 32,692 have sadly died. pic.twitter.com/NMiQRpH7hP

— Department of Health and Social Care (@DHSCgovuk) May 12, 2020
NYC Mayor Bill de Blasio also released some more disheartening info on the mysterious new syndrome plaguing children in Europe and the New York area.
NEW: NYC now has 52 confirmed cases of multi-system inflammatory syndrome;
*10 more children being evaluated
*25 tested positive for coronavirus
•22 positive for antibodies
* 1 child has died.

"They continue to grow, & that's why we are really concerned," Mayor de Blasio

— Watkanjijdoen (@Watkanjijdoen1) May 12, 2020
California reported a jump in new cases and deaths as LA County opens more beaches and Riverside County reports a rise in cases after allowing a 'Stay at Home' order to expire.
The LA Times described Southern California and LA County specifically as taking "small steps" back toward normalcy.
CALIFORNIA VIRUS CASES CLIMB 2.1% TO 69,382; DEATHS RISE 2.8%
Are all of those in Fremont?
*         *         *
Update (1100ET): The IMF is preparing to downgrade its forecast for global growth once again, saying the picture over the near term has deteriorated further since its last update a month ago. According to the FT, Kristalina Georgieve, managing director of the IMF, said on Tuesday that the IMF would release "sometime in June" a downward revision of its outlook for the global economy published on April 14, which predicted a contraction of 3% in global GDP, with emerging and developing economies contracting by 1% and advanced economies by a whopping 6%.
"With the crisis still spreading, the outlook is worse than our already pessimistic projection," she said in an interview during the FT's Global Boardroom online conference. "Without medical solutions on a global scale, for many economies a more diverse development is likely."
Unsurprisingly, the downgrade comes as more member states reach out to the IMF for help as falling commodity prices and the immense burden of dealing with the virus sink their economies.
*         *         *
Update (1050ET): Dr. Fauci's testimony before the Senate "HELP" Committee is the big coronavirus news of the morning, along with comments from GOP Senator Lamar Alexander, who became the first GOP lawmaker to break with Trump over testing. Alexander insisted the US doesn't yet have enough testing capacity to accelerate reopening.
*         *         *
When South Korean health authorities realized they might have a new cluster on their hands in Seoul - a cluster that, thanks to SK's population density, threatened to spread like wildfire - they initially panicked: The unnamed 'super-spreader' at the center of the outbreak had traveled to several gay clubs in Seoul's ritzy Itaewon nightlife district.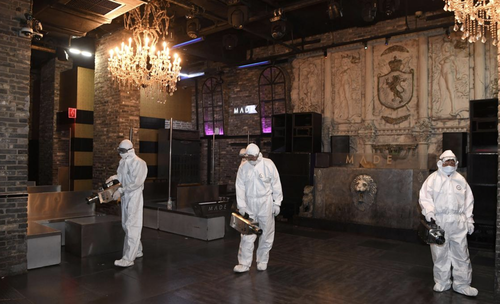 Because homosexuality is still 'taboo' in South Korea, contact tracers feared those potentially exposed might be afraid to come forward. Fortunately, South Korea's contact-tracing systems combed through mobile phone data, credit card data and CCTV footage, allowing authorities to swiftly identify dozens of people who came into contact with 'patient zero.'
As of 10am Seoul Time on Tuesday, Seoul Mayor Park Won-soon said the number of cases tied to this outbreak had reached 101.
How did authorities manage to find so many cases in such a short time? The answer shows just how voraciously government officials must search if they want to root out all of the cases of viral transmission involving the coronavirus, since for so many individuals the virus produces little more than a moderate cold. Some studies suggest that nearly half of all people infected with the virus can be lumped into the "asymptomatic" category.
To achieve this, not only did officials use their extensive surveillance technology (which should send data privacy advocates into conniption fits), they also tested nearly 10k people: individuals who may have been directly exposed to the patient during the nights in question, as well as their family members, colleagues and friends who may have been exposed to them.
That's just a taste of how thoroughly a testing regime must become if a government wants to reliably root out the vast majority of infections pertaining to a given cluster.
Here's more on the situation in Seoul from Reuters:
Health authorities have tracked and tested thousands of people linked to the nightclubs and bars in Seoul's Itaewon nightlife neighbourhood, but want to find others who they have not been able to identify.

Authorities fear that the fact some of the establishments were known as gay bars might be putting people off coming forward for testing in a country where homosexuality is for many people still taboo.

"We are using telecom station information and credit card transactions from the nightclubs to identify 1,982 of those who are not available," health ministry official Yoon Tae-ho told a briefing.

The Korea Centers for Disease Control and Prevention (KCDC) on Tuesday said at least 102 people have tested positive in connection with the cases linked to nightclubs and bars.

Seoul mayor Park Won-soon said 7,272 people had been tested in connection with the cluster, including family members or coworkers of clubgoers.

Officials had identified 10,905 people who were in the Itaewon area when the cluster of cases is believed to have got going this month, based on cell tower information, and another 494 who used credit cards, Park said.

Media outlets have identified the nightclubs the first patient visited as gay clubs, sparking concern that the disclosures and media coverage could out lesbian, gay, bisexual, transgender and queer (LGBTQ) people against their will or lead to discrimination.

Park said another 20-year-old man who had visited a different club had tested positive, raising concern that the outbreak may not be limited to the venues initially identified.
So far, South Korea has confirmed just 10,936 cases of the coronavirus and 258 deaths, a testament to the country's unparalleled approach at stopping the virus.
Over in the UK, attention has drifted from criticism from the left of PM Johnson' "Stay Alert" slogan to his jobs agenda. Chancellor Rishi Sunak has announced plans to expand a government aid program and job retention scheme until the end of October, while announcing cutbacks to another program that had been supporting some 7 million jobs. Sunak said the furlough scheme, which will expire at the end of June, wasn't sustainable, but that it was necessary to extend some other form of support to those workers instead of cutting it in total at the beginning of next month. Currently, the subsidy scheme pays 80% of the wages of worker who can't work due to the virus up to a monthly cap of £2,500.
Meanwhile, the FT is hammering Britain again over the massive gap between coronavirus fatalities and "excess deaths".
Excess UK deaths in Covid-19 outbreak tops 50,000 https://t.co/uEZr8KekAS via @financialtimes

— Chris Giles (@ChrisGiles_) May 12, 2020
Additionally, the latest data from the NHS has shown that 4/10 deaths in England in Wales related to the virus involved infections that occurred in care homes.
As we noted yesterday, Wuhan has launched a 10-day push to test as many residents as possible in the city of Wuhan after a cluster of ~6 cases (knowing the CCP, probably more) was discovered a month after the lockdown ended. China's Health Commission said Tuesday that the latest evidence of a cluster in Wuhan shows "prevention and control measures cannot be relaxed."
Despite the new cluster, officials moved ahead with plans to allow 57k students in Wuhan to return to their classrooms.
Meanwhile in Wuhan, China:

Over 57,000 students returned to school. pic.twitter.com/sRf5um9CPY

— Norbert Elekes (@NorbertElekes) May 12, 2020
While Australia's reopening continues, Treasurer Josh Frydenberg said Tuesday that he has been tested for COVID-19 on the advice of his deputy chief medical officer. Frydenberg said while delivering ministerial statement he had a dry mouth and a cough.
On Tuesday, the Treasury released details about $150 billion in aid to states from a federal 'rona relief fund. As was widely expected, Moderna on Tuesday has won FDA approval to fast-track a vaccine candidate to move on to phase 2 and phase 3 trials, after which it will receive "an expedited review".
The fund, which can only be tapped for coronavirus-related expenses, will be disbursed to states and territories across the US via direct payments. In New York's Central Park, an emergency hospital that was set up at the behest of state officials is being officially dismantled after never really coming into use.
Finally, Russia reported more than 10k new cases for a 10th straight day on Tuesday, a record stretch of new confirmed cases that has brought Russia to No. 2 in terms of the world's largest outbreaks. Russia is now the second-worst affected country after the US.