---
Stoltenberg Pledges Ukraine Will Become A Member Of NATO
There was an awkward scene that played out at NATO headquarters in Brussels on Tuesday during the formal ceremony which made Finland the alliance's 31st member. With top Finnish officials in attendance, Ukraine's foreign minister was also there, alongside Secretary of State Antony Blinken. A group of protesters reportedly chanted just as Finland's flag was raised: "Ukraine in NATO!"
According to Politico, the Ukrainian top diplomat took the opportunity to state Kiev's goal: 
Arriving at NATO headquarters in Brussels on the day Finland formally became a member of the alliance, Ukrainian Foreign Minister Dmytro Kuleba offered congratulations and declared that "Ukraine is aiming at reaching the same goal, becoming a full member of NATO."

"It will be one of the topics of our conversations here in Brussels, of how can we move forward," he said.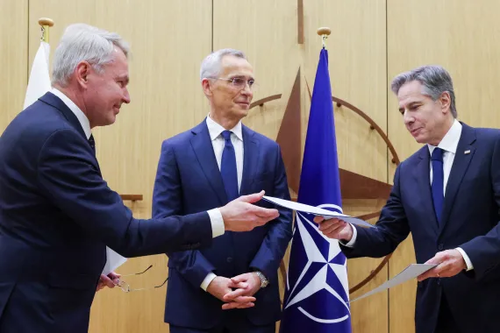 "While we appreciate the practical support we receive from the alliance," FM Kuleba continued, he emphasized: "there is no better strategic solution to ensuring strategic security in the Euro-Atlantic region than the membership of Ukraine in the alliance."
This put pressure on Stoltenberg to address the elephant in the room, and the question was asked by a journalist from a Ukrainian outlet during a press conference. Below is how the NATO chief responded:
He added that Kyiv can win the war and become a full-fledged NATO member one day.

Responding to the Kyiv Independent at a news conference, Stoltenberg said that "NATO's position remains unchanged and that Ukraine will become a member of the alliance."

NATO's long-time leader emphasized that the "main focus" now is to ensure that Ukraine remains a sovereign, independent nation in Europe. "The first step toward any membership of Ukraine to NATO is to ensure that Ukraine prevails, and that is why the U.S. and its partners have provided unprecedented support for Ukraine," he added.
Of course, all of this is dangerously premised on what would in effect be Russia's collapse, given the nuclear-armed superpower would never allow Ukraine to become a full-fledged NATO member, even if to some degree its militarization by NATO has already taken place throughout the conflict.
Ukraine will become a member of NATO — Stoltenberg

Wasn't this just Kremlin propaganda? pic.twitter.com/SCSJI7BQPy

— levi3853 (@Levi_godman) April 5, 2023
And from the Western alliance's point of view, accepting Ukraine into NATO would automatically trigger Article 5 common defense, which is why it doesn't induct nations with simmering conflicts on their borders (or especially not while they're in the midst of a hot war). This means that certainly there would be at least a handful of holdout nations reluctant to approve any future application by Ukraine, given it would mean that nuclear conflict with Russia would be on the horizon.
Loading...