---
Supporting Ukraine Is 'Tough & Painful' Amid Growing War Fatigue, UK Foreign Secretary Admits
In a fresh interview, UK Foreign Secretary James Cleverly has acknowledged "growing anti-Ukrainian sentiment" among Western allies and the public, but has urged leaders to not waiver in their support, despite the current situation being "tough and painful". 
Interestingly, the words came in an interview where a big focus was the potential for another Trump presidency in the US. When asked about Western reluctance in some corners to stop aiding and supplying Ukraine, he asserted that the situation "will just get worse" if Kiev doesn't receive the support needed against Russia. Cleverly conceded that the war is "putting pressure on countries all over the world."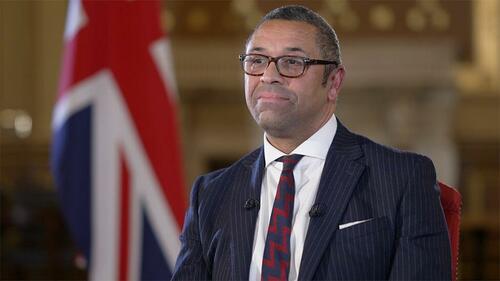 "If we don't stick with our support to Ukraine, if we send the signal that aggressors can prosper, then all the problems that we are currently facing: those inflationary pressures on food and on fuel, the political pressure that comes from having a conflict like this, they will just get worse," Cleverly said. 
"Which is why the UK's government position is resolute. We make that point to all our international partners. This is tough and this is painful," he acknowledged. "But it will only be more tough and more painful if we falter."
Fatigue, he underscored, "is something we have got to deal with," and is a "big thing".
The interviewer had opened this segment of questioning by calling attention to the "growing anti-Ukrainian sentiment being used in election campaigning like that in Poland, which has seen the ruling Law and Justice (PiS) party ban Ukrainian grain imports (with similar bans in place in Slovakia and Hungary)..." In Poland, this has further involved the government ordering the "end of benefits for refugees fleeing the war" and even halting future weapons supplies.
The Saturday published interview comes on the heels of Ukrainian Finance Minister Sergey Marchenko having recently admitted those allies still willing to give Kiev money is "growing smaller and smaller."
Additionally, billions more for Ukraine is now in doubt as Republicans in the House of Representatives fight over whether to include it in next year's government funding bill, making a govt shutdown imminent. 
In Canada, the 'NaziGate' fiasco in parliament is also a big setback for Ukraine and its supporters, proving a public embarrassment which is likely to result in waning public support for the whole Ukraine cause.
Still, even if Western military hardware and advanced missiles and tanks continue to be handed over the Kiev, some Ukrainian officials have admitted it's "too little, too late" now that Russian forces are dug in over broad swathes of the east, also behind miles of mine fields.
Loading...