---
Suspected Israeli Drone Attack Rocks Iranian Military Site
Iran's military is on high alert after it says an inbound drone attack was foiled on the country's central city of Isfahan late Saturday night. The target was reportedly a military factory there, and immediate suspicion has fallen on Israel as being behind the operation.
The ministry said at least three drones were involved, with one being intercepted by anti-air systems; however, the extent of damage is unconfirmed, and no casualties were reported. But widely circulating social media footage suggests large, powerful explosions in more than one location in the country, and one instance of an oil refinery on fire.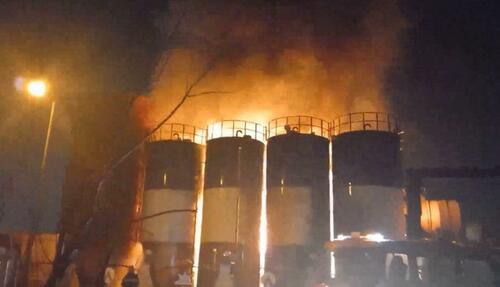 Iran's foreign minister, Hossein Amir-Abdollahian, slammed the "cowardly" incident as part of broader efforts to destabilize the country and emphasized it would not change Iran's "determination and intention regarding the peaceful nuclear progress".
The military called the attempted attack unsuccessful: "One of [the drones] was hit by the … air defense and the other two were caught in defense traps and blew up," as quoted in state-run IRNA. "Fortunately, this unsuccessful attack did not cause any loss of life and caused minor damage to the workshop's roof," it added.
Purported footage of a drone strike on an Isfahan military plant:
⚡️Reportadly drone attack on a munitions plant in Isfahani, Iran.

US and Zionist regimes at work. pic.twitter.com/e7ZgZkMEyN

— War Monitor (@WarMonitors) January 28, 2023
According to Al Jazeera, "News agencies published a video showing a flash of light at the plant, said to be an ammunitions factory, and footage of emergency vehicles and fire trucks outside the plant."
Israeli media is pointing the finger at a Mossad operation, calling it 'successful' - despite Tehran's claims to the contrary. The Jerusalem Post writes: 
Despite Iranian claims, the drone attack on Iran at Isfahan was a tremendous success, according to a mix of Western intelligence sources and foreign sources, The Jerusalem Post has learned.

There were four explosions at the site, which can even be witnessed on social media, against a facility developing advanced weapons, and the damage goes far beyond the "minor roof damage" that the Islamic Republic is claiming and which it has falsely claimed before also in other incidents in recent years.
#Israel launches special military operation inside #Iran - #AlArabiya
-A center for production of ammunition, UAVs is on fire, 5 locations.
-An oil refinery is on fire.
-A weapons manufacturing plant is on fire.
-Explosions at a military base in Hamadan & Kereja.#iranunderattack pic.twitter.com/yIWLzMoLCK

— MidnightVisions (@MidnightVision5) January 29, 2023
The JPost writes further, "Israel is playing the incident mum, but most Western intelligence and Iranian sources have credited the Mossad with similarly successful attacks against Iran's Natanz nuclear facility in July 2020, a different Natanz nuclear facility in April 2021, another nuclear facility at Karaj in June 2021 and with destroying around 120 or more Iranian drones in February 2022."
Interestingly, a number of Ukrainian officials are hailing the attack, calling it 'revenge' against Iran's drone program, given the Russian military has been heavily reliant on Iran-made drones for attacks on Ukrainian energy infrastructure.
Loading...