---
Suspected North Korean Balloon Reportedly In South Korean Airspace
Authored by Aldgra Fredly via The Epoch Times,
South Korea's military has claimed that a suspected North Korean balloon briefly entered its airspace on Sunday, just days after the United States shot down a suspected Chinese spy balloon flying in its airspace.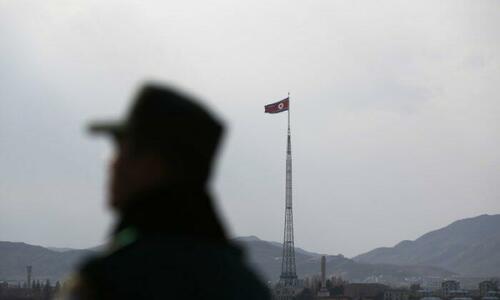 The South Korean Ministry of Defense said on Monday that its military responded to the incident with "unspecified measures" but later concluded that the balloon did not pose a threat, Reuters reported.
KBS reported that a front-line unit spotted the balloon through a thermal monitoring device at 6.30 p.m. (local time) on Sunday near the inter-Korean border in Yeoncheon, Gyeonggi province, citing an unnamed military official.
The official said the balloon was 2 meters long and flying at a low altitude. It left South Korea's airspace after several hours.
Authorities decided not to take military steps as they identified it as a weather balloon, the official said. North Korea's official mouthpiece did not issue a statement regarding the incident.
This happened just two days after the United States shot down a suspected Chinese surveillance balloon as it drifted eastward toward the Atlantic Ocean.
U.S. secretary of state Antony Blinken indefinitely postponed his visit to China over the high-altitude balloon.
Separately, Colombia on Saturday had confirmed a sighting of an airborne object similar to a balloon flying over its territory, although it's not clear if it's of Chinese origin.
North Korea Calls For 'Perfecting' War Readiness
Tensions between the two Koreas have been rising after North Korea launched a barrage of missile tests last year.
North Korean leader Kim Jong-un presided over the meeting of the central military commission on Monday, with a focus on "major military and political tasks" for this year, state-run Korean Central News Agency (KCNA) reported.
According to KCNA, the commission discussed "the issue of constantly expanding and intensifying the operation and combat drills of the Korean People's Army to cope with the prevailing situation and more strictly perfecting the preparedness for war."
The Korean People's Army is the armed wing of the ruling Workers' Party.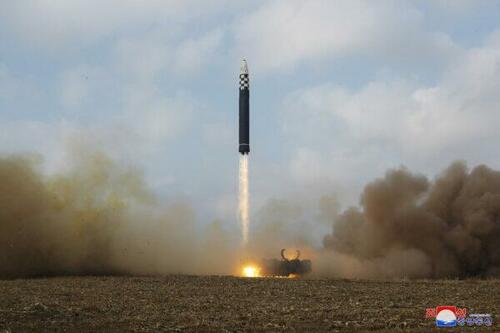 An intercontinental ballistic missile (ICBM) is launched in this undated photo released on Nov. 19, 2022. (KCNA via Reuters)
North Korea convened the meeting after it vowed to counter the U.S. military with the "most overwhelming nuclear force," which came in response to U.S. defense secretary Lloyd Austin's pledge to deploy more military assets to defend South Korea.
In a statement carried by KCNA, North Korea's Foreign Ministry said the expansion of U.S. joint military drills with South Korea pushed the security situation on the Korean Peninsula to an "extreme red line" and is turning the region into "a huge-war arsenal."
It said that North Korea's military will retaliate against any military action according to its principle of "nuke for nuke and an all-out confrontation for an all-out confrontation."
"If the U.S. continues to introduce strategic assets into the Korean Peninsula and its surrounding area, the DPRK will make clearer its deterring activities without fail according to their nature," it added, using the acronym for North Korea's official name, the Democratic People's Republic of Korea.
US to Defend South Korea With Nuclear Capability
There are about 28,500 U.S. troops stationed in South Korea, making it one of the largest U.S. troop deployments around the world. Austin said the U.S. will deploy its F-22s and F-35s aircraft,  and a Ronald Reagan carrier strike group to participate in the joint drills with South Korea.
Blinken said on Feb. 3 that Washington remains committed to using the full range of its military capabilities, including nuclear weapons, to defend South Korea from North Korean aggression.
He referred to the U.S.–South Korea alliance as "the linchpin" of peace in the region and said that it seeks to boost trilateral security cooperation with Japan to deter North Korea's provocations.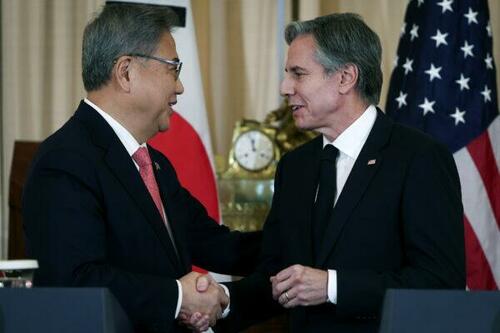 U.S. Secretary of State Antony Blinken shakes hands with South Korean Foreign Minister Park Jin at the conclusion of an event at the State Department in Washington on Feb. 3, 2023. Blinken canceled a planned diplomatic trip to China because of an incident involving a Chinese surveillance balloon identified in U.S. airspace. (Win McNamee/Getty Images)
"We are committed to defending the Republic of Korea using the full range of our capabilities—nuclear, conventional, missile defense capabilities," Blinken told reporters in Washington.
"So there should be no doubt in anyone's mind, starting with Pyongyang, of our commitment to defend our allies, our partners, our friends, and to extended deterrence," he said. Pyongyang is the capital city of North Korea.
South Korean Foreign Minister Park Jin also called on the Chinese Communist Party (CCP), a major ally of North Korea, to use its influence to rein in Pyongyang's missile launches.
"We agreed that China has a distinct capability and responsibility to influence Pyongyang's behavior. Denuclearization of North Korea has long been an area of cooperation for China as well as ROK and the United States, and it needs to stay that way," Park said.
North Korea fired an unprecedented number of missiles in 2022, one of which reportedly flew over Japan and triggered warnings to citizens in the Hokkaido and Aomori prefectures to take shelter.
In August 2022, South Korean leader Yoon Suk-yeol offered North Korea economic benefits in exchange for denuclearization steps, but the offer was rejected. Kim said there will be no denuclearization talks, negotiations, or "bargaining chips" in that process.
Loading...