---
Sweden Will Allow NATO Deployments In 'Signal To Russia'
Authored by Kyle Anzalone via AntiWar.com,
Stockholm plans to send a "signal to Russia" by allowing NATO troop deployments in Sweden before the country is admitted into the alliance, according to top officials. Turkey is holding up Sweden's bid to join the bloc.
Prime Minister Ulf Kristersson and Defence Minister Pal Jonson announced that Sweden's military would step-up preparations with NATO in an article published in Dagens Nyheter on Friday. "The preparations may consist of temporary basing of foreign equipment and personnel on Swedish territory. The decision sends a clear signal to Russia and strengthens Sweden's defense," they wrote. The joint operations send "a clear signal to Russia that our ability to give and receive military aid is good."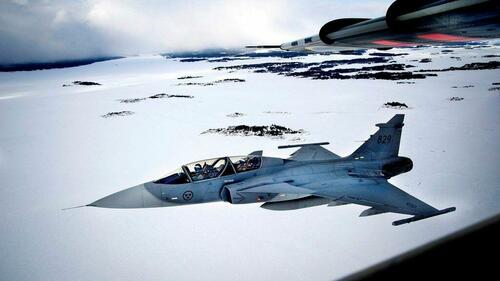 On Thursday, the Wall Street Journal reported the Swedish and Finnish militaries were rapidly integrating into the alliance due to a campaign by internationalist officials who worked to integrate the Nordic states into the bloc despite public opposition.
"Behind that long-standing public reticence was a meticulous, decades long campaign of preparation by internationalist officials," the WSJ wrote. "Who since the 1990s sought to move their countries as close to the alliance as domestic public opinion – dead set against full membership – allowed."
The article explained, "By the time public and political opinion last year swung behind joining NATO, the Swedish and Finnish militaries had been streamlined to NATO standards through participating in joint missions for 30 years."
Last year, Sweden and Finland broke their long-standing policy of neutrality and formally applied to join the North Atlantic alliance. Their bid met stiff opposition from Turkey, which believes the Nordic states provide too much support for Kurdish groups that Ankara labels terrorist organizations.
A trilateral pact between Ankara, Stockholm and Helsinki led to Turkey lifting its opposition to Finland's membership. However, Ankara says that Stockholm has refused to fully comply with the agreement and is still preventing Sweden from joining the bloc.
Russian officials have said Moscow will respond to NATO expanding its presence in Finland and Sweden. In December, Russian Defense Minister Sergei Shoigu said that "given NATO's desire to increase its military potential near the Russian borders, as well as to expand the alliance by adding Finland and Sweden, it is necessary to take retaliatory measures and to create an appropriate grouping of troops in the northwest of Russia."
The Washington-led alliance believes Sweden becoming a member will significantly change the geopolitical dynamics in the region. If Sweden and Finland join NATO, it could turn the Baltic Sea into an "inner sea of NATO," Estonian Defense Minister Hanno Pevkur explained in September.
Loading...