---
Sweden's NATO Bid Derailed: 'Turkey Wants What We Can't Give Them'
There's been growing domestic pressure in Sweden for the country's leadership to stand up to Turkey and not implement the kind of drastic changes in laws that Ankara is pushing in order for Sweden to become a NATO member. 
For example, a recent survey found almost 80% of Swedes believe the country shouldn't compromise its legal principles, Bloomberg reported last week. Amid the pressure, Sweden's Prime Minister Ulf Kristersson days ago for the first time acknowledged that Turkey is asking too much. 
Kristersson said starting a week ago of Turkey's security demands for it to joint NATO, "they also say that they want things that we cannot and do not want to give them."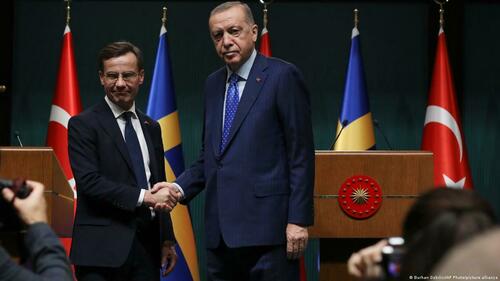 Since Sweden and Finland announced their bids to join the military alliance in May, citing the dangers of Russia's invasion of Ukraine, Turkey has been the key holdout 'veto', complaining that the two countries and Sweden especially have played host to Kurdish "terrorists". 
Ankara has since demanded sweeping changes, including the request that Sweden extradite individuals who are wanted in Turkey. Some of the Turkish requirements would require Sweden to even crackdown on the ability to protest among Kurdish groups, thus violating their own democratic and free speech laws.
Prime Minister Kristersson has admitted that at this point, "We cannot meet all of Turkey's demands."
He repeated the talking point in a Sunday press conference while standing alongside NATO General Secretary Jens Stoltenberg:
Swedish Prime Minister Ulf Kristersson said Turkey was asking too much in return for ending its obstruction of NATO membership for Sweden and neighboring Finland,  speaking Sunday at a security conference attended by NATO General Secretary Jens Stoltenberg.

"Turkey has confirmed that we have done what we said we would do. But it also says that it wants things that we can't, that we don't want to give," said PM Kristersson, adding, "We are convinced that Turkey will make a decision, we just don't know when."

The Swede said that decision will depend on his country's ability "to show its seriousness," as well as internal political factors in Turkey during an election year.
As for the Kurdish issue, Sweden in particular has long accepted an influx of Kurds from Iraq, Turkey and Syria. Over the past five years it's been commonly estimated that Syrians (many of them Syrian Kurds hailing from border regions close to Turkey) make up about 9-10% of the total population of Sweden.
Given that in some cases these Kurds are political dissidents who have escaped the long arm of the Turkish government, Ankara has accused Stockholm of intentionally harboring criminals and supposed "terrorists". 
Loading...