---
Sweden's NATO Membership Is A Pipe Dream, Turkey Says Ahead Of Summit
There's just over a week until the major annual NATO summit kicks off in Vilnius, Lithuania - but Sweden has little hope at this point that its stalled application for membership will be accepted.
Last week Sweden allowed a Quran-burning protest to proceed, which took place in Stockholm, drawing about 200 people to the scene which had police protection. Interestingly, this time it was a 37-year old Iraqi man which destroyed the book (reportedly he's an Iraqi Christian refugee) which is considered holy by Muslims. He was assisted by another man carrying Swedish flags.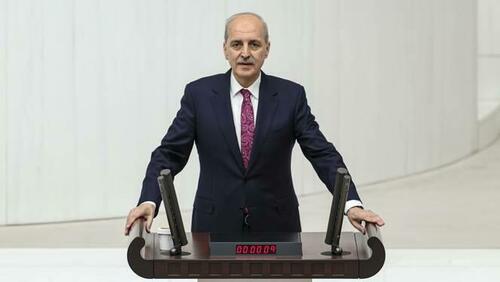 It happened last Wednesday, and sparked protests in various Muslim countries, including inside Iraq, which saw the Swedish Embassy in Baghdad briefly stormed by protesters.
Iraqi protesters had also burned rainbow 'Pride' flags as a response to the recent series of Quran-burning incidents in Europe, as the AP described: 
Hundreds of followers of the influential Iraqi Shiite cleric and political leader Muqtada Sadr briefly stormed the Swedish Embassy in Baghdad on Thursday in protest of the burning of a Quran in Sweden.

An Iraqi security official said the Swedish Embassy was evacuated by security forces after the protesters breached the building, raising pictures of Sadr and flags of his militia, the Mahdi Army. He spoke on condition of anonymity because he wasn't authorized to speak to the media.

Some of the protesters also burned rainbow flags, a symbol of LGBTQ+ pride.
All of this is happening against the backdrop of Sweden desperately seeking entry into the NATO military alliance, but which Turkey has blocked since last summer. Ankara now has even more reason to resist Sweden's accession efforts, after complaining that it allowed "PKK terrorists" to operate freely.
Swedish embassy in #Baghdad. Several thousand Iraqis gathered there. People protest over the burning of the #Koran in #Stockholm.#Sweden #Iraq #Quran #EidAlAdha pic.twitter.com/16nLfgHuNp

— Arthur Morgan (@ArthurM40330824) June 30, 2023
"I condemn the vile protest in Sweden against our holy book on the first day of the blessed Eid al-Adha," the Turkish foreign minister, Hakan Fidan, tweeted in the aftermath, also referencing the fact that the burning incident occurred at the start of a Muslim holiday. He also lashed out at the Swedish government, saying it was "unacceptable to allow anti-Islam protests in the name of freedom of expression."
While Swedish authorities have on a moral level condemned what they are calling "an extraordinarily provocative, anti-Islamic, anti-human action" - they have at the same time maintained that the country's free speech laws allow it.
Meanwhile, Numan Kurtulmus, Turkey's vice chair of the Justice and Development (AK Party) and recently installed Parliament Speaker, has called Sweden's membership in NATO a "pipe dream" following the anti-Islamic demonstrations.
From Iraq - For some reason the pride flag along with the Swedish flag was burned. Some sort of 2 for 1 thing. pic.twitter.com/LVBuNCEh6B

— Marc Owen Jones (@marcowenjones) July 1, 2023
"They [Sweden] will engage in provocative actions and, at the same time, ask for approval to join NATO. Excuse me, but Türkiye is a country that sticks to its word. Whatever it says, whatever it promises, it delivers, but we also want others to keep their word. For Sweden, which doesn't keep its promises, expecting NATO membership is just a pipe dream," Kurtulmus said. And Erdogan commented later in the day:
ERDOGAN: SWEDEN HATE CRIME CARRIED OUT WITH POLICE PROTECTION
Other Islamic countries have also complained and denounced Swedish authorities, with Iran holding up the appointment of an ambassador over the incident. 
Loading...