---
Switzerland Weighs Break With Centuries-Old Policy Of Neutrality
A group of Swiss lawmakers has moved forward a proposal to allow countries to give Swiss-made weapons to Ukraine, in a move that would soften Switzerland's centuries-old policy of neutrality toward foreign conflicts.
"The majority of the committee believes Switzerland must offer its contribution to European security, which requires more substantial aid to Ukraine," the Swiss parliamentary security committee said in a statement.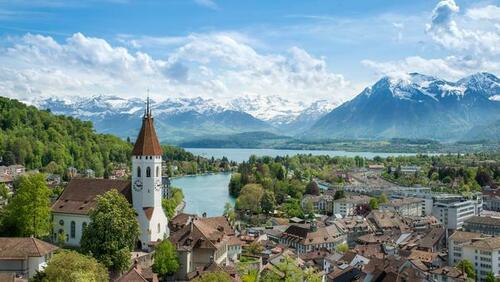 The decision would represent a significant break from the policy of Swiss neutrality, though its supporters insist that the measure would not violate their law of neutrality since Bern would not be sending weapons directly.
Switzerland's neutrality has held strong since at least 1815, when Bern helped other European powers defeat Napoleon Bonaparte for the second and final time. Since then, the country has managed to avoid direct participation in any foreign conflict. Even during World War II, Bern studiously avoided taking sides in order to avoid being drawn into the war.
But the war in Ukraine has tested this policy. In May of last year, Swiss authorities agreed under pressure from the West to freeze the assets of several hundred sanctioned Russians, including President Vladimir Putin. Bern also closed its airspace to Russian planes.
Despite these shifts, allowing Swiss weapons to see the battlefield has so far been a red line. Last year, Switzerland denied several requests from Germany and Denmark to re-export Swiss-made arms to Ukraine.
The country is currently considering a similar request from Spain, but leaders in Bern have signaled that Madrid's petition is unlikely to be approved.
If passed, the proposal would create an exception whereby Swiss weapons could be re-exported to an active war zone as long as they are used to fight "a violation of the international ban on the use of force."
Loading...