---
Syrian Missile Comes Close To Striking Israeli Nuclear Reactor, Israel Retaliates In Huge Escalation
Overnight Israel's military was put on high alert after alarms went off near Israel's Dimona nuclear reactor site in the southern part of the country. 
Reuters is reporting that "A Syrian surface-to-air missile exploded in southern Israel on Thursday, the Israeli military said, in an incident that triggered warning sirens in an area near the secretive Dimona nuclear reactor."
Explosion heard near Dimona #nuclear reactor in #Israel. Sirens alerting to rocket attacks heard in the southern part of the country.

— Steve Herman (@W7VOA) April 21, 2021
It was an apparent Syrian response to a prior Israeli attack that targeted the Damascus suburbs. Israel says that it responded to the apparent retaliatory missile attack out of Syria.
At the same time the Jerusalem Post has this overnight (local time) urgent headline: "Missile launched toward Israel from Syria, IDF responds with airstrikes."
BREAKING: A surface-to-air missile was fired from Syria to Israel's southern Negev.

In response, we struck the battery from which the missile was launched and additional surface-to-air batteries in Syria.

— Israel Defense Forces (@IDF) April 22, 2021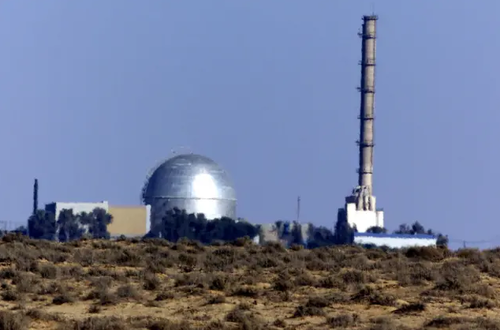 Reuters continues of the late Wednesday into overnight Thursday report: 
There were no immediate reports of any injuries or damage in Israel. The military said that in response to the launch, it attacked several missile batteries in Syria, including the one that fired the projectile that struck its territory.

Syria's state news agency said Syrian air defences intercepted the Israeli attack that targeted areas in the Damascus suburbs. "Air defences intercepted the rockets and downed most of them," the agency said.
"A Reuters reporter about 90 km (56 miles) north of Dimona heard the sound of an explosion minutes before the military tweeted that sirens had gone off in the region," the report continues. 
"The errant Syrian missile was an SA-5, one of several fired at Israeli air force planes, according to an Israeli military spokesman. It did not hit the reactor, he added."
And Middle East Institute's Danny Makki reports the following from on the ground in the Syrian capital of Damascus...
Strange incident this evening, rarely do Syrian missiles reach that far into Israel & Dimona of all places. Rockets usually shot down quickly but not today. Missile was also fired before any strikes on Damascus, I didnt hear anything others heard only retaliatory strikes later.

— Danny Makki (@Dannymakkisyria) April 22, 2021
This appears a massive escalation in the years' long war given it's looking like Damascus targeted the highly sensitive and secretive Dimona site. 
Syrian state media is now saying it actively "responded to Israeli aggression" which strongly suggests the launch into southern Israel was intentional - though this remains unconfirmed - also given the "response" also no doubt involved a volley of anti-aircraft missiles.
Another unconfirmed video / Reportedly SAA AD launch scene. #Damascus #Syria 🇸🇾 pic.twitter.com/df4sRhkcRL

— Aleph א 🔎 (@no_itsmyturn) April 22, 2021
State news agency reports #Syria has responded to "Israeli aggression" with missiles in the vicinity of Damascus. https://t.co/HWFUWXCako

— Steve Herman (@W7VOA) April 22, 2021
However, Israeli Defense Forces (IDF) are in the immediate aftermath seeking to somewhat downplay the incredibly dangerous and at this point mysterious incident, describing that a surface-to-air missile from Syria "overflew its target" and landed in southern Israel.
Now coordinated messaging from #Damascus & #Jerusalem both claiming a SAM was fired into #Syrian airspace that then traversed into #Israel — unintentionally traveling towards #Dimona.

Meanwhile, #IRGC channels (speaking to their audience) claim a purposeful attack took place.

— Charles Lister (@Charles_Lister) April 22, 2021
The big question remains the degree to which Syria was engaged in an act of "intentional" targeting of Israel's secretive nuclear facility. 
Damascus and Tehran could be drawing new "red lines" - also as Iran is feeling emboldened by "positive" progress as it engages Washington at the Vienna nuclear talks.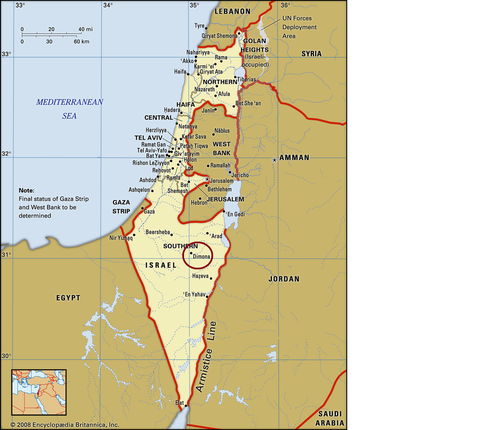 All of this comes at a moment of soaring tensions between Israel and Iran, which will likely see Israel engage in greater interventions and escalations with Iranian forces inside Israel, even after years of near-weekly aerial operations attacking inside Syrian territory.