---
Taiwan Kicks Off 5-Day Exercise Simulating PLA Attack As White House Warns Pelosi Visit Could Spark "Crisis"
Taiwan says it is prepared in the face of recent Chinese threats of "forceful measures" if US House Speaker Nancy Pelosi follows through with her widely reported and hugely controversial planned visit to Taipei to meet with Taiwan's leaders. The democratic-run island held large-scale air raid drills on Monday.
Fox News reports that the drills took place across the island, with both a military and civilian response component. "Sirens could be heard blaring in Taipei, the nation's capital city, signaling residents to evacuate the streets for 30 minutes," the report details. "The country also tested its missile warning system, which sends mass text messages to residents in the event of incoming attacks." The emergency preparedness drills will last five days, and simulate a Chinese PLA military invasion.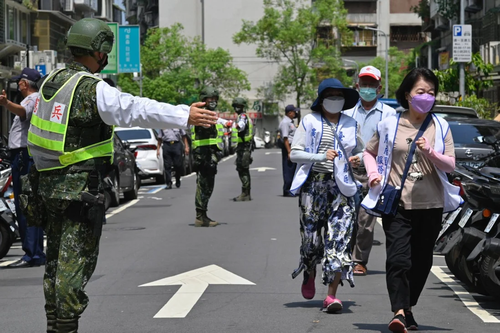 What's dubbed the Han Kuang drill additionally features joint air and sea exercises, and with ground infantry and tank forces staging maneuvers. Corresponding to this, "In Taipei, police directed people to shelters when a siren went off shortly after lunchtime. Streets emptied and shops closed," the AP details. And the South China Morning Post describes:
Dozens of fighter jets head to airbases in the east at start of annual exercise, while public response also put to the test with air raid sirens
President Tsai Ing-wen is expected to observe a maritime drill involving more than 20 warships from aboard a destroyer on Tuesday
Last Wednesday, with Pelosi's trip still unconfirmed by her office, Biden told reporters of the House speaker possibly going to Taiwan, "The military thinks it's not a good idea right now, but I don't know what the status of it is."
On Saturday, White House officials were cited in an alarming Washington Post report saying Pelosi's trip next month risks sparking a major crisis across the Taiwan Strait. The report introduced, "The Biden administration is increasingly concerned that a planned trip by House Speaker Nancy Pelosi to Taiwan next month could spark a major crisis across the Taiwan Strait, and the White House and an array of national security officials have briefed Pelosi and her team about the risks of traveling now, administration officials said."
WaPo further pointed to the disagreement over her trip as a "rift" between the country's two most powerful Democrats, with China hawks among Republicans lining up behind Pelosi, oddly enough: 
Such a rift between the nation's two most powerful Democrats, who have worked closely on issues from health care to the Ukraine war, is highly unusual. About one-third of Pelosi's congressional district is Asian American and taking on China has long been a major part of her political identity, making her a figure particularly reviled by Beijing.

Some China hawks have seized on the tension, arguing that if Pelosi refrains from visiting Taiwan it will amount to giving Beijing a veto over U.S. foreign policy. "This pathetic self-deterrence is a mistake, and it will invite more aggression," said Sen. Tom Cotton (R-Ark.).
Former Republican top officials are inciting the Biden team to do what they themselves were afraid to do before. They need cannon fodder for the next Republican admin. They want Pelosi to provoke a military crisis with China, and then Democrats will lose everything and go away. https://t.co/3tARyt3uTr

— Hu Xijin 胡锡进 (@HuXijin_GT) July 25, 2022
Additionally, the Financial Times over the weekend reported that Beijing has sent a series of "stark private warnings" directly to the US administration over the impending Pelosi trip.
A Chinese official has also been cited as saying that in China's view, the White House has the power to put a stop to it. "The US side has the ability to stop these clowns from performing in Taiwan," the official was cited in The Washington Post as saying. "Over and over, it chooses not to." Currently there is reported talk out of China, particularly in state media, of a military response as well.
On Monday, China's Foreign Ministry repeated in a public warning: "The Chinese side has made it clear to the U.S. on many occasions that it is firmly opposed to Speaker Pelosi's visit to Taiwan. We are fully prepared," foreign ministry spokesman Zhao Lijian stated.
"He also noted that he "wouldn't underestimate President XI [JINPING]'s determination to assert Chinese control" over Taiwan and that "the risks of that become higher … the further into this decade that you get." 2/

— Elbridge Colby (@ElbridgeColby) July 21, 2022
"If the US goes its own way, China will certainly take firm and forceful measures to safeguard its national sovereignty and territorial integrity, and the United States should be held responsible for any serious consequences," the statement added.
Loading...