---
Top Pentagon Official Arrives For Rare Tight-Lipped Taiwan Visit
A top Pentagon official has arrived in Taiwan Friday, after departing Mongolia where he was meeting with partner military leaders. Michael Chase is deputy assistant secretary of defense for China, and the Pentagon presented his trip in the context of ongoing "support for Taiwan and military relations with Taiwan" which is in "response to the current threat posed by the People's Republic of China."
While dozens of civilian-side admin officials as well as Congressional members have visited the self-ruled island in the past couple years, including a highly provocative visit by then House Speaker Nancy Pelosi in August, a visit by a high-ranking Pentagon official remains very rare.
"Chase is the first senior US defense official to travel to the island since the 2019 visit of Heino Klinck, deputy assistant secretary for east Asia, who in turn was the most senior Pentagon official to visit Taiwan in four decades," writes FT.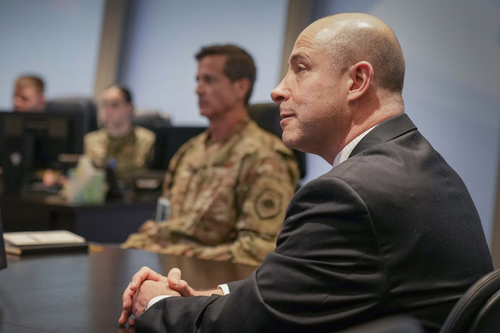 Even the Taiwan side has remained tight-lipped about it, with Taiwan's defense minister Chiu Kuo-cheng saying he would not comment, but only stressing he welcomes anyone friendly to Taiwan who is willing to give "favorable advice" on defense operations.
The defense minister explained, "If any team that is friendly to us want to visit, they will let us know. Suggestions that are beneficial to Taiwan's defense operations are very good, and they are all good opportunities. Details are not confirmed yet, I will not explain more." He added: "For some matters, if I am not sure about who my subject is, and I am uncertain about it, I won't make an explanation before I am officially notified."
The provocative stopover comes amid the balloon shootdown saga. China has insisted all along that the balloon shot down by a US jet off the South Carolina coast earlier this month was nothing other than a benign weather research vehicle. Beijing has also highlighted that the US routinely sends spy balloons into its airspace, but that it doesn't result in any dramatic military operations by China to down them.
Beijing in response this week hit America's top two defense contractors with sanctions: Lockheed Martin and Raytheon, while charging Washington with deliberately exaggerating the 'balloon threat'.
Deputy Assistant Secretary of Defense for China Michael Chase, Pentagon's top China official, has arrived in Taiwan.https://t.co/zUnt9wLczB

— Ken Moriyasu (@kenmoriyasu) February 17, 2023
A scathing Thursday statement from the Foreign Affairs Committee of the National People's Congress charged that US lawmakers "took advantage of the issue and fanned the flames, fully exposing their sinister intention to oppose China and contain China."
Michael Chase's visit also comes after the Biden administration ramped up weapons deals with Taipei, however, GOP leaders are demanding bigger commitments, also as some reports have said the US is seeking to make Taiwan the "Ukraine of the East." 
Loading...