---
ByteDance Shocked By Trump Claims TikTok Deal Partners Will Seed $5BN Federal Education Fund
Update (2240ET): It appears that the "pledge" unveiled earlier by Trump of a $5 billion educational fund set up by TikTok, Oracle and WalMart was nothing more than a mirage. According to wire sourcesand the Chinese local press, today's White House/media announcement of this $5 billion education was the first time Bytedance had heard of such an arrangement where it was going to pay the US government:
In response to some media reports that #TikTok will set up a $5bn education fund in the #US, TikTok's parent company #ByteDance said Sunday that it heard about this for the first time from the news. pic.twitter.com/dyIVd2GtVG

— The Business Source (@GlobalTimesBiz) September 20, 2020
* * *
In an announcement made during a Saturday White House briefing with reporters, President Trump announced a plan that would effectively satisfy his demands, made during a seemingly improvised comment during a press briefing last month, that the deal include something for the American taxpayer.
Enter: A $5 billlion pledge made collectively by TikTok, Oracle, Wal-Mart and the deal's other backers that will seed a fund dedicated toward financing American education. The fund would go toward teaching American children "the history of the real America."
As Bloomberg reminds us, Trump delivered a speech at the National Archives in Washington on Thursday where he attacked the NYT's pulitzer prize-winning 1619 project. In response, Trump said he wanted to establish "a national commission to promote patriotic education" that he calls the "1776 Commission".
The companies have agreed to terms with Trump for new TikTok Global to give $5 billion to an education foundation that will be established, sources tell me. Trump told press: "They're going to be setting up a very large fund...That's their contribution that I've been asking for."

— Jennifer Jacobs (@JenniferJJacobs) September 19, 2020
TRUMP wants the $5 billion from the Tiktok Global deal to pay for "patriotic education" via his envisioned "1776 Commission."

— Jennifer Jacobs (@JenniferJJacobs) September 19, 2020
NEWS: Trump wants $5 billion from companies creating a new U.S.-based TikTok venture directed toward teaching American children "real history, not the fake history."

Story by me, @MarioDParker @josh_wingrove https://t.co/EqzpnqtSjj

— Jennifer Jacobs (@JenniferJJacobs) September 20, 2020
Reporters immediately responded that this kind of federal intervention was totally inappropriate, and possibly illegal, yet, here we are. How will all this work? It's not exactly clear. Details were scant.
Trump apparently used "the fund" as fodder for an appearance in North Carolina on Saturday evening that followed the briefing with reporters.
Later, during a campaign rally in Fayetteville, North Carolina, Trump said "we're going to be setting up a very large fund for the education of American youth." He told his rally audience that in conversation with leaders of the companies, he said "do me a favor, could you put up $5 billion into a fund for education, so we can educate people as to real history of our country - the real history, not the fake history."
Of course, President Trump might as well pile it on thick with the election season promises. After all, as a trial balloon published by the SCMP last week suggested, any 'deal' that would satisfy Trump, CFIUS and a growing group of GOP senators probably wouldn't pass muster with Beijing.
As it stands, the Oracle-TikTok deal would involve spinning off TikTok into an independent US-based company with a plan to take it public some time next year. Oracle, Wal-Mart and a handful of American VC funds would be shareholders. ByteDance would also own a minority stake. The exact numbers aren't clear, and GOP senators are insisting that Chinese ownership in the minority. Beijing also recently introduced new export controls on technology like the TikTok content-recommendation algorithm. Whether the new company would acquire the algorithm, build a new one, or lease back the algorithm from ByteDance, remains unclear.
With all that's transpired this year, the notion that President Xi would feel inclined to hand Trump another election season victory seems laughable. And Beijing has opposed the "smash & grab deal" from the beginning. So have many Americans - it's the rare Trump play that has angered many on the left, and the right.
Trump's TikTok ban is a gross abuse of powerhttps://t.co/DnbKVxaPpx pic.twitter.com/jy2HW9mz3e

— The Verge (@verge) September 19, 2020
President Trump's proposed TikTok ban isn't just bad for Gen Z. It's bad for free speech, free markets, and US democracy.https://t.co/86F3geQfTo

— WIRED (@WIRED) August 1, 2020
Critics are already slamming the fund as far-fetched, and some have speculated about whether Trump expects the deal to get spiked.
That's still not a given and given Trump approval you have to wonder if the details are such he expects Beijing to spike it

— CCP Collaborator Balding 大老板 (@BaldingsWorld) September 20, 2020
Beijing has made its position pretty clear.
Beijing has positioned itself against the deal quite clearly so far and some of my colleagues wrote that Beijing would rather see TikTok fold in the US than it be sold off. Would be quite a feat to get it past SAMR/MOFCOM etc

— Vincent Lee (@Rover829) September 20, 2020
But the CCP isn't the only threat to the deal. GOP senators working together with AG Barr could still sink the deal between now and tomorrow night. A US court in Washington, where ByteDance has filed its latest complaint about the impending ban, could also step in. In fact, one could argue that by tying the deal to his 'education' plan, Trump just sealed its fate in the eyes of the courts.
* * *
During a briefing with reporters at the White House on Saturday, President Trump confirmed that he had signed off on a proposed deal that would involve spinning off TikTok's global business into a standalone, US-based company owned by Oracle, ByteDance, Wal-Mart, a group of Silicon Valley VC firms and other investors from China.
"I have given the deal my blessing, if they get it done that's great, if they don't that's fine too," President Trump told reporters at the White House on Saturday.
Of course, CFIUS still needs to technically sign off on the deal. But that's not the only obstacle remaining in the way of a spinoff that company insiders say could lead to a US public offering roughly one year from now if everything works out.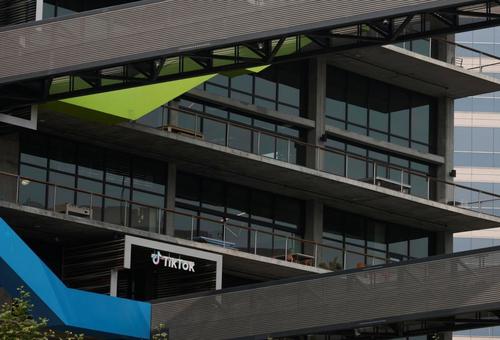 Trump's comments come after the Commerce Department on Friday issued regulations prohibiting American companies from providing downloads or updates for TikTok after 11:59 pm on Sunday. The order also applies to WeChat, another popular Chinese-owned messaging and payments app, that will be subjected to the ban - at least in the US market (the administration has promised that any restrictions won't apply to American companies doing business in foreign markets like China).
In a statement, TikTok said its "proposal" to Washington included "unprecedented levels of transparency."
During an earlier briefing on Friday, Trump called TikTok "a pretty incredible asset" and said that the companies appeared close to a deal that would ameliorate security concerns from a group of GOP senators.
If the deal is ultimately structured like a spinoff, regulators in Beijing will likely need to sign off as well, which could create problems. However, there's been some talk about ByteDance selling TikTok without the content recommendation algorithm at its heart. Beijing has already confirmed, via a leak to the SCMP, that it won't allow an American company to walk away with TikTok's algorithm.
ByteDance has already sought help from American courts, arguing that President Trump's ban was illegal under American law. Unfortunately for the company, invoking "national security" gives Trump broad latitude to act; the courts don't have much latitude to restrain him, according to Bloomberg.
Following the Commerce Department's latest order, the company filed another lawsuit late Friday seeking to stop the Commerce Department's order forcing Apple and Alphabet to drop TikTok from their app stores. TikTok owner ByteDance said it dropped its lawsuit against the Trump Administration, which it filed in California, and filed a new lawsuit in Washington. The company argued that Trump's ban is "political" in nature, and that Trump is only using national security as a ruse.
TikTok also claimed that the ban violates first amendment protections on free speech.