So much for drawing down in the Middle East. President Trump notified Congress on Tuesday that more American troops are en route to Saudi Arabia, which will bring their overall numbers to about 3,000 in the kingdom. 
"These personnel will remain deployed as long as their presence is required to fulfill the missions described above," the president said in a letter.
The official White House notification of Congressional members described the American military presence there as essential in countering Iran's influence in the region.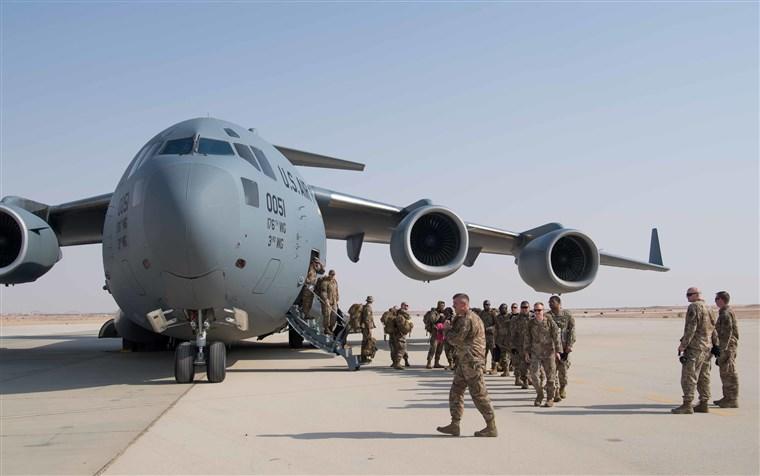 Forces were deployed "to assure our partners, deter further Iranian provocative behavior, and bolster regional defensive capabilities," the letter addressed to the House of Representatives stated.
Last month the Pentagon announced the extra troop deployments as well as military hardware, including Patriot missiles to the kingdom, after the prior September drone attacks on Saudi Aramco facilities.
Interestingly, that prior announcement took place just as Trump controversially pushed to withdraw US forces from Syria, something which ended in merely moving troops from the Turkish border and into Syria's oil fields east of the Euphrates. 
"Iran has continued to threaten the security of the region, including by attacking oil and natural gas facilities in the Kingdom of Saudi Arabia on Sept. 14, 2019," Trump said in the letter.
Today U.S. Navy's USS Abraham Lincoln (CVN 72) - a Nimitz-class aircraft carrier - escorted by air defense and guided missile destroyers- enters the Strait of Hormuz. Abe Lincoln can field up to 90 aircraft pic.twitter.com/ugYqVlRJeV

— Nader Uskowi (@nuskowi) November 19, 2019
The president said missiles and radar equipment will "improve defenses against air and missile threats" and includes expeditionary wing to assist Saudi aircraft (which, it should be noted, were also purchased from the US).
All remaining forces will be in place "in the coming weeks" he told Congress, which will cap out at "approximately 3,000" according to the letter.
Crucially, this also came as the US aircraft carrier strike group Abraham Lincoln entered the Strait of Hormuz on Tuesday, where US forces will continue to deter any acts of Iranian 'aggression' against international shipping.