---
Turkey Fires S-400 Missiles From Black Sea Coast In First Test
Missiles have been fired in the Black Sea region where S-400 tests were scheduled to take place on Friday, according to video footage
Turkey has initiated its Russian-made S-400 defense systems test on Friday, as confirmed in local video circulating and confirmed by Reuters. 
Turkey has started its S-400 tests in Sinop. pic.twitter.com/qh8jXcglDF

— Levent Kemal (@leventkemaI) October 16, 2020
"The video, taken in the coastal city of Sinop, showed a narrow column of smoke headed high into the blue sky," Reuters reports. "In recent days Turkey had issued notices restricting air space and waters off the coastal area to allow firing tests."
It's likely to stoke further tensions with Washington, given recent warnings and threats not to carry through with it or take the Russian-made systems operational, which Ankara has said it plans to do by April 2020.
All flights have been banned in the area running east of the test field at an altitude less than 25,000 feet, according to Turkish aviation notices this week.
The tests were expected to run anywhere between Wednesday through Friday of this week.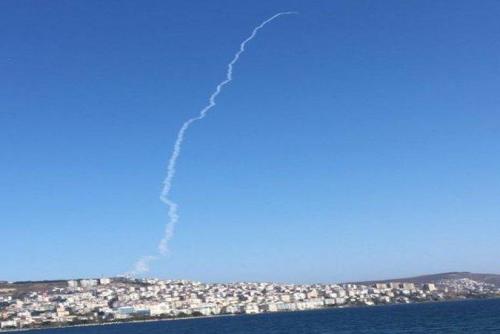 Throughout the whole S-400 and F-35 diplomatic saga and standoff of 2019 which took US-Turkey relations to an all-time low, compounded by Turkey's attacks on Syrian Kurds which were being supported by US troops in northern Syria, Ankara didn't blink under US threats of potential sanctions or other punitive action. This even as Washington offered the Patriot system as an alternative to Russian air defenses.