---
"Biggest Disaster In The Last Century": Turkey-Syria Earthquake Death Toll Surpasses 20,000
Update (1325ET): 
The death toll from Monday's powerful earthquakes and aftershocks in Turkey and Syria surpassed 20,000. Hope is quickly fading that survivors will be found under collapsed buildings. 
BREAKING: More than 20,000 people are now confirmed to have died in a devastating earthquake that hit Turkey and Syria on Monday.

Latest: https://t.co/ojEgWiEilh

📺 Sky 501, Virgin 602, Freeview 233 and YouTube pic.twitter.com/fya2Agqpt6

— Sky News (@SkyNews) February 9, 2023
WSJ said 16,546 people have so far died in Turkey. This figure could soon surpass the death toll from a devastating 1999 earthquake in the country that killed 17,127. In Syria, the death toll stands at 3,162. 
Turkish President Recep Tayyip Erdogan said the quake was the "biggest disaster in the last century."
Here are the latest scenes from quake-ravage Turkey:
Death toll in Turkey earthquake already hit 17,134, almost on par with second most deadly and defining earthquake disaster in 1999.

Below bodies getting buried in Maras. The devastation is immense pic.twitter.com/buCnNlrc1N

— Ragıp Soylu (@ragipsoylu) February 9, 2023
The death toll of the Turkey-Syria earthquake has reached a staggering 19,000. Thousands are still stuck beneath the ruins. Take a look at the tragedy & devastation in Turkey's Hatay province:pic.twitter.com/SjB93rNs3J

— Steve Hanke (@steve_hanke) February 9, 2023
🚨Death toll from Turkey-Syria earthquake passes 20,000۔💔#PrayForTurkeyAndSyria
💔🤲❤#TurkeySyriaEarthquake #Turquie#Maroc #Syrien #Israel #Syrie pic.twitter.com/bQOVXxQyQI

— كأس العالم للأندية المغرب 2023 (@ryanchaaley) February 9, 2023
*   *   *
Tens of thousands of rescuers are pulling survivors out from the rubble of collapsed building structures, but more than 72 hours after the powerful 7.8 magnitude earthquake rocked southeastern Turkey and northwestern Syria, hope is quickly fading that more people will be found alive. The latest death toll figures in the region topped 17,000 on Thursday. 
Turkish President Recep Tayyip Erdogan said 14,014 people were killed and more than 67,000 injured. In Syria, 3,577 died, and more than 6,300 were injured. 
For 100,000-plus rescue personnel, the task is monumental, as there are thousands of collapsed buildings to search. Blocked roads and other logistical challenges have made it challenging for first responders. They're also racing against time as a person's survival probability drops due to a lack of food and water. 
We noted yesterday that President Erdogan declared a three-month emergency for ten of Turkey's 81 provinces. He said the measure is because of the widespread destruction in cities, some of which have an equivalent population size to small US cities. 
Here's the latest map detailing the quake-affected areas.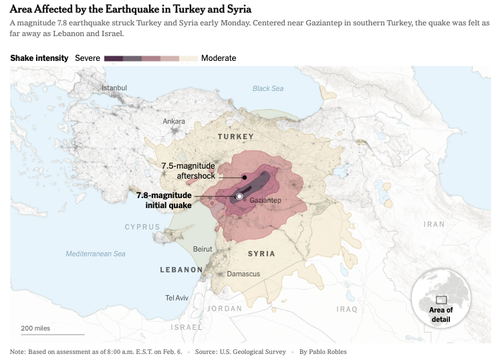 Since the powerful earthquake struck southeastern Turkey before dawn on Monday, there have been 650 aftershocks in the region.
And here's more footage of the shocking aftermath. 
Aerial images of the amount of destruction in the earthquake affected areas in Turkey. pic.twitter.com/5WJPd0LkIe

— کفایت علی (@Kefayatali1) February 9, 2023
Here's a Bloomberg update on financial markets:
With Turkish stock trading halted, knee-jerk reactions in Turkish markets have subsided thanks to central bank policies curbing volatility in the lira as the country continues to grapple with disastrous earthquakes.

The lira was little changed, while the yield on both 2- and 10-year government bonds retreated for a second day. The one- month implied volatility on the USD-TRY pair, a measure of expected swings, hovered near the lowest level in three years.
We suspect the lira's little change has been due to the Turkish central bank suppressing volatility.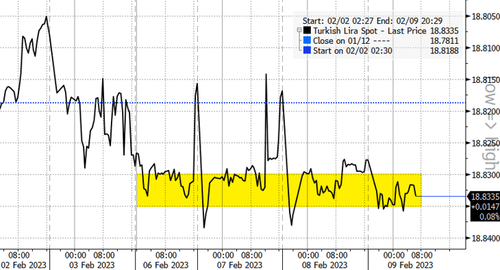 What's not halted is in New York, iShares MSCI Turkey Exchange Traded Fund, the largest ETF concentrated on Turkish stocks, is unchanged Thursday. Since the quake, the ETF has slid about 11%.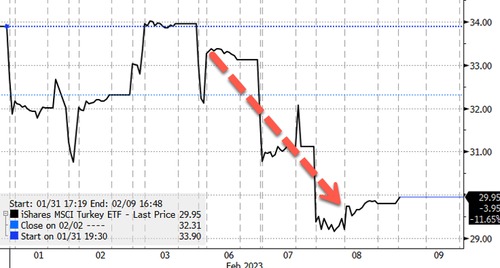 President Recep Erdogan said the quake is the country's largest disaster since the 1939 Erzincan earthquake that killed upwards of 30,00 people.
Loading...