---
Turkey Vows National Troops To Help Azerbaijan If Requested 
Among the big fears of major regional powers neighboring the Caucasus like Russia or Iran is that the ongoing war between Azerbaijan and Armenia in the Karabakh region might spill over into a broader regional conflict that becomes internationalized. In Iran's case, for example, errant missiles and mortar fire from the fighting are now somewhat routinely crossing the border and land on Iranian soil, sometimes on civilian homes.
In Russia's case, the Kremlin has a mutual defense pact with Armenia in the case of national war, yet few direct national security interests which would be reason enough to get involved militarily. 
And yet what's most alarming is Turkey's continued bellicose and jingoistic stance when it comes to aggressive verbal and political support for its tiny ally Azerbaijan through the past weeks of fighting over the self-declared autonomous border region. 
On Wednesday Turkish Vice President Fuad Oktay gave a forceful statement and promise, which surely raised eyebrows from Tehran to Moscow to Washington, saying that if requested Turkey is willing to send ground troops to the Karabakh region in support of Azerbaijan.
The Turkish vice president said this in an interview with CNN Turk: "Turkey will not hesitate to send soldiers and provide military support for Azerbaijan if such a request is made by Baku," according to a Reuters translation and paraphrase.
Reuters described further of the ultra-provocative comments:
Speaking in an interview with broadcaster CNN Turk, Oktay also criticized the OSCE's Minsk group - formed to mediate the conflict and led by France, Russia and the United States - of trying to keep the issue unresolved and supporting Armenia, both politically and militarily.
He did underscore, however, that no such request has yet to be made. No doubt Baku also has an interest in not seeing a broader war with Armenia expand beyond the contested border zone, given it could trigger both Russian and Iranian intervention if Turkey's army formally enters.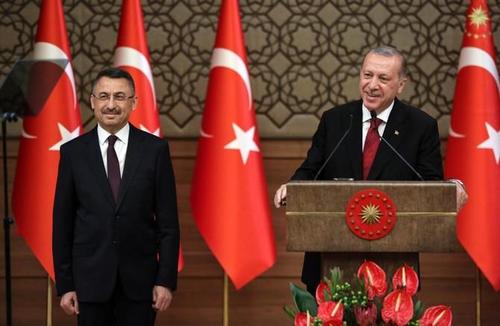 Already, Turkey's Erdogan has stood accused of facilitating the transfer of Syrian Islamist mercenaries from northern Syria into the Nagorno-Karabakh theater.
Meanwhile Armenian President Armen Sarkisian on the same day complained to NATO Secretary-General Jens Stoltenberg in a meeting that Turkey remains the biggest obstacle to a lasting ceasefire, accusing it of "supporting" Azerbaijan both "militarily and diplomatically". 
President Sarkisian said, "This conflict is not only between the Armenian side and Azerbaijan, there is a third country that supports Azerbaijan both militarily and diplomatically. This country is Turkey, which also brings terrorists to the region."
The Armenian president added, "Unfortunately, this country is a member of NATO. If Turkey stops being a party to the conflict, I think we will reach a ceasefire and we will be able to sit at the negotiating table and find a peaceful solution."