---
Turkey Weapons Sales To Azerbaijan Witnessed Huge Surge Just Before Armenia Conflict
New figures produced by the Turkish Exporters' Assembly and subject of an investigation by Reuters show a massive surge in Turkish weapons exports to its ally Azerbaijan just ahead of the raging conflict sparked late last month in the disputed Nagorno-Karabakh region.
"Turkey's military exports to its ally Azerbaijan have risen six-fold this year, with sales of drones and other military equipment rising to $77 million last month alone before fighting broke out over the Nagorno-Karabakh region, according to exports data," reports Reuters.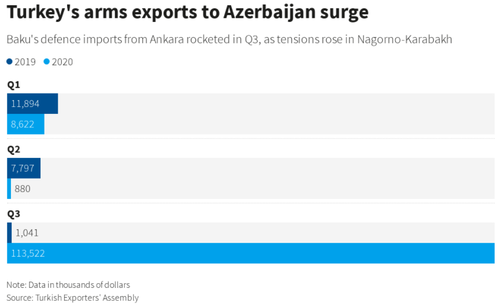 It's a massive figure for the tiny Caucasus country of just less than ten million people. The data shows that over the first nine months of 2020 Turkey sold Azerbaijan $123 million in defense and aviation equipment.
But this ramped up significantly by August once clashes between Armenian and Azeri forces, which have been sporadic and fierce since the early 1990's collapse of the Soviet Union and self-declared autonomy of ethnic Armenian Nagorno-Karabakh, grew more intense at the end of the summer.
According to the report:
Most of the purchases of drones, rocket launchers, ammunition and other weapons arrived were after July, when border clashes between Armenian and Azeri forces prompted Turkey and Azerbaijan to conduct joint military exercises.

Sales jumped from $278,880 in the month of July to $36 million in the month of August, and $77.1 million in just September, the data showed. 
Other major suppliers of Azerbaijan's military have included Russia and Israel. Russia also has a defense pact with Armenia, including a major base in the country's north.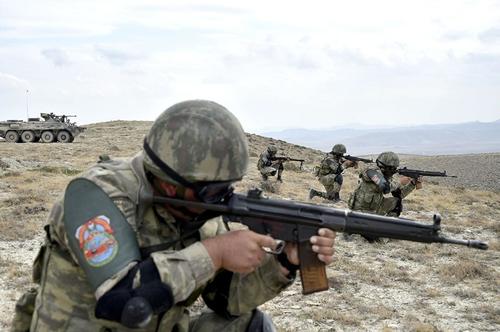 Israel's ties are much more controversial, given Tel Aviv is a major supplier of high tech small drones, including so-called 'suicide drones' which have recently been seen on the battlefield targeting Armenian troops.
Drone warfare has been somewhat of a gamechanger in the historic conflict, given multiple battlefield videos have shown a massive uptick in drone activity from both sides.
The latest Azerbaijani suicide drone shot down over Artsakh. Israel has been rearming Azerbaijan with these drones in the middle of the war. pic.twitter.com/gAMw9srIw0

— Serge (@Zinvor) October 11, 2020
Turkey has also been documented as transferring foreign mercenaries to the front lines, especially Syrian Islamists, a charge which Ankara has this week vehemently denied.
This seems notable: Azerbaijani President Aliyev admits his country has Turkish F-16 jets but says they are "not being used in the Nagorno-Karabakh conflict". https://t.co/Odamc4qwqU

— Alison Meuse (@AliTahmizian) October 14, 2020
It also recently appears Turkey is finally admitting it has F-16 fighter jets based in Baku, however, the defense ministry is making the highly dubious claim they are not being used against Armenian forces, or for any level of active military operations.