---
Two Trains Collide In Germany, Dozens Injured
German newspaper Bild reports a "serious" train accident has occurred near Munich. At least 40 people are injured, and one person is believed to have perished when two trains collided. 
There was a serious S-Bahn accident in Schäftlarn near Munich. Two trains collided. According to BILD information, there is a dead person, a train driver is said to be trapped. About 40 people are said to be injured, some seriously.

Around 4:40 p.m., the two trains are said to have collided in the area of ​​the Ebenhausen-Schäftlarn S-Bahn station, south of Munich. A photo of a derailed train is circulating online. People stand on the edge, leaning on a fence. -Bild 
German police have also confirmed the incident and indicated "numerous emergency services on-site, there are injured people, the route is currently completely closed."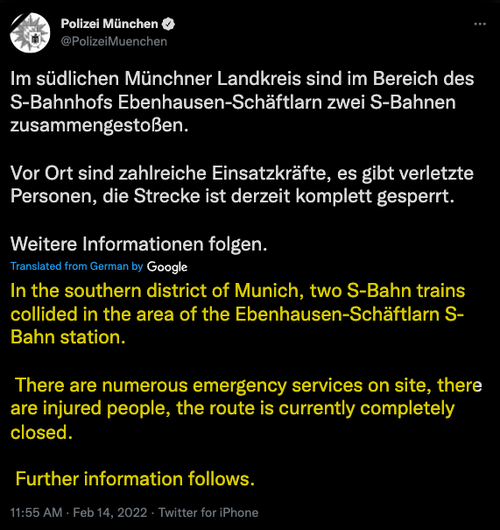 Alleged pictures of the train crash have surfaced on Facebook.