---
'Big 10' Releases Shortened 2020 Football Schedule After UConn Cancels Football Season
Update (1530ET): Hours after UConn became the first major football team to cancel its 2020 season, the Big Ten has just released its schedule for the 2020 season, which calls for the first games on the weekend of Sept. 5, with final games slated for Nov. 21, in an effort to align with academic calendars.
The football schedule starts as early as the weekend of Sept. 5 with final games slated for Nov. 21 to align with academic calendars. The Big Ten Football Championship Game remains scheduled for Dec. 5 at Lucas Oil Stadium, though it could be moved as late as Dec. 19. pic.twitter.com/vWp3OSifBc

— Big Ten Conference (@bigten) August 5, 2020
Teams in the conference will play a 10-game, conference-only football schedule beginning  Labor Day weekend and building in "ample flexibility," the league announced Wednesday morning. Each team has two open weeks, and the schedule has four weeks built in to reschedule games, including a league-wide open week on Nov. 28.
The model allows for opening games on the weekend of Sept. 3-5 to be moved to Sept. 12, Sept. 19 or Sept. 26 if need be via "strategic sequencing".
* * *
UConn's 2020 football season will forever remain the year that could have been.
The Connecticut flagship state university set a nationwide precedent on Wednesday when its athletic department announced that it would cancel its upcoming football season over fears tied to the coronavirus pandemic.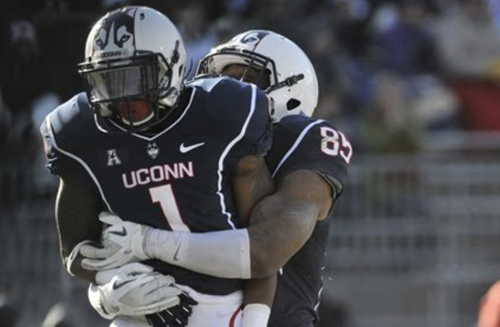 According to media reports, requirements that visitors from other states quarantine for at least 2 weeks had already caused nearly half a dozen games to be cancelled for the regular season. With New York, CT and NJ adding Rhode Island to the growing list (which now includes 35 states and territories) earlier this week, UConn was struggling to book new opponents.
Here's more from the Hartford Courant's Mike Anthony:
With a schedule that was already eroded after several canceled games and the ongoing concerns related to coronavirus being transferred through close contact, UConn officially canceled its football season Wednesday sources close to the program told the Courant. It was set to be the first season for the Huskies as an independent program.

The football team members arrived on campus in early July, working out in small groups with plans to begin full practices Wednesday. While athletic director David Benedict was still discussing the possibility of scheduling games in recent days, it appeared to be an uphill battle. Games against Indiana, Illinois, Ole Miss and Maine were already canceled, while games against North Carolina and Virginia appeared unlikely.

UConn could have also faced travel restrictions for some of the remaining scheduled games, as there are currently 34 states in the U.S. on a travel advisory list, requiring travelers from those states to quarantine for 14 days following trips.
As the Courant explains, UConn's cancellation could precipitate a slew of cancellations by schools in the college-rich northeast, who will likely struggle to play home games and away games due to quarantine requirements during the fall sports season.
Most of the "Power 5" football conferences intend to play full seasons for the 2020-2021 season, though the NCAA still hasn't come to a formal decision on fall sports. 
While the Power 5 conferences remain committed to playing a season largely with conference-only games, plenty of uncertainty remains. Some college teams that have begun practicing have seen cases of coronavirus spike, including Rutgers which saw 28 players test positive. Six Big Ten teams - Ohio State, Maryland, Michigan State, Indiana, Rutgers, and Northwestern - have temporarily halted practices due to positive tests.

The NCAA Board of Governors met Wednesday about fall sports, but did not come to a conclusion. Numerous conference around the country have already canceled fall sports or postponed them until the spring, including the Ivy League.

UConn was yet to have a player test positive, but coach Randy Edsall told the Courant last week that any decision regarding the season would involve the players. Edsall also expressed some concern over how gamedays would be handled including whether a locker room would be used, how hotels and travel would be handled and whether social distancing could safely occur.

"Before any decisions are going to be made, at least in my mind, we're going to make sure — I'm going to make sure — that our players have a say in this," Edsall said. "They're the ones going on the field and playing."
After most of its programs moved back to the Big East conference, including UConn's Men's and Women's basketball teams, the UConn football team was headed for a year of independent matchups, though after last year's lackluster season, fans probably won't be missing much.
And the first FBS domino has fallen, UConn football cancels the 2020 season. I doubt they will be the last and we may see a lot of breaking news over the next 48 hours. Still no word on the #FCS football season. Lack of NCAA leadership on full display yet again. #OutOfDate

— David Hashagen (@David_Hashagen) August 5, 2020
The bigger question for Nutmeggers: Will these quarantine restrictions create the same problems for basketball?