---
US COVID-19 Cases Top 9 Million, Belgium Announces 6-Week National Lockdown: Live Updates
Summary:
US tops 9 million cases
France reports most new deaths since April 20
Belgium announces 6-week lockdown
CDC unveils guidance for cruise lines
Italy suffers 2nd straight record
NJ cases, hospitalizations highest since May
Regeneron follows Eli Lilly, halts enrollment of seriously ill patients
Iceland tightens restrictions
Sweden introduces new economic support
Czech Republic won't shut down manufacturing as country braces for new restrictions
Global cases top 45 million
Taiwan celebrates record COVID-19-free streak, best growth in developed world
US reports 89k new cases
UK accelerates vaccine approval
Germany reports record jump
Japan tops 100k
HK customs agents seize counterfeit masks
Indonesia reports most cases in 2 months
* * *
Update (1630ET): As expected, the US has surpassed the 9 million mark in new COVID-19 cases, with nearly all of the states on the east coast and the middle of the country (which is seeing record case numbers) reporting Friday's numbers (remember, these numbers are reported with a 24-hour lag).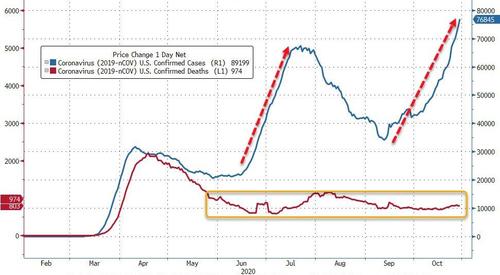 Meanwhile, in France, officials reported 545 new COVID-19 deaths, the highest daily count since April 20.
* * *
Update (1415ET): As was widely expected, Belgian Prime Minister Alexander De Croo has announced a nationwide coronavirus lockdown that will apply to the entire nation, and last for at least 6 weeks.
He said he imposed the lockdown to try and avoid a complete collapse of Belgium's health-care system as more than 6,000 patients are currently occupying the country's COVID-19 beds.
Per the lockdown, which will be more restrictive than the 'lockdown-light' imposed by France and Germany. Belgium will extend a school holiday until Nov. 15, while ordering hairdressers and all nonessential retailers to close. Outdoor gatherings will be limited to 4 people (despite researchers repeated claims that outdoor gatherings are largely safe).
The lockdown will start at midnight Sunday, and continue for at least 6 weeks.
In other news, the CDC has, as promised, released guidelines for cruise companies to reinstate phased resumption of cruises.
Meanwhile, J&J announced that it will soon start testing vaccines for minors aged 12-18.
* * *
Update (1215ET): Italy has just reported 31,084 new cases in Friday, a new daily record. It also reported another 199 deaths, and 1,125 new hospitalizations (with 95 new patients in the ICU). The record number comes amid a record daily tally in tests, with 215,000 run over the last 24 hours.
* * *
Update (1100ET): It's 1100 on the East Coast of the US, and markets are dominating the conversation again on Friday as new GDP data offers more insight into how badly Europe's economy has been rocked by the virus.
The Czech Republic isn't planning to shut down manufacturing production or factories when it imposes new COVID-19 restrictions, according to Prime Minister Andrej Babis. Infection rates have slowed slightly in the Central European country, which has emerged as one of the continent's worst hot spots.
A $500 million "vaccine bond" floatedto finance vaccination programs across the developing world was inundated with orders, ending up 3x oversubscribed. The debt, which is being sold by an institution on behalf  of a UN-backed vaccination program, is likely seeing high demand due to the trend of "socially conscious" investing.
Iceland has tightened its cap on public gatherings back to 10 people, down from 20 and all sports events and performances will again be banned on Saturday. Bars will be closeed and restaurants will be forced to shut before 9.
In the latest blow to the hoped-for class of therapeutics, Regeneron, the maker of the antibody therapy that President Trump credited (along with dexamethasone, a steroid) for his swift recovery has stopped enrollment in its trial for seriously ill patients after an independent authority wared of a safety issue.
Sweden is considering additional economic support according to its finance minister, who said "it's a question of saving jobs, saving businesses and supporting the Swedish economy."
Shares of the company sold off on the news that the therapy would no longer be given to patients requiring high levels of oxygen. It comes after a trial of one of Eli Lilly's antibody treatments also stopped enrollment earlier this week after research showed patients were unlikely to benefit from the treatment in the later stages of the disease.
Regeneron has already submitted an emergency-use application ot the FDA to allow patients with mild to moderate symptoms to use the treatment.
New Jersey just reported more than 1,000 hospitalizations related to COVID-19 for the third day.
#COVID19 UPDATE: We're reporting 2,089 new positive cases, pushing our cumulative total to 236,523.

We haven't seen daily case numbers in the 2000s since early May.

Everyone needs to take this seriously. Wear a mask. Social distance. Wash your hands. pic.twitter.com/ab6sbBvHjo

— Governor Phil Murphy (@GovMurphy) October 30, 2020
Sadly, we must also report seven new confirmed #COVID19 deaths for a total of 14,546 lives lost.

All seven of these deaths occurred within the past 15 days.

This virus has been waiting for us to get lax. Stay vigilant, safe, and smart.

Learn more: https://t.co/JW1q8awGh7

— Governor Phil Murphy (@GovMurphy) October 30, 2020
Cases and hospitalizations are at their highest levels since May, marking a five-month high.
* * *
Global COVID-19 cases topped 45 million on Thursday as France outlined its plan for trying to mitigate the impact of the new quasi-lockdown (which began Friday) after European economies reported their Q3 GDP figures, with most coming in hotter than expected, even as deflation across the eurozone endured.
As Europe saw better-than-expected economic growth in the quarter, Taiwan, which has become - much to Beijing's dismay - an exemplar of COVID-19-fighting efficiency, saw the fastest growth rate among any developed economy in Q3. Its economy actually expanded 3.3% year over year, its fastest rate of grwoth in more than 2 years, and a reversal from a 0.6% drop from Q2.
Health authorities from around the world reported another near-record on Thursday, with new cases again coming in above 530k for the second time ever (the first time was Monday):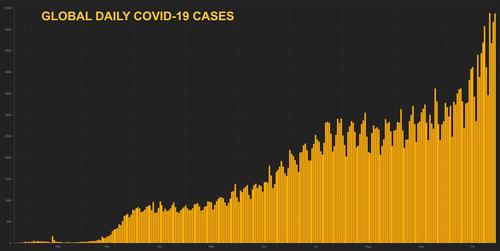 Daily deaths topped 7k again yesterday, driving the 7-day average even higher as higher infection & hospitalization rates have finally started to cause mortality to creep higher.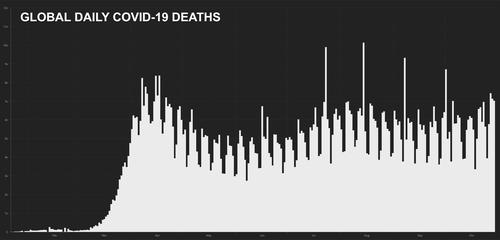 The US, meanwhile, reported another record jump in new COVID-19 cases on Thursday, with 88k+ new cases, bringing the US total to 8,947,862, within striking distance of the 9 million mark.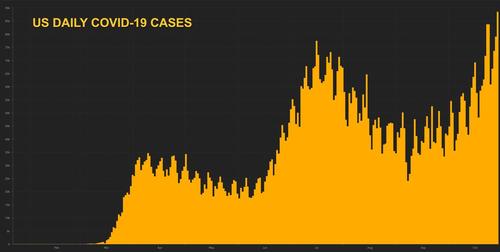 Deaths in the US came in just below 1,000.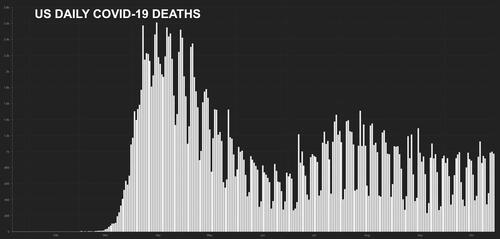 Perhaps the biggest vaccine-related news last night comes out of Europe, where the UK's drug regulator is said to have ordered accelerated reviews of vaccines under development from Pfizer and AstraZeneca as UK PM Boris Johnson faces growing pressure to order a lockdown for before and after the Christmas holiday, to allow families to gather during the holiday.
German cases exceeded 500,000 after officials reported a new daily record of 18,681 new cases on Friday, as authorities added almost all of Austria and Italy to the list of high-risk areas, warning German travelers not to go there.
In Asia, Japan finally crossed the 100,000-case mark 9 months after reporting its first infection.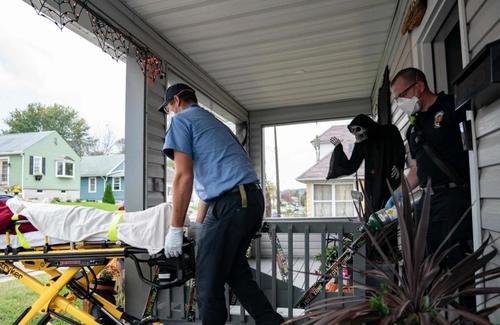 Here's some more COVID-19 news from Friday and overnight:
Confirmed coronavirus infections in Slovakia have hit a new record high as the country gets ready for a nationwide testing. The Health Ministry says the day-to-day increase in the country of 5.4 million reached 3,363 on Thursday, over 300 more than the previous record set on Saturday (Source: AP).
Customs agents in the southern Chinese city of Hong Kong have seized 100,000 counterfeit face masks and arrested one person in what the government called the largest operation of its kind on record. The masks were set to be shipped overseas and had a market value of almost $400,000, the government's Information Services Department reported Friday (Source: AP).
Indonesia reported 2,897 confirmed cases in the 24 hours through midday Friday, the least in almost two months. The country remains the site of Southeast Asia's largest outbreak, and the government has been wary a long weekend doesn't lead to a spike in infections (Sources: Bloomberg).
Sweden's government has underestimated the cost of testing and tracing Covid-19 patients and the money that's been earmarked for the purpose is now running out, TV4 reports (Source: Bloomberg).
Poland's health-care system is "stretched to its limits," Michal Dworczyk, chief of staff in Prime Minister Mateusz Morawiecki's office, says in interview with public radio 1 (Source: Bloomberg).