---
UK Prepared To Consider Leaving ECHR If It Blocks Illegal Immigration Bill: Raab
Authored by Alexander Zhang via The Epoch Times,
Britain is prepared to consider leaving the European Convention on Human Rights (ECHR) if it prevents the government from implementing its plans to crack down on illegal immigration, Justice Secretary Dominic Raab has warned.
The Illegal Migration Bill, unveiled on March 7, aims to ban anyone who arrives in the UK illegally from claiming asylum. If it becomes law, illegal entrants will be swiftly removed from the UK to their home country or a safe third country like Rwanda, and will be banned from reentry.
The bill would enable powers to be granted to detain immigrants for 28 days without recourse for bail or judicial review, and then indefinitely for as long as there is a "reasonable prospect" of removal.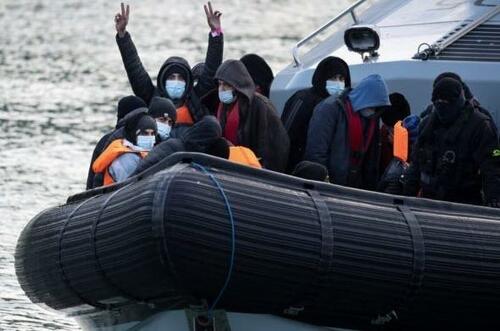 Illegal immigrants react onboard UK Border Force vessel HMC Speedwell after being picked up at sea, as they are brought into the Marina in Dover, southeast England, on Dec. 21, 2021. (Ben Stansall/AFP via Getty Images)
Opposition parties and pro-immigration campaigners have claimed that the bill is incompatible with the UK's obligations under the ECHR.
The Strasbourg-based ECHR has acted against the UK's immigration policy before. In 2022, the court granted an injunction that effectively grounded a UK deportation flight sending illegal immigrants to Rwanda.
But the government said it believes the bill is consistent with the convention and said it is ready to fend off any legal challenges.
Talking to the House of Lords Justice Committee on Wednesday, Raab said: "We are committed to staying within the ECHR but we've said if asked that we could not rule out forever and a day that we would have to revisit that position.
"But that would depend on the responsiveness of the Strasbourg court to the vital issues that we are trying to pursue in this country including stopping the small boats."
Raab said he had already met with senior ECHR judges to discuss the UK government's concerns over the court's injunctions against deportation flights.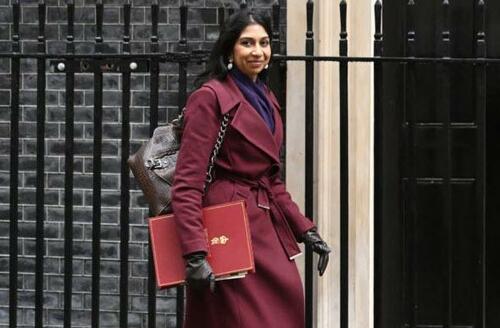 UK Home Secretary Suella Braverman arrives in Downing Street, central London, on March 7, 2023. (Leon Neal/Getty Images)
Compatibility in Question
Home Secretary Suella Braverman has previously admitted that the new bill may come into conflict with the UK's obligations under the ECHR.
In a letter to Conservative MPs and peers last week, she wrote, "This does not mean that the provisions in the Bill are incompatible with the convention rights, only that there is a more [than] 50 percent chance that they may not be."
"Both Houses will have an opportunity to thoroughly scrutinise the bill and, once approved, the measures in the bill will have been expressly endorsed by Parliament and we would expect the courts to take that into account," she added.
On the front page of the Illegal Migration Bill, Braverman acknowledged that she cannot assure Parliament that the legislation is compatible with the convention but adds that "the government nevertheless wishes the House to proceed with the bill."
Announcing the bill in the House of Commons on March 7, the home secretary alluded to the bill's "legal complexities."
"Some of the nation's finest legal minds have been, and continue to be involved in, its development," she said.
Braverman said last year's ruling by the Strasbourg court which grounded a flight to Rwanda was "deeply regrettable."
She told MPs: "We are addressing that particular issue in this bill to avoid that scenario playing out again. But in our view this bill complies with our international obligations and we must take these measures now promptly."
'Up For the Fight'
Prime Minister Rishi Sunak has said he is "up for the fight" against any legal challenges to his plan to crack down on illegal immigration via small boats in the English Channel.
According to government figures, a record 45,755 illegal immigrants arrived in the UK after crossing the Channel in 2022. More than 3,000 have already made the journey this year.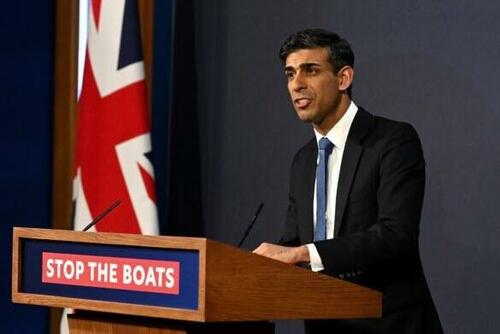 Prime Minister Rishi Sunak speaks during a press conference following the launch of new legislation on illegal Channel crossings, at Downing Street, central London, on March 7, 2023. (Leon Neal/Getty Images)
Sunak named "stop the boats" as one of the five priorities of his premiership.
At a Downing Street press conference on March 7, the prime minister said the government is prepared to challenge any legal action.
"Of course we're up for the fight, I wouldn't be standing here if we weren't," he said, adding, "But we're confident that we'll win."
Sunak said there is "absolutely nothing improper" about his new legislation and said he is "confident" the government would win any court action.
"We believe we are acting in compliance with international law, in compliance with the ECHR, and if challenged—as you may well be right, we've seen in these matters we do get challenged—we will fight that hard because we believe we're doing the right thing and it is compliant with our obligations," he added.
Sunak said "we don't believe it is necessary to leave the ECHR" but did not rule out the move when asked at his press conference.
Loading...