---
Ukraine Ally Says Russian Attack Now Highly Unlikely
Authored by Paul Joseph Watson via Summit News,
Despite the legacy media breathlessly reporting that Russia had chosen today – February 16 – as the date to attack Ukraine, one of President Volodymyr Zelensky's closest allies now says the chances of that happening are virtually zero.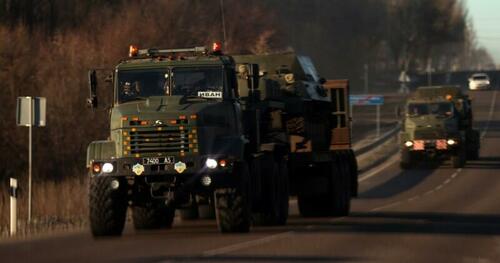 On Friday, it was reported that the CIA and the American military had warned Berlin and other NATO countries that Moscow was all set to launch an invasion on February 16.
This was then blazed across the headlines, with newspapers such as the Sun reporting that a "massive missile blitz" was planned, along with 200,000 troops at the ready, for 1am this morning.
But Moscow immediately began withdrawing troops from the border region and nothing happened.
Ahhhh! Misinformation! Fact checkers! Fake news!

"It's okay when we do it!" pic.twitter.com/m4gjrr4qft

— Paul Joseph Watson (@PrisonPlanet) February 16, 2022
Presumably, the same regime media that constantly complains about "misinformation" and "fact checking" will not have to fact check itself. Or maybe not.
Responding to the excitement, David Arakhamia, the head of the "Servant of the People" faction in Kiev's parliament, played down chances of a Russian incursion.
"During the escalation in the spring of 2021, 220,000 Russian soldiers and equipment were concentrated around Ukraine's borders – theoretically enough for a major attack," he explained.

"Now Russia has 123,000 troops, which is almost half the number, at the Ukrainian frontier."

"From a military point of view, as they have explained to us, a full-scale attack is impossible…Our intelligence does not see signs that the Russians are directly preparing," he added.
Arakhamia said he was now "99.9% confident that nothing will happen" today.
#Видео Погрузка на железнодорожный транспорт для убытия в пункты постоянной дислокации подразделений Южного военного округа.#Минобороны #АрмияРоссии #ЮВО pic.twitter.com/p60Ww2gZKK

— Минобороны России (@mod_russia) February 15, 2022
Much to the chagrin of the deep state, the Kremlin now appears to have been proven right in insisting that their rhetoric about a Russian invasion was mere "hysteria."
But even making that observation will probably now elicit charges that you're on the Kremlin payroll, with the regime angry at Zero Hedge for merely publishing articles written by independent experts who aren't NATO cheerleaders.
Beijing also weighed in on the issue, asserting that the dubious claims of a Russian attack have damaged international relations and the economy.
"Over the last few days, the US has been fanning the threat of war, artificially creating a tense atmosphere, which has dealt a serious blow to the economy, social stability and living conditions of the people of Ukraine," said Chinese Foreign Ministry spokesman Wang Wenbin.
*  *  *
Brand new merch now available! Get it at https://www.pjwshop.com/
In the age of mass Silicon Valley censorship It is crucial that we stay in touch. I need you to sign up for my free newsletter here. Support my sponsor – Turbo Force – a supercharged boost of clean energy without the comedown. Get early access, exclusive content and behinds the scenes stuff by following me on Locals.
Loading...