---
Ukraine Bitterly Complains: No Hope Of Using F-16 Jets This Year
Ukrainian officials have long complained that the counteroffensive is faltering in large part because they are unable to gain air superiority. They have also been angered at delays, such as with tanks and especially the F-16 training program.
On Wednesday a top Ukraine military official admitted Kiev has given up hope over ever seeing F-16 jets in battle by this year, which follows more optimistic statements from months ago suggesting Ukrainian forces would have them by close of 2023.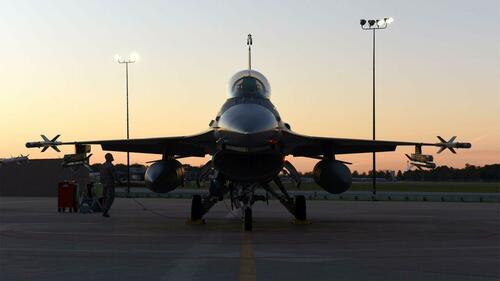 "It's already obvious we won't be able to defend Ukraine with F-16 fighter jets during this autumn and winter," Ukrainian Air Force spokesman Yuriy Ihnat said. "We had big hopes for this plane, that it will become part of air defense, able to protect us from Russia's missiles and drones terrorism."
It was only in the spring that President Biden belatedly greenlighted European countries' ability to export the F-16s to Ukraine, following mounting political pressure. 
The Washington Post earlier this month described that the slow to get off the ground training program, which currently has just six Ukrainian pilots enrolled, is dragging things out longer.
"A first group of six Ukrainian pilots is not expected to complete training on the U.S.-made F-16 before next summer, senior Ukrainian government and military officials said, following a series of delays by Western partners in implementing an instruction program for the sophisticated fighter jet," the WaPo report said.
A Ukrainian official who spoke to the newspaper had accused Washington of "dragging it out"—given also the following: 
Though the pilots are already fluent in English, the officials said, they must first attend four months of English lessons in Britain to learn terminology associated with the jets. That instruction will occur along with ground staff who may be less proficient in English because, according to Ukrainian officials, Denmark requested to train entire crews together rather than just the pilots first. Denmark's ministry of defense declined to comment.

That pushes back the start of combat training, which is expected to take six months, to January, the Ukrainian officials said. A second group of about the same size would be ready six months after that, or roughly the end of next year.
And a prior July report on how the air effort was going included American officials admitting they don't see F-16s as making a significant difference on the battlefield:
Ukrainian officials have pointed out that Western militaries would never attempt a massive operation — which he said was the most intense since World War II — without air support.

"So, to say that it is slow or too fast is at least ridiculous to hear from those who have no idea what it is," Zaluzhny said in an interview. "They do not know what it is. And God forbid they should ever experience it."

American officials privately say that Western jets would have little utility in the current fight because of Russia's extensive air defenses.
Indeed the Kremlin has vowed to escalate its response the moment Ukraine is in possession of F-16s, given FM Lavrov's prior words of seeing it as a 'nuclear threat' - given the F-16's ability to carry a tactical nuclear warhead.
"Russia cannot ignore the ability of these aircraft to carry nuclear weapons. No amount of assurances will help here," Lavrov was quoted as saying in July. "In the course of combat operations, our servicemen are not going to sort out whether each particular aircraft of this type is equipped to deliver nuclear weapons or not."
Loading...