---
Ukraine Officials Openly Taunting Russia As Zelensky Says 'Ready' For Counteroffensive
Ukrainian leadership continues touting that it will "get back what's ours" - in the recent words of the country's chief military officer, Gen. Valerii Zaluzhnyi. President Volodymyr Zelensky is additionally telling Western press and officials that "we strongly believe that we will succeed."
Zelensky recently spoke to The Wall Street Journal about the much anticipated counter-offensive, but which comes after the significant loss of Bakhmut last month. "I don't know how long it will take," Zelensky told the newspaper. "To be honest, it can go a variety of ways, completely different. But we are going to do it, and we are ready."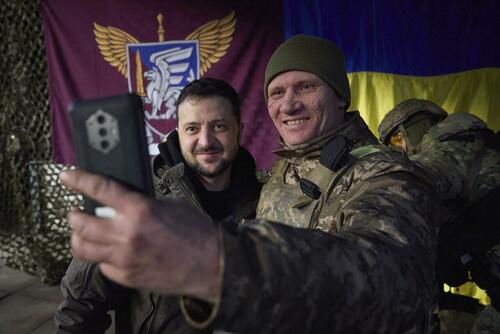 But the longer and greater delay before it is actually launched, which will be sure to feature ample Western weaponry, the more doubt is likely to build. Kiev and its allies have been touting it with much bravado, and yet nothing has materialized in terms of a major advance or gains. Zelensky cautioned in the interview that "the time will soon come when we will move to active offensive actions."
He also stressed that "we can't wait for months" on further much-needed advanced weapons from the West, which has recently included approval of Abrams tanks and F-16 jets from European partners, but for which Ukrainian operators must undergo extensive training. Zelensky's impatience has been on continual display despite the West having already spent tens of billions in defense funding and weaponry for Kiev.
Admitting the persistent difficulty of superior Russian airpower, Zelensky conceded that "a large number of soldiers will die" in the counteroffensive but still emphasized that his troops are "stronger and more motivated" than Russia's.
As of three weeks ago, Zelensky was still saying his country "needs more time" to prepare for the counteroffensive. It begs some questions: is he waiting on approval or coordination from the West? Is the Ukrainian side desperate at this point to maintain morale simply by touting a future offensive? Is Kiev indeed waiting for heavier weaponry to come through from the West?
Meanwhile, Ukrainian government official accounts are openly taunting Moscow...
Ukraine's intel operators appear to be taunting Russia here that the counteroffensive won't be announced but could begin at any time…Ukraine's Ambassador to the US @OMarkarova joins @FaceTheNation this morning. https://t.co/ftA0XL4Ra9

— Margaret Brennan (@margbrennan) June 4, 2023
Currently, the Ukrainian president is applying the pressure more than ever for his Western backers to see Ukraine enter NATO, or at least to provide immediate and firm security guarantees. 
"Our future is in the European Union. Ukraine is also ready to be part of NATO. We are waiting for NATO to be ready to accept Ukraine," he said Thursday to journalists just ahead of a summit of the European Political Community in Chisinau, Moldova. He additionally demanded that Ukraine receive security guarantees "now" and emphasized the best way to ensure this is acceptance into NATO.
Loading...