---
Russia To Mobilize An Extra 500,000 Conscripts This Month, Ukraine Says
Ukrainian officials are in the past days growing more specific regarding their assertions that the Russian government is planning a major new mobilization order, complete with martial law and a closure of the borders for all men of fighting age.
Kiev is claiming that Moscow is preparing to call up an additional 500,000 conscripts in January, following the 'partial mobilization' which included 300,000 extra troops in October, which proved hugely controversial inside Russia as tens of thousands reportedly fled military service.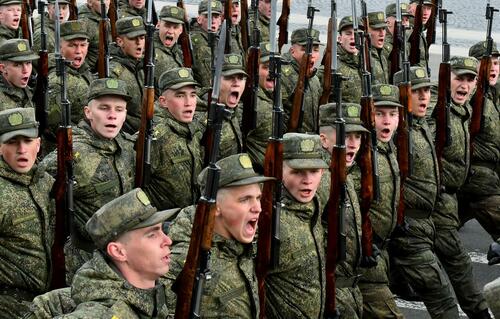 Vadym Skibitsky, Ukraine's deputy military intelligence chief, was cited in The Guardian as saying Ukraine expects the new mobilization to pour additional Russian manpower into Ukraine for a coming post-winter offensive, to ramp up in the spring or summer months.
The renewed fighting and troop influx is expected to be concentrated in the east and south, the Ukrainian official said.
Moscow meanwhile has responded to the reports by flatly denying it to be the case, with President Vladimir Putin having addressed the rumors last month, dismissing a new call-up as "pointless". He cited that a mere half of those that were activated as part of the October mobilization are actually fighting in Ukraine.
This suggests Russia has been significantly holding back, or also could be slow-playing its operations for the duration of the winter, in preparation for a big offensive. 
Ukraine is already using its own claims of the coming mass mobilization to push for more arms deliveries from the West, claiming Putin's forces "will collapse" if the next major offensive is beaten back.
Ukraine's military intel claim Russia will mobilise 500k men this Jan.

"If Russia loses this time around, then Putin will collapse," describing the next 6 to 8 months as the last push

The 1st wave of 300k proved unpopular in Russia. W comments @RALee85https://t.co/2R1zWwjVOa

— Isobel Koshiw (@IKoshiw) January 6, 2023
So far the only sign that could lend credence to the Ukrainian predictions of "something big" coming are military activities in Belarus. The past week has seen more and more heavy Russian equipment pour into Belarus by train, amid ongoing joint Russian-Belarusian drills, and President Alexander Lukashenko making bolder symbolic moves in support of Putin's operation in Ukraine.
Loading...