---
Ukraine Says Russian Troop Draw Down Is "Not Enough"
Not satisfied with Russia's confirmed troop draw down from its southern region which has stoked tensions over the past few weeks, leaders in Kiev on Friday demanded that more must be done to de-escalate tensions and conflict in Ukraine's eastern Donbass region.
Ukrainian Foreign Minister Dmytro Kuleba "welcomed" the Kremlin's ordering troops that had been engaged in major Crimean and Black Sea military exercises back to the regular bases, but said the violence in the east has continued. Kiev blames Russia for encouraging and supporting an uptick in hostilities with the pro-Russian separatists, which have sought to carve out independent enclaves going back to 2014 and 2015.
"If Russia really pulls back from the border with Ukraine the enormous military force it has deployed there, this will already ease tensions. But we need to remember that this step would not put an end neither to the current escalation, nor to the conflict between Ukraine and Russia in general," Kuleba said.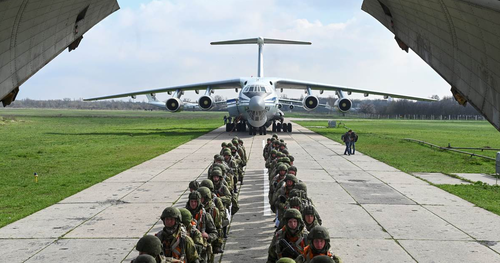 The top Ukrainian diplomat also says Moscow still owes "an explanation" for its largest troop build-up on the border since 2014. 
"Russia still owes an explanation to Ukraine… and international community of why it really needed to bring such numerous forces equipped with some offensive weapons at the border with Ukraine in such excessive number of troops," he said. 
In a Thursday statement posted to Twitter, Ukrainian President Volodymyr Zelensky appeared to confirm that the Russian draw down was indeed in progress.
"The reduction of troops on our border proportionally reduces tension. Ukraine is always vigilant, yet welcomes any steps to decrease the military presence & deescalate the situation in Donbas," he wrote. 
This had been in reaction to Russian Defense Minister Sergey Shoigu's initial declaration that the major Crimea and Black sea war drills had been completed and that troops would be ordered back to their permanent bases. "Russia on Friday said troops from its southern military district and airborne troops that took part in the snap inspection were beginning to rebase," Reuters had described of the statement.