---
Ukraine Tells China Envoy It Will Not Cede Territory Or Accept 'Freeze' 
This week Ukraine's foreign minister met with China's special envoy to Kyiv, Li Hui, to discuss Beijing's as well as Ukraine's respective peace plans. FM Dmytro Kuleba emphasized in the meeting that Ukraine would not accept any scenario which results in ceding territory to the Russians.
"Ukraine does not accept any proposals that would involve the loss of its territories or the freezing of the conflict," Kuleba said, reiterating Zelensky's longtime demand that Russian forces must withdraw from all Ukrainian territory before peace talks can begin. Peace depends on "respect of the sovereignty and territorial integrity of Ukraine," he stressed.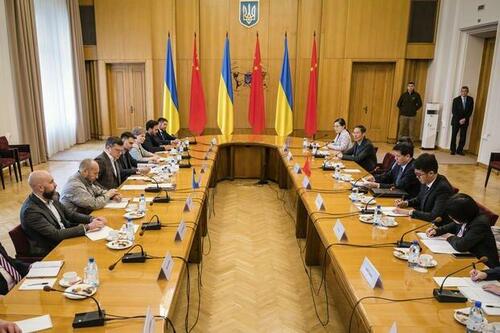 The Ukrainian top diplomat did underscore that China has played an important role in seeking to uphold nuclear safety amid the war, as well as its support of the UN/Turkey-backed Black Sea grain deal, which has just been extended for another two months.
But it remains that China has never explicitly condemned the Russian invasion, with President Xi Jinping having never denounced the war, only referring to it as a "crisis". 
Li's trip to meet with Ukrainian government representatives as the war drags on comes three weeks after China's Xi spoke by phone with Zelensky for the first time. Beijing has said the trip's purpose is to "communicate with all parties on the political settlement of the Ukrainian crisis."
But Ukrainian officials have expressed caution, saying their country doesn't need "mediation for the sake of mediation." A senior Ukrainian official told AFP this week: "Ending the war with a compromise at the expense of Ukraine will not work."
A follow-up statement by China's foreign ministry commenting on Wednesday's meetings said--
"There is no remedy to resolve the crisis," Wang told reporters at a daily briefing. "All parties should create favorable conditions and accumulate mutual trust for the political settlement."
China is ready to play its part for an early end to hostilities and restoration of peace in Ukraine. pic.twitter.com/aJ0F6AwzDa

— Spokesperson发言人办公室 (@MFA_China) May 18, 2023
One international publication has labeled China's stance as one of 'Pro-Russian neutrality', with an analyst explaining:
"China doesn't need a pompous truce," Sinologist Petro Shevchenko, of the Jilin University in the Chinese city of Changchun, told Al Jazeera. "In principle, it will make do with a freeze of some kind, when Ukraine doesn't declare the war's end."

Beijing has said Ukraine's "territorial integrity" should be maintained – and in February proposed a 12-point peace plan that was met with scepticism by Western powers. While it called for dialogue and denounced the possibility of a nuclear escalation, the plan also lambasted Western sanctions on Moscow and did not urge Russia to withdraw troops.

To convince Kyiv, Beijing "will resort to economic statecraft, economic tools" that may include a contribution to Ukraine's post-war restoration and better access to China's market for Ukrainian food producers, Shevchenko said.
Ukraine fears that China's goal may be to allow the Russian side more time to regroup and replenish its arsenal with any kind of 'freeze' in the war. Xi and China remain Putin's most powerful "friend" and strategic ally, and this worries Kiev in terms of China's ultimate intentions. 
Democratic @SenJackyRosen decries the fact that China is "trying to broker troubling agreements" to "reestablish diplomatic ties between Iran and Saudi Arabia", and "broker peace deals" between Ukraine and Russia.

Peace is "troubling"? pic.twitter.com/zW3soEakQZ

— Aaron Maté (@aaronjmate) May 12, 2023
As for China, it remains sensitive to comparisons invoking the Ukraine conflict and Taiwan. But like with Ukraine, Washington has sought to arm Taiwan to the teeth in order to help repel any potential future PLA invasion. 
Loading...