---
Ukraine Urges Emergency UN Security Meeting Over Putin Plan To Put Nukes In Belarus
Ukraine is calling on its allies in the United Nations to convene an emergency UN Security Council meeting in order to condemn what it calls the Kremlin's "nuclear blackmail."
The Ukrainian foreign ministry issued a statement Sunday, saying "Ukraine expects effective measures to counter the Kremlin's nuclear blackmail by the United Kingdom, China, the USA and France, in particular, as permanent members of the UN Security Council."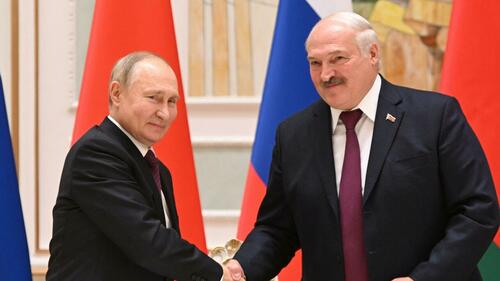 "We demand to immediately convene an extraordinary meeting of the UN Security Council for this purpose," it added.
This after on Saturday Tass news agency quoted President Vladimir Putin as saying Russia had struck a deal with neighboring Belarus to station tactical nuclear weapons on its territory in a major escalation aimed at both Kiev and the West.
Putin sought to justify the ultra-provocative move as something necessary to counter NATO: "We are doing what they have been doing for decades," Putin said. Likely he has Turkey in mind, which lies just across the Black Sea from Russia's south. The US, and thus NATO, has kept tactical nukes in Turkey for decades, part of a "nuclear sharing" policy with allies.
As The New York Times reports, Putin said nukes could be stationed in Belarus as early as the summer:
President Vladimir V. Putin of Russia said he would be able to position nuclear weapons in Belarus by the summer, a claim that analysts said was likely bluster but which underscored the Kremlin's determination to use its vast nuclear arsenal to pressure the West to back down from its support of Ukraine.

Western officials condemned Mr. Putin's remarks as irresponsible, even as they said that they saw no indication that Russia was making changes to how it deploys nuclear weapons.
"He said that 10 Belarusian warplanes have already been retrofitted to carry Russian nuclear weapons, and that a storage facility for the warheads would be ready by July 1," the report adds.
Putin Placing Nuclear Weapons in Belarus

1. Moscow will station tactical nuclear weapons in Belarus.

2. Putin claims this will not violate nuclear nonproliferation agreements.

3. Russia has moved 10 aircraft to Belarus that are capable of carrying tactical nuclear weapons

4.… pic.twitter.com/Nb8BZ3vcE3

— Mario Nawfal (@MarioNawfal) March 25, 2023
But there's some debate over how significant such a move would be, given that "Analysts also pointed out that even if Russia were to transfer some of its warheads, the action wouldn't substantially change the nuclear threat posed by Russia since it can already target a vast range of territory from inside its own borders," according to the Times. And again, it's long been the case that US tactical nukes are hosted in European countries, which Moscow has long condemned.
Loading...