---
Ukraine's President Signs Bill To Call Up Reservists Just As Russia Appears To De-Escalate
Authored by Rick Rozoff via AntiWar.com,
Ukrainian President Volodymyr Zelensky, who recently donned combat gear to join his government's troops on the battle line with the Donbass, on Wednesday addressed the nation in a televised address in which he conjured up the specter of Russian troops on his nation's eastern border. He asked and answered a number of rhetorical questions, among them: "Do Ukraine and its international partners demand that troops be withdrawn from our borders? Yes." The international partners in question are the US and its NATO allies and partners.
The keynote of his address was this: "Does Ukraine want a war? No. Is it ready for it? Yes. Will Ukraine stop fighting for peace through diplomacy? Never. Will Ukraine defend itself if it needs to? Always."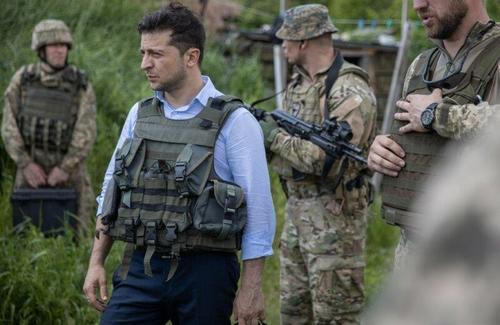 The utility of such phrasing is that the statement can be interpreted differently according to where the stress is laid. And a threat of war can be couched within a seeming pledge of peace. His "international partners" can portray his comments as reflecting a desperate plea for peace while confronted with the threat of war. That is, Zelensky projects himself simultaneously as a peace-loving statesman and a resolute (if reluctant) warrior.
The message was addressed to three capitals in particular. Moscow, Washington and Brussels.
On Wednesday Zelensky also signed into law a bill passed three weeks ago by the Ukrainian parliament, the Verkhovna Rada, called On Amendments to Certain Legislative Acts of Ukraine Concerning the Improvement of Certain Issues of Military Duty and Military Record Keeping.
Meanwhile on Thursday a Russian troop draw down is being widely reported...
Russia orders some troops back to their base, after weeks of tension over build-up of forces near Ukraine border https://t.co/dZZqpk2k1i

— BBC News (World) (@BBCWorld) April 22, 2021
A press release on the signing was posted on the president's website, which states:
"This document improves the requirements for manning the Armed Forces of Ukraine and other military formations with reservists (military-trained persons with combat experience) in a special period without announcing mobilization. This will make it possible to quickly equip the military units of all the defense forces of the state with reservists, which will significantly increase their combat capability during a military aggression, as well as rapidly increase the combat potential of the defense forces and allow timely response to sudden threats to national security."
Ready for war in fact.
The country's Defense Minister, Andriy Taran, said the act also will augment the professionalization of the nation's armed forces, a key NATO demand for countries aspiring to membership of the military bloc. He also said that part of that process is increasing the percentage of military-age citizens "contracting" with the military. He further explained the intent of the act in saying, "We count on increasing the efficiency of recruiting military units in a special period by recruiting reservists, motivated, trained soldiers with combat experience."
Most significantly, he added the bill had been amended so that reservists would be trained to meet NATO standards, stating that among other aspects of it "the military registration system has been brought into line with the principles and approaches of NATO member states…."
Russia's Defense Ministry and state media share video footage of military drills on the coast of annexed Crimea. Fighter jets, battleships, beach landings, and more. pic.twitter.com/XmJtgE228r

— Christopher Miller (@ChristopherJM) April 22, 2021
On the same day the Ukrainian press reported that after the nation's commander-in-chief of the armed forces, Colonel-General Ruslan Khomchak, paid a two-day visit to Britain to meet with his counterpart, Chief of the Defence Staff of Great Britain, General Sir Nick Carter, Britain pledged to expand its Operation ORBITAL mission which has already trained over 20,000 Ukrainian service members for war against the republics of Donetsk and Lugansk in the Donbass.
And Ukrainian Foreign Minister Dmitry Kuleba reported that he had a phone conversation with Senator Robert Menendez, Chairman of the U.S. Senate Foreign Relations Committee, in which the latter said he expected a vote today on the Ukraine Security Partnership Act to increase military assistance to the country, "which includes the supply of lethal weapons."