---
No Survivors After Ukraine-Bound 737 Crashes Two Minutes Into Flight From Tehran
Update: There were no survivors in the Ukraine International 737-800 which crashed shortly after takeoff from Iran, according to the head of the Iranian Red Crescent's Relief and Rescue Organization in an appearance on state television. The New York Times, meanwhile, reports that the plane was carrying "at least 170 people," while Bloomberg puts the number between 167 and 180. The cause of the crash has thus far been reported as a 'technical problem.'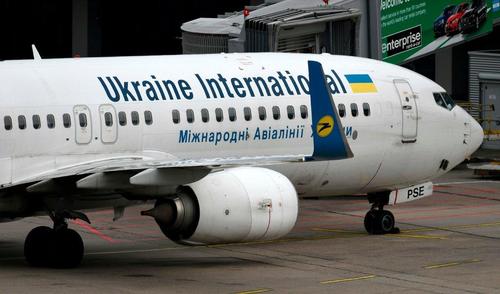 Four helicopters and 22 ambulances were sent to the crash site, according to Bloomberg.
Updated photos of air crash flight #PS752 @isna_farsi pic.twitter.com/MGX7EetFEZ

— Aviation Newsroom (@Aviation_NewsTW) January 8, 2020
#BREAKING : More video about #Ukraine air crash flight #PS752 pic.twitter.com/0KgB6tbAah

— Aviation Newsroom (@Aviation_NewsTW) January 8, 2020
Another latest photo #PS752 pic.twitter.com/Gqy2ddw8yv

— Aviation Newsroom (@Aviation_NewsTW) January 8, 2020
Nothing left of it. This is gut wrenching-> pic.twitter.com/kQ8q5EnjZd

— Bahman Kalbasi (@BahmanKalbasi) January 8, 2020
The flight, Ukraine International Airlines Flight 752, departed Imam Khomenei International Airport at 6:12 a.m. on Wednesday bound for Kiev, Ukraine. It lost contact at 6:14 a.m. according to a flight tracker.
ADS-B data and aircraft information regarding #PS752. https://t.co/JMpj7igNHt

PS752 was operated by a 737-800 (not a MAX) registered UR-PSR. Delivered new to Ukraine International Airlines in 2016. pic.twitter.com/eMhnBtpQP6

— Flightradar24 (@flightradar24) January 8, 2020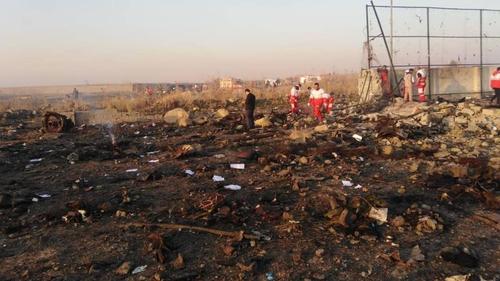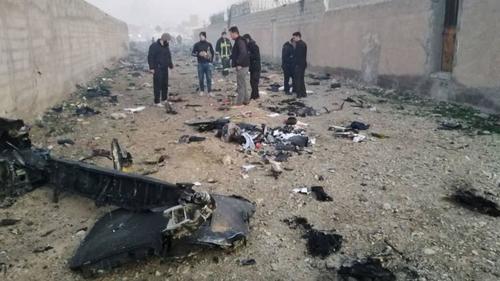 ***
Raising chilling memories of the downing of MH-17 (false-flag) in Ukraine, the devastating news that a Ukrainian Airlines Boeing 737 passenger jet has crashed following takeoff from Iran is fascinatingly coincidental with tonight's massive escalation (and rapid de-escalation) in Iraq.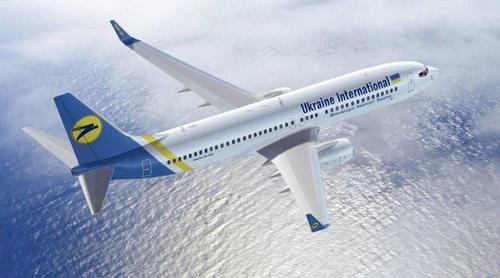 Iranian state TV has confirmed the Ukrainian airplane, carrying 180 passengers and crew, has crashed near Tehran Imam Khomeini International Airport in Iran, after suffering technical problems minutes after take-off. 
An investigation team was at the site of the crash in southwestern outskirts of Tehran, civil aviation spokesman Reza Jafarzadeh said.
The following clip is circulating social media claiming to be the last few seconds of the flight. Judging by the fireball, "technical" problems would be an understatement...
Alleged footage of #Ukraine International Airline #UIA flight number #PS752 that crashed in #Tehran #Iran. Flight ends in a massive fireball... https://t.co/5Gw8e5jRHb

— Strategic Sentinel (@StratSentinel) January 8, 2020
There is something odd about this though, as FlightRadar24 shows, the plane was gaining altitude at around 8,000 feet when it suddenly disappears...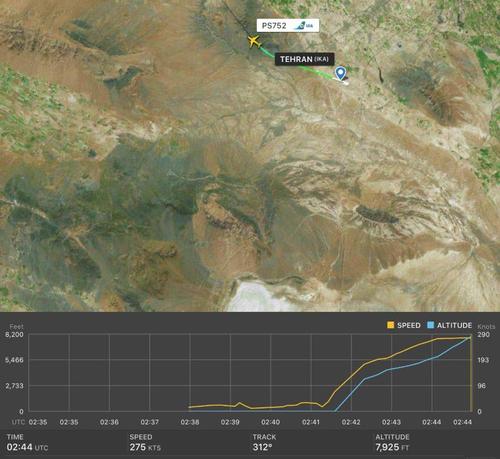 This terrible accident comes after Iranian President Rouhani appeared to threaten a western airliner,
Those who refer to the number 52 should also remember the number 290. #IR655
Never threaten the Iranian nation.

— Hassan Rouhani (@HassanRouhani) January 6, 2020
290 is a reference to the death toll from downed Iran Air Flight 655: in 1988, the U.S. warship Vincennes mistakenly shot  down an Iranian passenger plane over the Gulf, killing all 290 aboard.
The attack was the deadliest aviation disaster involving an Airbus A300, as well as the deadliest to occur in Iran.
If you don't know the story of Iranian Air Flight 655, then you don't fully understand American-Iranian relations.

On July 3, 1988 the US Navy used missiles to shoot down an Iranian passenger jet - killing all 290 civilians - including 66 children - on board. pic.twitter.com/Jw3E2YtXBa

— Shaun King (@shaunking) January 6, 2020