---
Ukrainian Drone Attack On Airbase Deep Inside Russian Territory Kills 3 Soldiers
A fresh Ukrainian attack deep inside Russian territory has left three dead, Russian news agencies are reporting Monday, which further describe that an enemy drone was intercepted before debris came down on bystanders below. 
The Ukrainian drone was inbound over a military base in southern Russia identified as Engels airbase in the Saratov region, which is located more than 600km from the Ukrainian border. "On December 26, at around 01:35 Moscow time, a Ukrainian unmanned aerial vehicle was shot down at low altitude while approaching the Engels military airfield in the Saratov region," the Russian defense ministry said in a statement.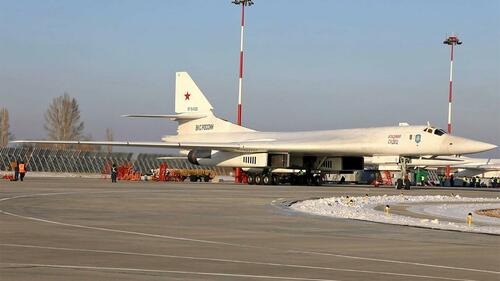 "As a result of the drone's wreckage falling, three Russian technicians who were at the airfield were fatally injured," the statement added, as quoted in TASS. The ministry said that no aircraft were damaged in the attack, with Saratov governor Roman Busargin telling local residents there is "absolutely no threat" at this time. 
Given the drone attack from Ukraine set off some degree of panic, Busargin additionally warned the public that "All stories about the evacuation from the city are blatant lies, created far from the borders of our country."
The incident marks a rare moment in which three Russian military personnel were killed while at a base far away from the front lines of conflict in neighboring Ukraine. Engels is also known to host advanced hypersonic and nuclear-capable bombers.
Currently there's speculation that the drone may have directly impacted the base, and that Russian authorities are advancing the narrative that it was intercepted by anti-air defenses in order to deny the Ukrainians a 'successful' military operation, and for Kremlin leadership to save face. Related to the speculation and rumors, the Saratov governor had additionally warned against residents spreading "fake information."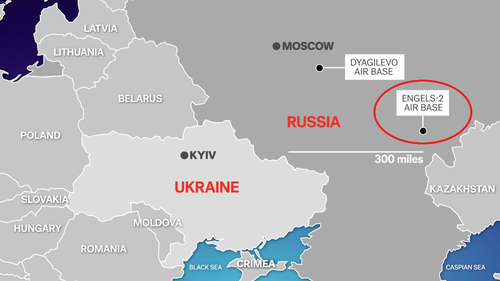 Monday's deadly incident is actually the second known instance of the more than 10-month long war that Engels air base came under Ukrainian attack.
Multiple videos have been widely circulating purporting to show the moment of impact - though Russian authorities say the drone was shot down "at low altitude", resulting in explosions or debris crashing on the ground...
Reportedly, there was an explosion followed by a siren at the Engels air base in Russia pic.twitter.com/oXIcr7jHpZ

— English Luhansk (@loogunda) December 25, 2022
On Dec.5 Ukraine's military mounted simultaneous drone assaults on an air base in Ryazan, in western Russia which hosts nuclear-capable strategic bombers, and also Engels base.
That earlier Engels strike had constituted the deepest the Ukrainians had ever attacked inside of Russia proper.
Another video of last night's explosion at the Russian strategic aviation base Engels-2 near Saratov.

📹https://t.co/7oIqqTZxSO pic.twitter.com/7wWQo8EtRV

— Euromaidan Press (@EuromaidanPress) December 26, 2022
This is a dangerous, escalatory trend which could result in Russia expanding its operation - also given just days ago President Putin for the first time referenced the "war" in Ukraine (as opposed to the heretofore officially sanctioned language of "special military operation"). There are remaining fears that Belarus could formally join Russia's invasion by sending ground forces.
Feeling emboldened by a handful of successes, including prior attacks and bombings in Crimea, Ukraine forces will likely try to continue hitting targets inside Russia, also as their capability grows given they have been supplied with ever-longer range rockets from the US and NATO countries. Another key question remains as details are still emerging from Monday's drone attack: is this another example of US intelligence assisting Kiev with targeting Russian military assets?
Loading...