---
UK's Johnson Unveils "Largest Ever" Sanctions Package Against Russia
Prime minister Boris Johnson has unveiled what he's calling the "largest ever" package of economic sanctions to be imposed on Russia. Johnson vowed the measures will "hobble" the Russian economy, and though teasing the possibility of "pushing to end" Russia's use of the SWIFT international payment system - it appears this is not actually on the table at this point, though likely being saved as a threat further down the road if Moscow doesn't wind down military operations. 
On this point, he spelled out that "nothing is off the table" - while detailing mass asset freezes against all major Russian banks, as well as actions that will in effect bar Russian companies from accessing finance in UK markets.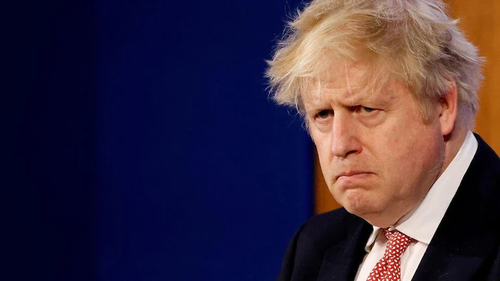 Further, the new UK measures include "an immediate ban on the export of dual-use civilian and military items to Russia, and a plan to limit the amount that Russian nationals can deposit in U.K. banks," as Bloomberg reports. 
Russia's VTB Bank was first out of the gate in saying it's already "prepared" itself for the "harshest" possible scenarios coming out of the West - along the lines of what top political officials have of late described as a 'fortress Russia' strategy.
While stopping short of levying punitive actions against Putin himself, which the Russian leader previously said would be an 'act of war' - the UK measures go after his 'inner circle' and other influential Russian elites, meant also to impact oligarchs who typically spend time in Britain: 
Individual sanctions will be imposed on over 100 individuals, entities and subsidiaries, including Rostec, the country's biggest defence company, which exports £10bn in arms a year, as well as four other defence companies.

Oligarchs who will be sanctioned include Putin's former son-in-law Kirill Shamalov, Russia's youngest billionaire; Denis Bortnikov, the chair of VTB Bank's management board; and Yury Slyusar, the director of the United Aircraft Corporation. The Russian airline Aeroflot will be banned from landing in the UK.
Sanctions include
* asset freeze Russian banks
* U.K. wants Russia out of SWIFT
* cap on cash Russians can put in U.K. bank accounts
* asset freezes on 100 companies / people
*aeroflot banned from Britain

— Kate Ferguson (@kateferguson4) February 24, 2022
One diplomatic official told The Guardian that they aim to inflict economic pain on people with "international lifestyles". 
BREAKING: Boris Johnson announces "largest set of economic sanctions Russia has seen," including banning Russian banks from U.K. finance system, blocking Russian firms from raising finance in London and sanctions against over 100 individuals and entities https://t.co/ToCVAIl1eP pic.twitter.com/rkHaXNUytx

— Bloomberg UK (@BloombergUK) February 24, 2022
"These are people who have international lifestyles. They come to Harrods to shop, they stay in our best hotels when they like, they send their children to our best public schools, and that is what's being stopped," the official said.

"So that these people are essentially persona non grata in every major western European capital in the world. That really bites."