---
Britain's New Spy Chief Says China's "Covert Activities" Biggest Long-Term Threat
In a rare public interview, the new chief of Britain's domestic security service MI5 has vowed "to do more" in taking on China at a moment fears of 'Russian interference' in UK elections has been supplanted by what's increasingly seen as the greater and more sophisticated 'covert activities' out of Chinese intelligence.
"The national security challenges presented by Russian, Chinese, Iranian and other actors are growing in severity and in complexity," MI5 director-general Ken McCallum told a security briefing and UK media, later reported in Financial Times. But while he acknowledged the threat from these hostile actors makes for "a nasty mix" it remains that Beijing's espionage activities mark a unique kind of danger, according to the security services chief.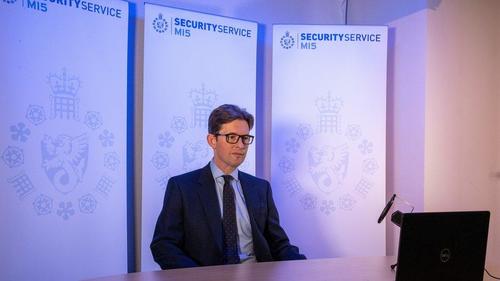 He characterized China's approach as focused on "hacking commercially sensitive information or commercially sensitive data, and intellectual property," which in some cases have led MI5 to conclude it's engaged in efforts ultimately aimed at influencing UK domestic politics.
"The UK wants to co-operate with China on the big global issues like climate change, while at the same time being robust in confronting covert hostile activity when we come across it," he said. "[MI5 is] looking to do more against Chinese activity, carefully prioritized."
McCallum specifically mentioned that he thinks China will use hacks and espionage related to "the global prize of having a first usable vaccine" as a prime example of the type of intellectual property theft MI5 and other agencies are looking to thwart.
He further emphasized that while Russia poses a near-term and more obvious threat, though without citing particular examples or evidence, it's China that for the longer term will be "shaping our world across the next decade," as quoted in FT.
Russia poses the biggest state-based threat to the UK but China is the growing long-term challenge, the new head of MI5 Ken McCallum has said.

More from this interview here: https://t.co/n8gSnuRCdg pic.twitter.com/b6JdUUUiqP

— SkyNews (@SkyNews) October 14, 2020
Last month a former MI6 spy who heads up an EU-Asia relations think tank in Brussels became subject of a UK investigation over allegations he handed state secrets over the Chinese intelligence. While these types of human intelligence cases remain rare, corporate and research-related espionage out of China is widely viewed as more common and the greater threat.
He also emphasized that the most pressing threat in terms of terrorism at home is from underground Northern Irish militant groups as well as Islamic jihadism, but also from a homegrown "right-wing threat".