---
Uptick In Russian Military Flights Near Alaska As US Leads Massive Drills
The North American Aerospace Defense Command (NORAD) has confirmed in a Wednesday statement it has witnessed an uptick in Russian aircraft flying near US airspace of Alaska over recent days.
The fresh statement posted to twitter indicated it detected and tracked a Russian military plane or planes operating in the Alaska air defense identification zone on Monday, which has been revealed for the first time. "This flight occurred as several planned large-scale military training exercises are ongoing in and around Alaska," NORAD added.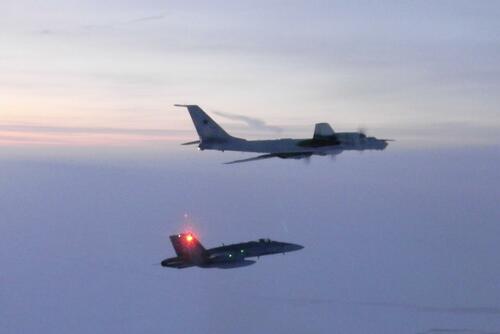 This came on the heels of a May 11 incident wherein NORAD jets were scrambled and intercepted "a mix of Russian bombers, tankers, and fighters in the Alaska Air Defense Identification Zone (ADIZ)."
"It's not the first Russian flight," Pentagon Press Secretary Brig. Gen. Patrick S. Ryder said of that prior large Russian grouping of aircraft. "It probably won't be the last." While all of these Russian flights have stayed in international airspace, the ADIZ acts as an early warning buffer and most countries typically warn foreign aircraft away once there's a breach of the zone.
As for the large-scale military exercises which are ongoing in Alaska, called Exercise Northern Edge 23, a military media source explains: 
Northern Edge is a massive multinational exercise involving the U.S., U.K., and Australian militaries led by U.S. Indo-Pacific Command. Thousands of American service members, five ships, and more than 150 aircraft are participating, according to officials. The roughly two-week long exercise began May 4.
While the US military has said these Russian flights are not necessarily a threat, tensions between the sides have been much higher of late over the Black and Baltic seas after a series of intercept incidents.
These types of intercepts which occur not infrequently over both the Baltic and Black sea regions have grown more dangerous in the wake of a March incident which resulted in the downing of a MQ-9 Reaper drone in the Black Sea.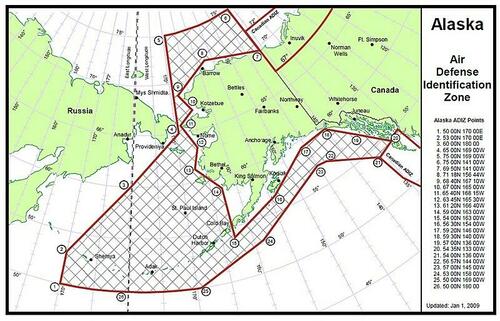 "The U.S. military's declassified 42-second color footage shows a Russian Su-27 approaching the back of the MQ-9 Reaper drone and releasing fuel as it passes, the Pentagon said," the AP described of the incident at the time. "Dumping the fuel appeared to be aimed at blinding the drone's optical instruments to drive it from the area." The Reaper drone then crashed, also after a reported aerial collision (clipped) with one of the Russian fighters.
The Pentagon subsequently said it would temporarily restrict the extent of its flights which are near Russian border regions, given the threat.
Loading...