---
CDC Admits "Most Transmission Occurs At Home"; Will Require All Foreigners To Test COVID-Negative Before Entering US: Live Updates
Summary:
US to require COVID tests for all international travelers
US changes vaccine reporting parameters
Disneyland joins Dodgers stadium in becoming vaccination site
US cases decline
US hospitalizations hit new records led by California
US plans new vaccination plan
Ireland now world's worst-hit country
Netherlands seeing cautious decline
Singapore may introduce contact tracing bill
EU strikes 8th deal to buy vaccine doses
* * *
Update (1340ET): During a Tuesday press briefing about the US vaccination effort, CDC head Robert Redfield issued another warning about COVID-19 transmission, saying many areas in the US are "on the verge of exponential growth", while also acknowledging that most instances of viral transmission are occurring within households.
That's not exactly new information, as data has consistently shown the virus mostly spreads among members of the same household. Redfield's comments even bring to mind research which brings to mind research we shared just the other day. In a blog post, author and statistician William Briggs argued that lockdowns don't work because they simply force people to congregate in even smaller areas, like their homes: "a lockdown will spread this bug faster than allowing people to remain at liberty," he said.
As far as the slow pace of COVID-19 vaccinations, Sec Azar says some data had not been reported correctly or fast enough to the CDC's database, which was one factor causing the delays. He said some states are being too conservative and micromanaging too much. "We have too much vaccine sitting in cold storage in hospitals," Azar said.
In other news, Washington is expected to require all international airline passengers to show proof of a negative COVID-19 test before boarding flights to the US, according to a Dow Jones report citing people familiar with the matter. The CDC is planning to issue its order as soon as Tuesday, following weeks of discussions among federal agencies and the White House coronavirus task force. The order is expected to go into effect Jan. 26, according to a person familiar with the matter.
Finally, California's Disneyland, which has remained closed since the coronavirus pandemic hit the US in March, is set to become the first mass-vaccination site in Orange County, as the state faces record COVID-19 deaths. It will join Dodgers stadium, which is further south in LA County.
* * * *
The US is already scrambling to accelerate COVID vaccinations now that even Gov Andrew Cuomo has finally acknowledged that the economy must be reopened soon, or there won't be an economy left to reopen. After trying out punitive measures with little in the way of progress being made, Cuomo decided to loosen up eligibility criteria. Meanwhile, in LA, Dodgers stadium is being converted from a testing center to what's expected to be the largest vaccination center in the US.
Now, with the US still lagging way behind its vaccination targets, the Trump Administration is preparing to roll out new vaccination guidelines.
According to Axios, which first reported the news early Tuesday morning, the Trump Administration is preparing to release federal guidelines and will recommend opening up the process to everyone older than 65, and will also aim to move doses out the door rather than holding some back. The new measures will include:
Recommending that states open the vaccination process to everyone older than 65 and to adults of all ages who have a pre-existing condition that puts them at greater risk for serious infection.
Expanding the venues where people can get vaccinated to include community health centers and more pharmacies.
Getting all the available doses out the door now. Both of the authorized vaccines require two shots; the government will no longer hold back doses for the second shot, but will instead try to get today's doses into people's arms now, trusting that supplies will increase rapidly enough to provide second shots.
The US isn't alone in this. Even in the UK, which has vaccinated more patients than the rest of Europe combined, officials are considering stepping up restrictions after imposing a new national lockdown after BoJo said yesterday that he was concerned people weren't abiding by the "Tier 4" rules. Britain has just opened 7 vaccination centers across England to try and expedite the process.
Germany's Angela Merkel, meanwhile, warned that the country's latest lockdown could be extended until April. According to Bloomberg, 29MM shots have been doled out worldwide, with some of the first patients to receive the vaccines having already received their second doses.
The latest vaccination news out of China isn't very flattering: Another Brazilian study has found that the Sinovac shot is just 50.4% effective in protecting people from infection, according to Brazilian media. The shot has caused "serious adverse reactions" in a handful of trial participants. But despite these data, Malaysia has just agreed to buy 14MM doses. 
As far as hospitalizations go, the ICU units at hospitals in Peru have reached capacity as virus cases keep rising. These days, 20 patients are battling over a single bed in the ICU of a hospital in Lima, the country's capital. Ireland isn't doing much better, as ICU hospitalizations have surged to new records. Ireland's outbreak, which has been intensifying dramatically in recent weeks, is now the worst in the world on a per-capita basis.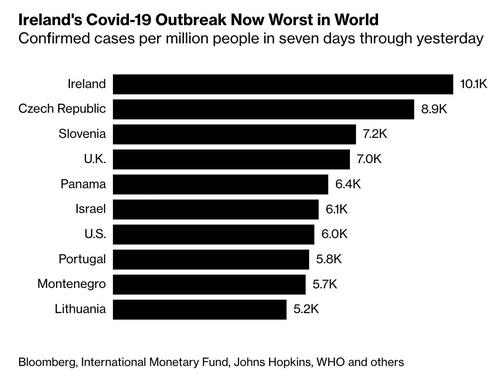 As worries about various hyperinfectious variants intensify, the B117 strain first identified in the UK has made its way to Vienna, where it has reached elderly care facilities according to the Austrian Press Agency.
As global COVID cases top 90MM, while deaths near 2MM, in the US, hospitalizations in California continue to skyrocket, though new cases and deaths have started to slow.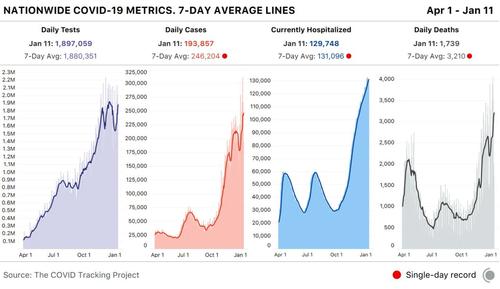 Here's a breakdown of the number of patients who are currently hospitalized by state.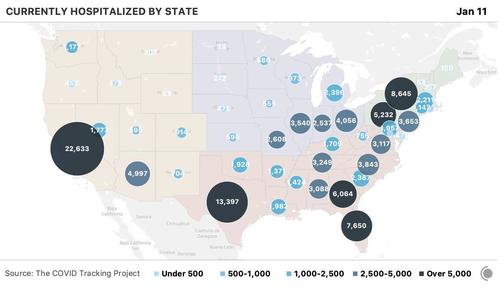 Arizona is in the spotlight on Tuesday, as cases and deaths far exceed the summertime surge.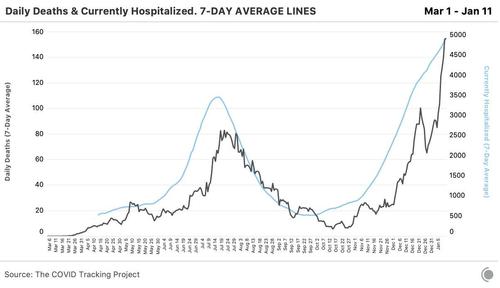 Here's more COVID news from Tuesday morning:
Switzerland's goal of vaccinating residents over age 75 by the end of February is realistic, according to Nora Kronig, vice director of the country's Federal Office of Public Health. Even with intensified efforts to trace contacts, the number of cases of U.K. and South African variants has increased in Switzerland. Officials said it was possible that 5% to 6% of positive cases in the country were due to the mutations (Source: Bloomberg).
The number of cases in the Netherlands showed a "cautious" decline in the past seven days, according to health agency RIVM on Tuesday. In the week ending Jan. 12, 49,398 people with Covid-19 were confirmed, down from 56,440. Prime Minister Mark Rutte is still expected to say this evening that lockdown measures will be extended by three weeks until Feb. 9, according to local media reports. The government is looking at expanding financial aid for companies hit by the measures, the reports said (Source: Bloomberg).
Singapore may introduce a bill to legislate the use of virus contact tracing data in investigations of serious crimes within a month (Source: Bloomberg).
* * *
As the EU scrambles to catch up in terms of vaccine supplies, the European Commission said it aims to secure as many as 60MM COVID vaccination doses from Valneva. The planned deal (the commission's eighth supply pact) would allow EU governments to buy an initial 30MM doses and include an option to purchase another 30MM.