---
UN Report "Whitewashing" Terrorists As Soleimani Was "Bloodiest Terrorist In The World": State Dept
Washington has lashed out at a new United Nations report which was the result of a months-long investigation into the Jan. 3rd killing by US drone strike of Iran's IRGC General Qassem Soleimani and his entourage.
UN special rapporteur on extrajudicial, summary or arbitrary executions Agnes Callamard is due to submit the report to a UN Human Rights session Thursday. It calls the Soleimani assassination "unlawful" and deems it an "arbitrary killing" — especially given, according to the UN findings, there exists no evidence that Soleimani was planning an imminent attack on the United States or its personnel. 
The US State Department blasted the report and denied the killing of the late Quds Force commander violated international law. Spokesperson Morgan Ortagus in Wednesday comments addressing the report called Soleimani "the bloodiest terrorist in the world".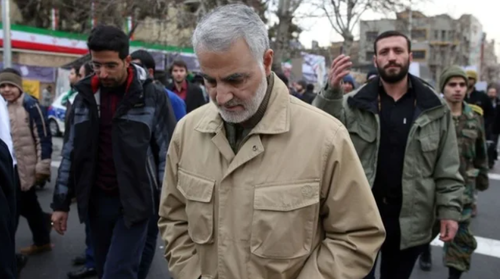 She further said the UN is essentially "whitewashing" crimes and giving a pass to terrorists:
"It takes a special kind of intellectual dishonesty to issue a report condemning the United States for acting in self-defense while whitewashing General Soleimani's notorious past as one of the world's deadliest terrorists," Ortagus said on Wednesday.

"This tendentious and tedious report undermines human rights by giving a pass to terrorists and it proves once again why America was right to leave" the UN Human Rights Council in 2018, she added.
She asserted that Soleimani had been "committing terrorist acts to destabilize the Middle East over the past twenty years."
"Soleimani and his Quds Force are responsible for killing hundreds of American and coalition forces and wounding thousands of others," she added. Deputy Head of Iraq's Popular Mobilization Units, Abu Mahdi Al-Mohandis, was also killed in the strike, which the US also accused of killing Americans at Tehran's bidding.
"The course of action taken by the U.S. was unlawful," Callamard wrote in the report.

U.N. expert deems U.S. drone strike on Iran's Soleimani an 'unlawful' killing https://t.co/X5F1hfByV7

— Edmund Kagire (@kagire) July 6, 2020
Recall that in first announcing the January assassination to the US public, which put the Mideast region on war footing, also resulting in an Iranian cruise missile strike on bases in Iraq where US personnel are present, President Trump said the targeted killing prevented more American deaths.
"Soleimani was plotting imminent and sinister attacks on American diplomats and military personnel, but we caught him in the act and terminated him," Trump said at the time.
The US has taken issue from the start over Soleimani being considered by many European countries as a 'state official'. Washington has instead deemed he and the elite Islamic Revolutionary Guard Corps (IRGC) as terrorists, and thus legitimate targets of US military action.
However, the new UN report has highlighted that never before has a member nation claimed 'right to self-defense' as rationale for killing a state official in a third country.