---
US Cancels Black Sea Deployment Of 2 Warships After Biden-Putin Call
Turkey has revealed that a pair of US warships which were scheduled to sail through the Bosporus starting Wednesday have canceled their passage. Interestingly it comes on the heels of the Tuesday Biden-Putin phone call wherein Biden is said to have proposed the two leaders meet "in the coming months".
Anadolu state news agency has indicated that both deployments scheduled to take place through Thursday have been cancelled, and that no further rescheduling has yet occurred. The news comes after the Kremlin issued threats for the warships to steer clear of Crimea "for their own good" and announced naval exercises of its own. 
Turkey first indicated the planned-for passage last week, and at the same time a US defense official had told CNN the warships would be deployed "in the next few weeks in a show of support for Ukraine," and further the deployment would "send a specific message to Moscow that the US is closely watching."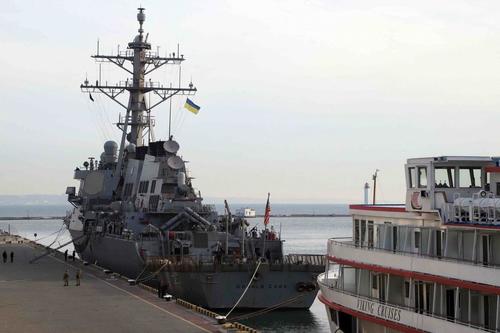 But it appears the Biden White House has chosen to issue its 'deterrent messaging' related to the Russian troop build-up near the border with eastern Ukraine in the form of Thursday's new sweeping anti-Russia sanctions measures that were prompted chiefly by the SolarWinds hack and alleged 'election meddling'.
The avoidance of sending more warships into the Black Sea also came just after Tuesday's Biden-Putin phone call. The BBC has this important commentary which says the call was a major diplomatic victory for the Russian side...
The build-up has been impossible to ignore: thousands of Russian troops deployed towards Ukraine; US warships reportedly heading for the Black Sea and Russia's foreign ministry warning them off "for their own good".

As the hostile rhetoric and military moves around Ukraine have intensified, Western politicians have begun fearing an open invasion and urging Russia's Vladimir Putin to "de-escalate".

Russia has refused: the defense ministry this week insisted its moves were in response to "threatening" Nato exercises in Europe.

Then Mr Putin got a phone-call from the White House.
And then, notes the BBC, Biden suggested a near-future face-to-face summit with Putin, which gives Russia the edge given it was the US side that first proposed it:
"In Putin's game of brinkmanship, Biden blinked first," argues journalist Konstantin Eggert, after Joe Biden made his first call to the Kremlin and proposed meeting Mr Putin "in the coming months".

It's just weeks after the US president agreed with an interviewer that Russia's leader was "a killer".

President Biden's new move is now a new topic of debate - disaster prevention or a mistaken concession - but in the run-up to a summit, the risk of major military action by Russia certainly fades.

"That would be really unstatesmanlike: a slap in Biden's face," Mr Eggert told the BBC. "But the fact that it was Biden who suggested they meet does give Putin the edge."
"In Putin's game of brinkmanship, Biden blinked first" https://t.co/jJ63okoiUZ

— Andy Scollick (@Andy_Scollick) April 15, 2021
However, given Thursday's executive order which included the expelling of ten Russian diplomats from their embassy in D.C. and a wide range of sanctions, including against Russian officials and entities "linked to Russia's occupation of Ukraine's Crimea region and human rights abuses" - the Biden-Putin summit is unlikely to happen anytime soon... if at all.