---
US Close To Declaring Qatar Major Non-NATO Ally, Deepening Military Ties
Despite this week's "shock" Trump administration announcement that Qatar-based news network Al Jazeera must now register in the United States as a 'foreign agent', Washington ties with the tiny oil and gas rich monarchy continues to warm, especially given the vital role Qatar plays in hosting US forces.
Reuters now reports that "The United States hopes to move forward with naming Qatar as a major non-NATO ally, a status that provides foreign nations with benefits in defense trade and security cooperation, a senior U.S. official said on Thursday."
US deputy assistant secretary of state for Arabian Gulf affairs Timothy Lenderking told reporters at the end of this week, "We're going to move ahead, we hope, with designating Qatar a major non-NATO ally."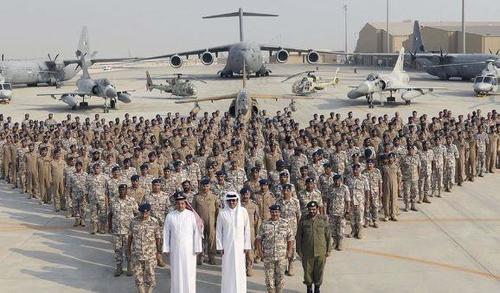 Such a designation would allow for the wealthy Arab gulf country, which has over the past years been involved in inter-Gulf Cooperation Council (GCC) turmoil with the Saudis and Emirates on the other side, to have preferential access to US military hardware, training, and technology.
This also comes on the heels of the landmark Israeli peace deal and 'normalization of ties' with the UAE and Bahrain, however, Israel has objected to US plans to sell the F-35 stealth fighter to the UAE. 
Recall also the Qatar played a major part in US-Saudi regime change efforts in Syria, and even hosted 'rebel' training camps allegedly run by American special forces soldiers in the Qatari desert. A 2014 Reuters article quoted the following:
"The U.S. wanted to help the rebels oust Assad but didn't want to be open about their support, so to have rebels trained in Qatar is a good idea, the problem is the scale is too small," said a Western source in Doha.
In Shocking, Viral Interview, Qatar Confesses Secrets Behind Syrian War https://t.co/hXD57gHJzP

— zerohedge (@zerohedge) October 28, 2017
The United States has been in closer military cooperation with the Arab gulf kingdoms especially over past years of operations geared toward 'countering the Iran threat'.
Tehran will no doubt see Qatar's designation as a major non-NATO ally as a direct threat toward the Islamic Republic.
Iran already threatened the UAE upon normalizing relations with Israel, saying that in any attack the UAE has now made itself a target of any Iranian military response.